Bulldogs take down Wildcats to earn three-peat championship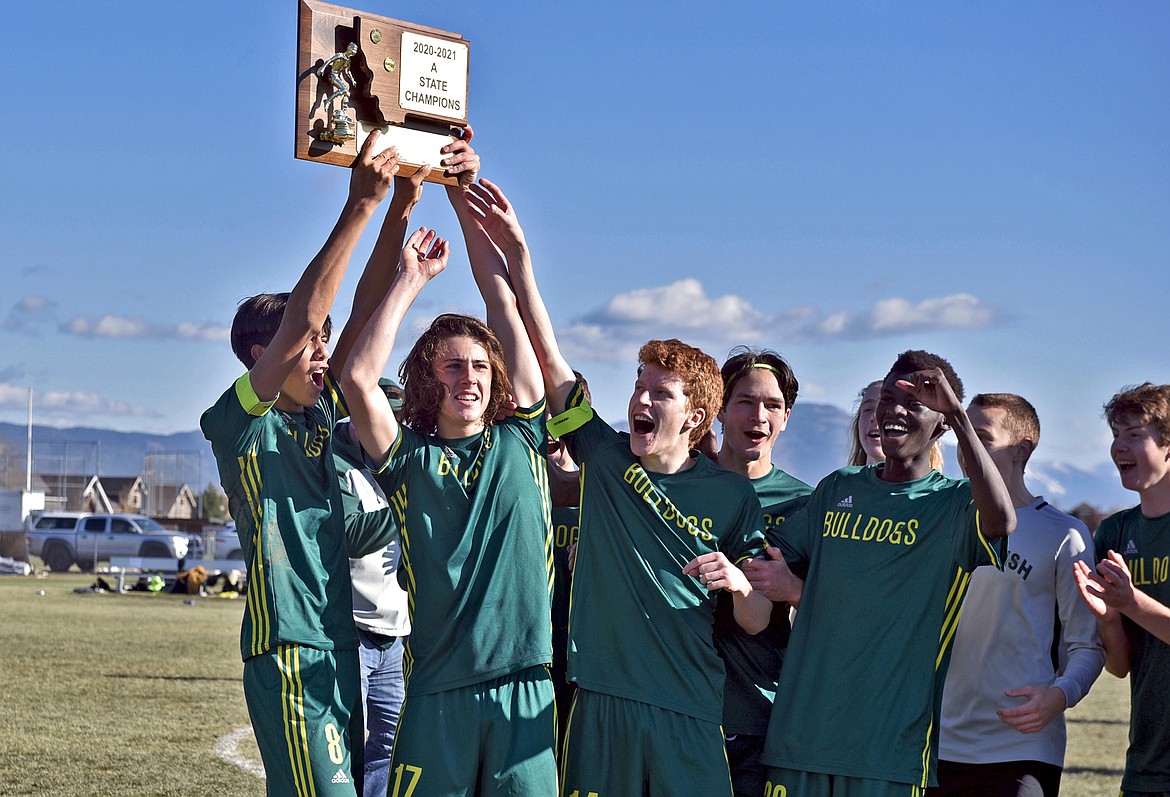 Whitefish boys soccer celebrates winning the 2020 Class A State Championship match over CFalls Saturday at Smith Fields. From left to right: Brandon Mendoza, James Thompson, Ian Grover, Joshua Gunderson and Marvin Kimera. (Whitney England/Whitefish Pilot)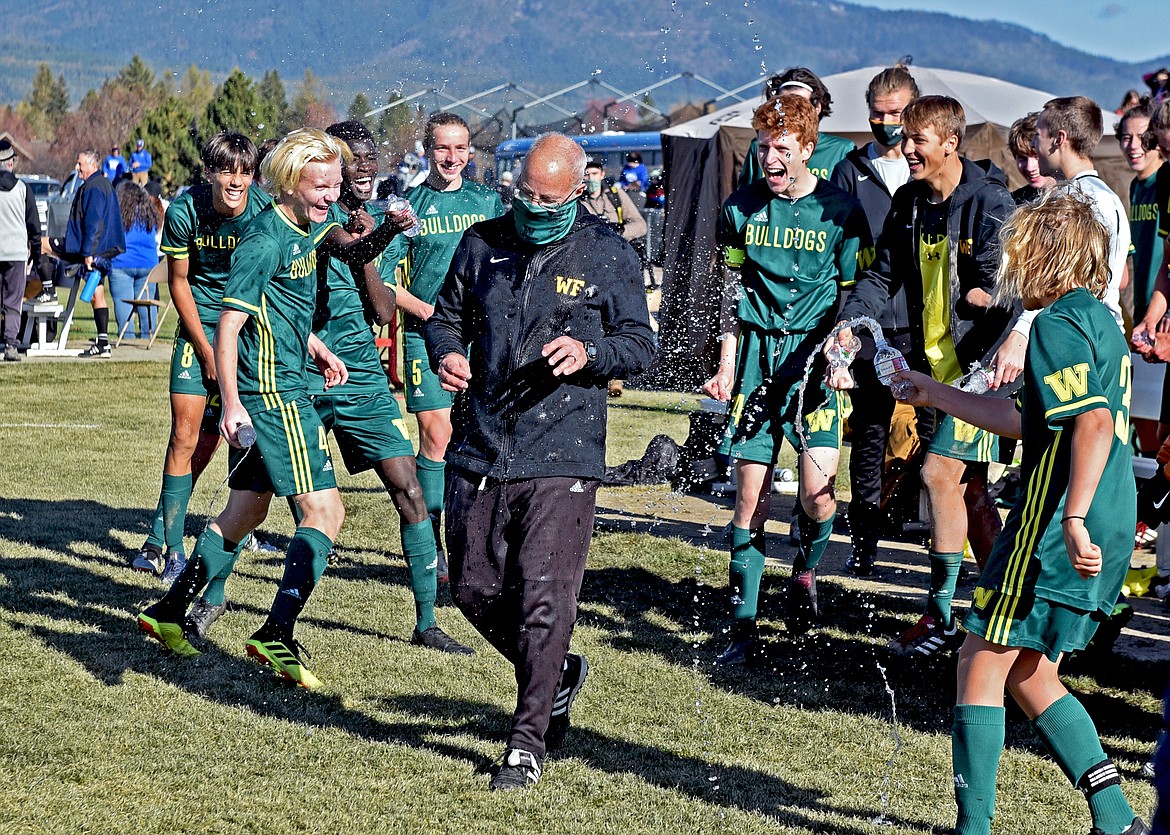 The Whitefish boys soccer team celebrates its third-straight state title by thowing water on head coach John Lacey following the final whistle. (Whitney England/Whitefish Pilot)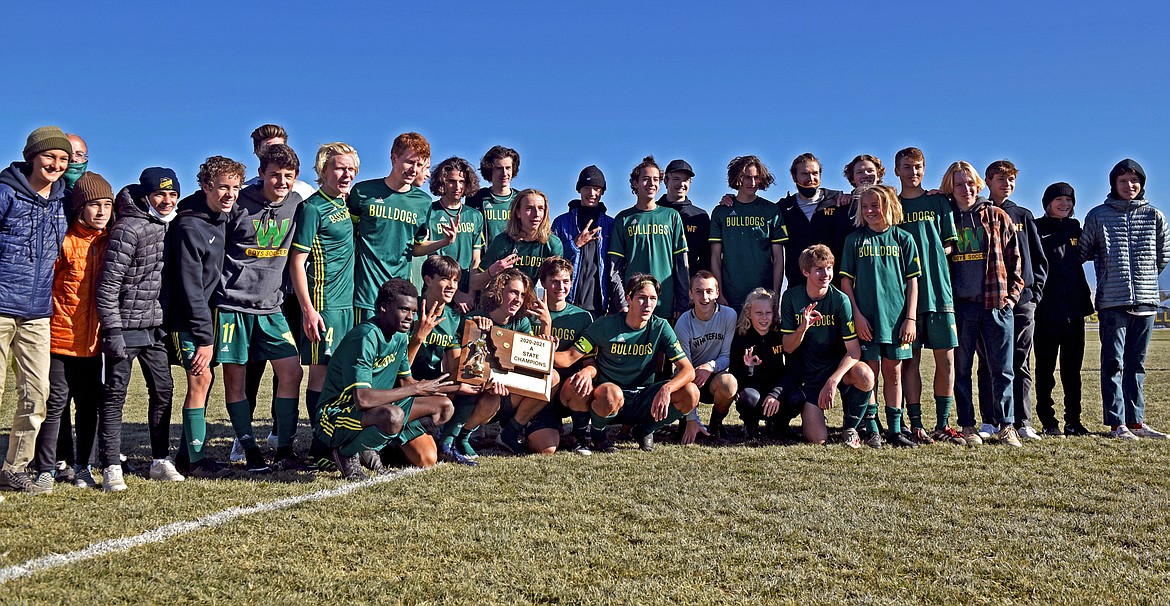 Whitefish boys soccer is a three-peat state champtionship team as they beat Columbia Falls 3-0 in the Class A state title game Saturday at Smith Fields. (Whitney England/Whitefish Pilot)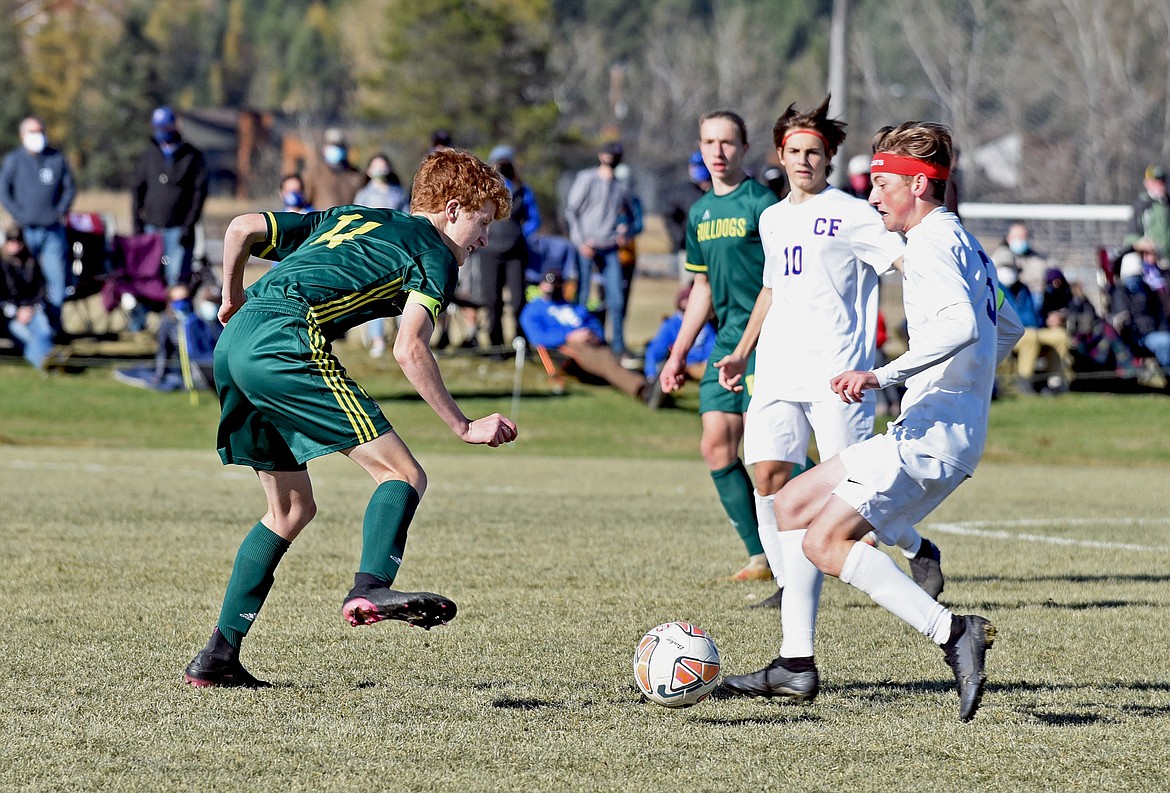 Bulldog senior defender Ian Grover (14) stops a Columbia Falls attack during the Class A final. (Whitney England/Whitefish Pilot)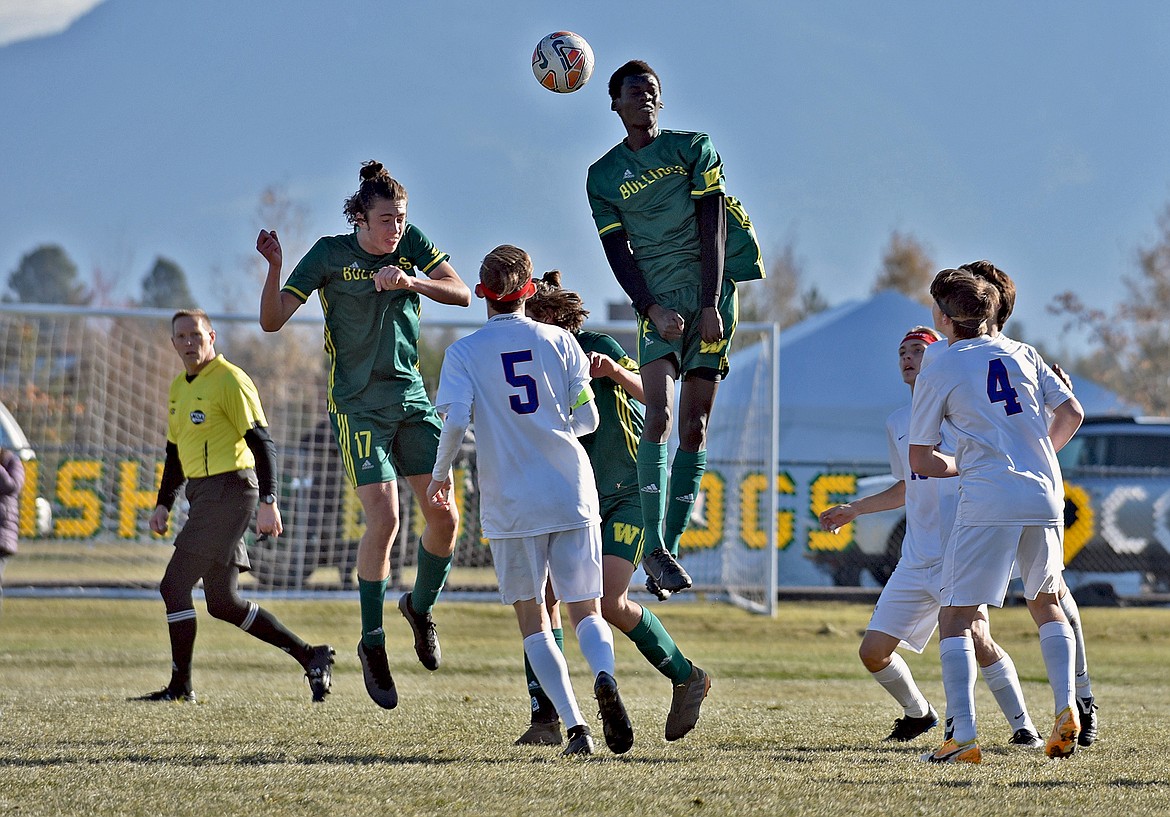 Whitefish's James Thompson (17) and Marvin Kimera (22) jump up for a header against CFalls in the Class A boys soccer state final Saturday at Smith Fields. (Whitney England/Whitefish Pilot)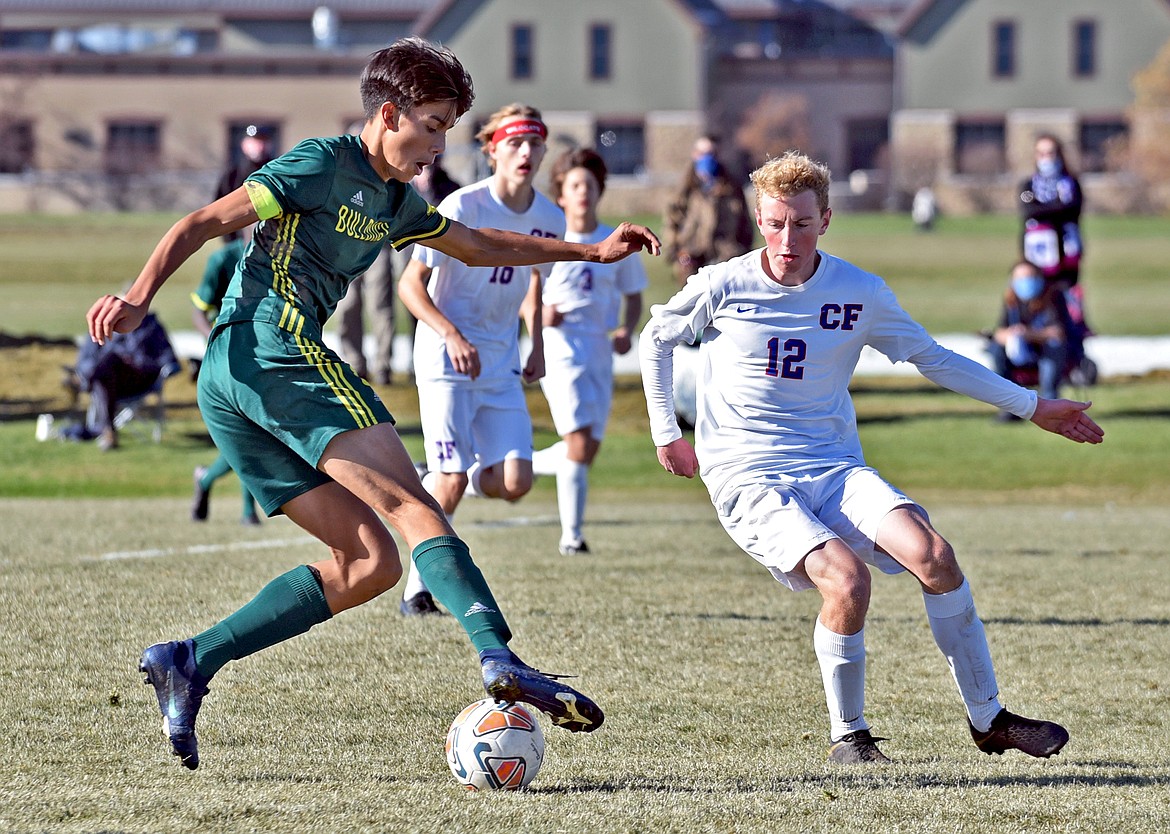 Whitefish senior Brandon Mendoza shows off some fancy footwork during the Class A State Champtionship match against Columbia Falls Saturday at Smith Fields. (Whitney England/Whitefish Pilot)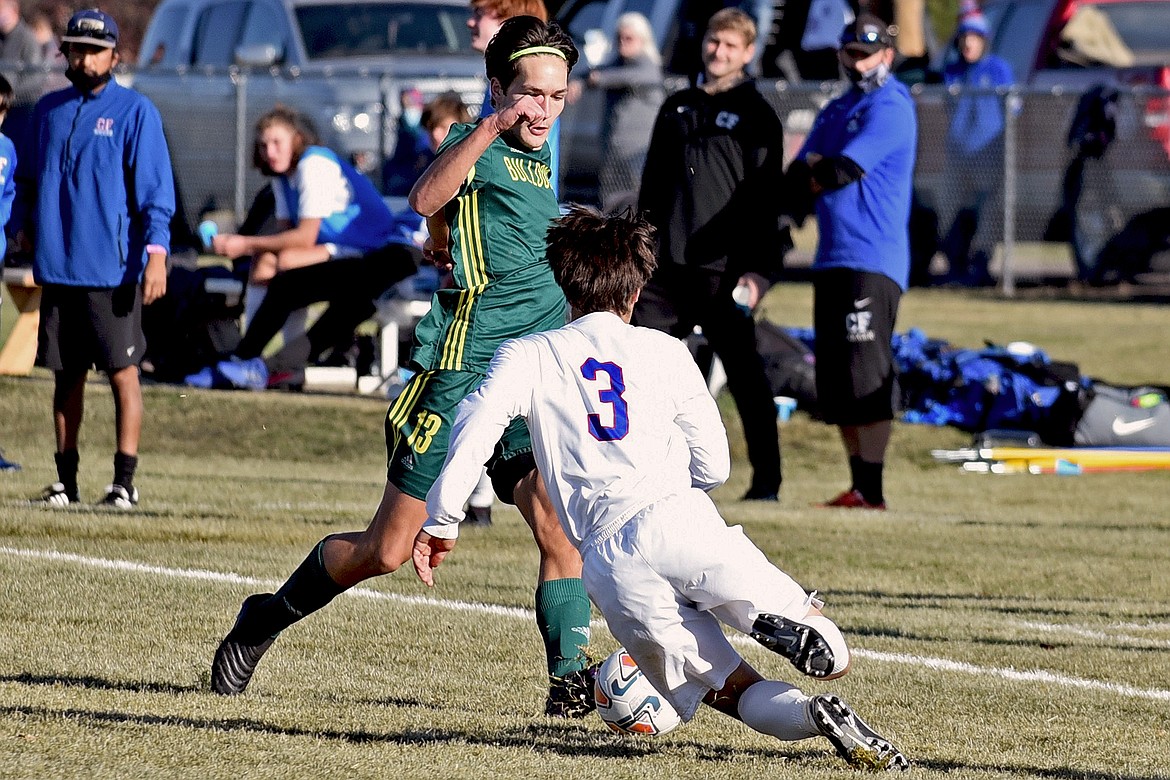 Whitefish senior co-captain Joshua Gunderson is challenged by Columbia Falls in the Class A boys soccer state final Saturday at Smith Fields. (Whitney England/Whitefish Pilot)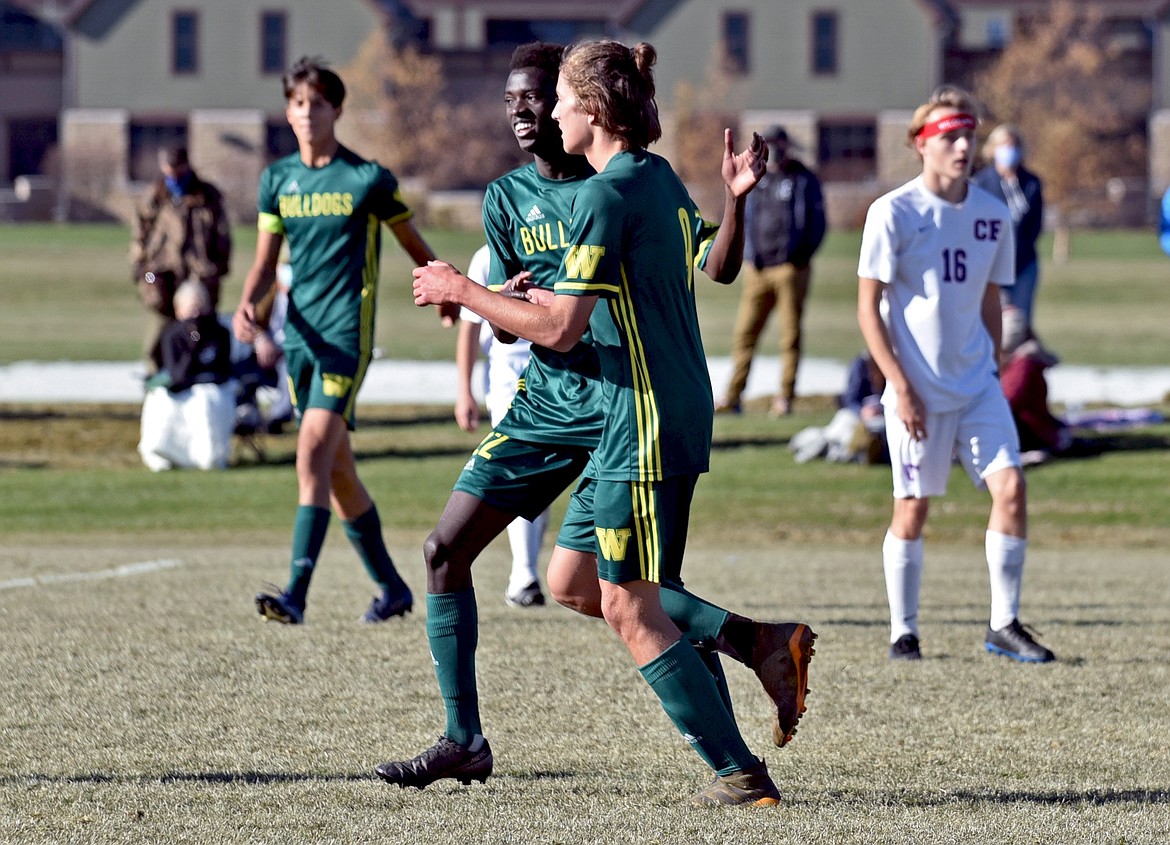 Bulldog Marvin Kimera (22) congratulates his teammate Gabe Menicke after a goal in the Class A state final Saturday at Smith Fields. (Whitney England/Whitefish Pilot)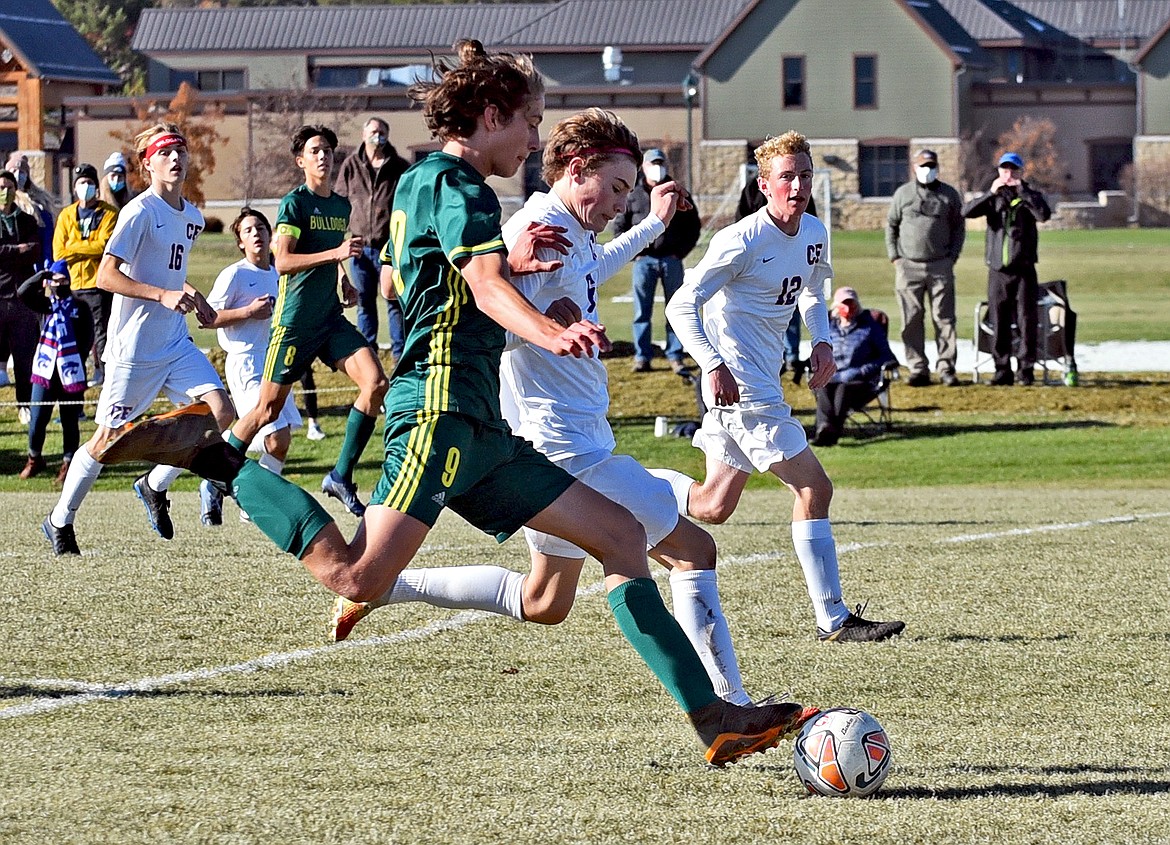 Whitefish's Gabe Menicke winds up ans scores in the second half of the Class A boys soccer championship Saturday. (Whitney England/Whitefish Pilot)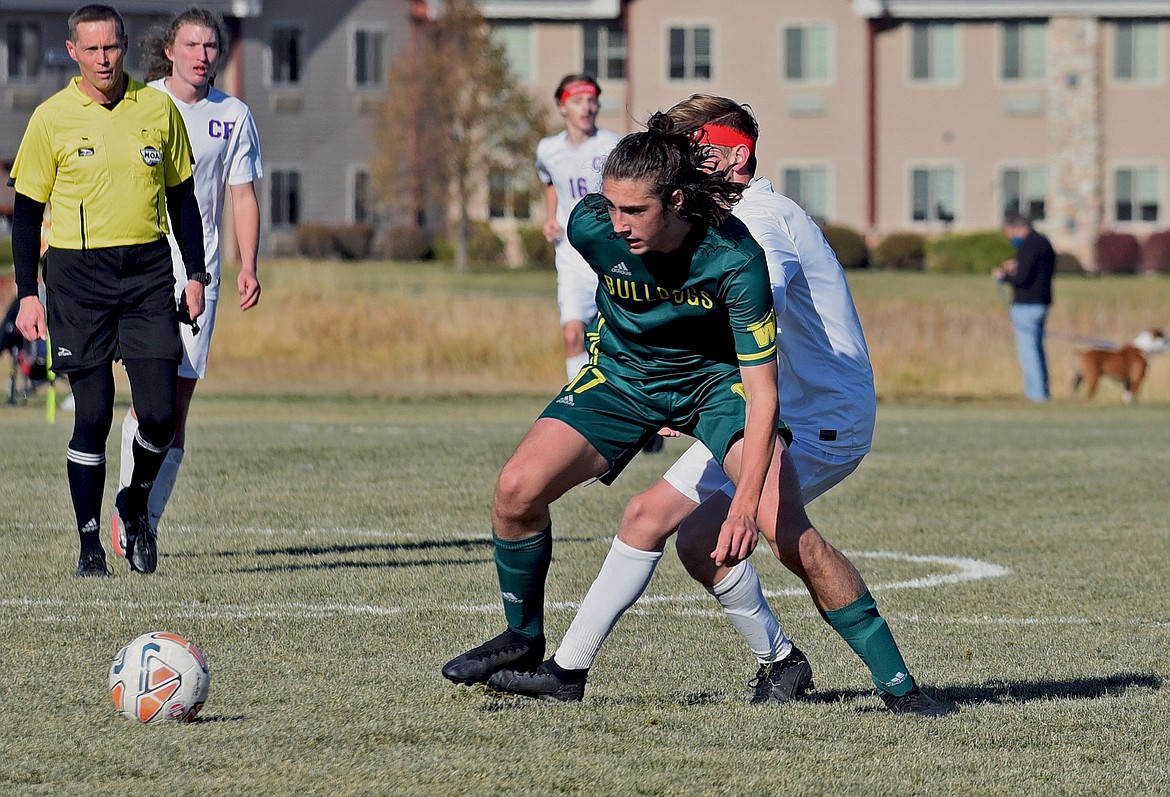 Bulldog senior James Thompson beats the Wildcats to the ball in the Class A state final Saturday at Smith Fields. (Whitney England/Whitefish Pilot)
Previous
Next
by
WHITNEY ENGLAND
Whitefish Pilot
|
November 3, 2020 1:00 PM
With the sun out and the home pitch in great condition, it felt like just an average, midseason game for the Whitefish Bulldogs.
In reality, the Whitefish boys soccer team had a lot on the line. The Bulldogs were trying to become the first Class A soccer team to three-peat as state champions and the first Class A team to win three titles in a span of four years. With a pretty even keel, Whitefish did just that Saturday afternoon by defeating Columbia Falls 3-0.
"I mean it feels amazing… I think back to sophomore year when I was in the same position and honestly each year that we make it to the championship I get less and less nervous," Whitefish senior center back Ian Grover said after the game. "So I woke up this morning and I'm like this is a regular game. I know what they can do and I know what I can do. So I just put it all on the field, last game I'm going to play on this field so I just gave it everything."
Whitefish dominated possession time for the majority of the game, but that's not to say that Columbia Falls didn't have its chances especially in the first half. Grover and his back line snuffed almost all opportunities and Bulldog goalkeeper Will Peppmeier performed when called upon.
Bulldog junior midfielder Gabe Menicke put his team up 1-0 in the 26th minute after Chase Sabin nailed a free kick just off Columbia Falls' sideline and Menicke connected a header to the net. He described it as one of those feel-good goals.
"It's that first goal that really sets the rest of the game and what's going to happen," Menicke said. "So I knew we had to get something and Chase just set me up with a perfect ball; it just worked out really well, I was really happy about it."
That goal gave the Bulldog boys a pep in their step and created a stark shift in momentum.
"I definitely felt it, right after that everyone just started stepping harder," he added. "Our team as a whole started playing harder, CFalls started kind of crumbling down and we were rising up."
In the second half, the Bulldogs kept the pressure on the Wildcats. Whitefish senior co-captain Brandon Mendoza nailed what appeared to be a goal less than 10 minutes into the second half, but it was called back due to an offside call. Just a few minutes later though Mendoza took another hack at the ball and it drizzled over the line for a goal, and a cushiony 2-0 lead.
"I knew there was someone on my left shoulder so I faked a shot, cut in, had it on my left foot and it just slid by the goalie; he almost saved it, it was on the goal line, really close and a good job from him," Mendoza recalled.
In the 65th minute Menicke added another goal, assisted by Sabin again, and it made a comeback from Columbia Falls almost impossible.
For Whitefish head coach John Lacey though, the goals weren't even the most impressive part. He was proud of the defensive effort from the back line who held Columbia Falls scoreless, but also did not allow even one goal throughout the duration of the playoffs.
"We're sneaky good on defense," he said after the game. "They set a school record this year just giving up five. And that kind of quality in the back stood out today, this is a good offensive team that we played and they really kept stuff off of our keeper."
Peppmeier saved six shots from Whitefish's net while the Bulldogs outshot Columbia Falls 14-6. Whitefish also earned seven corner kicks, but were whistled for 17 fouls in the game.
The victory caps another undefeated season for the Bulldogs who have now gone three seasons without losing a game. That feat for Lacey is part of the Whitefish soccer legacy he is continuing to grow. And although Whitefish graduates seven seniors this season, he's not worried about the future of the program.
"It's historic… Whitefish has got the benefit of a long history of these kinds of things, a lot of it created by coach [O'Brien] Byrd before he moved over to CFalls," Lacey said. "Our seniors this year have done a great job leading our freshmen, preparing them for what's going to come."
"So the legacy of doing it three in a row, yeah, they're pretty proud of that and I think they should be. High school is its own thing where there's always a new cycle and for them to own all three is powerful, I'm really proud of them," he added.
Although it's a whole year away, it's hard for the younger guys on the team to not already be thinking of next year's final game. No soccer team across all classes in Montana has ever won four titles in a row and for Menicke, along with his fellow juniors, winning the championship next year would mean a title for every year he's been in high school.
"Hopefully next year we'll get the four-peat, I'm really looking forward to it," Menicke said.
Columbia Falls 0 0 - 0
Whitefish 1 2 - 3
W - Gabe Menicke (Chase Sabin), 26:00
W - Brandon Mendoza (Menicke), 49:00
W - Menicke (Sabin), 65:00
Shots on goal - Columbia Falls 6, Whitefish 14. Goalie saves - Columbia Falls (Braeden Fairchild) 8, Whitefish (Will Peppmeier) 4. Corner kicks - Columbia Falls 1, Whitefish 7. Fouls - Columbia Falls 5, Whitefish 17. Cards - Whitefish 1 yellow, Columbia Falls 1 yellow.
Recent Headlines
---