Mountain Cinema movie theater closes permanently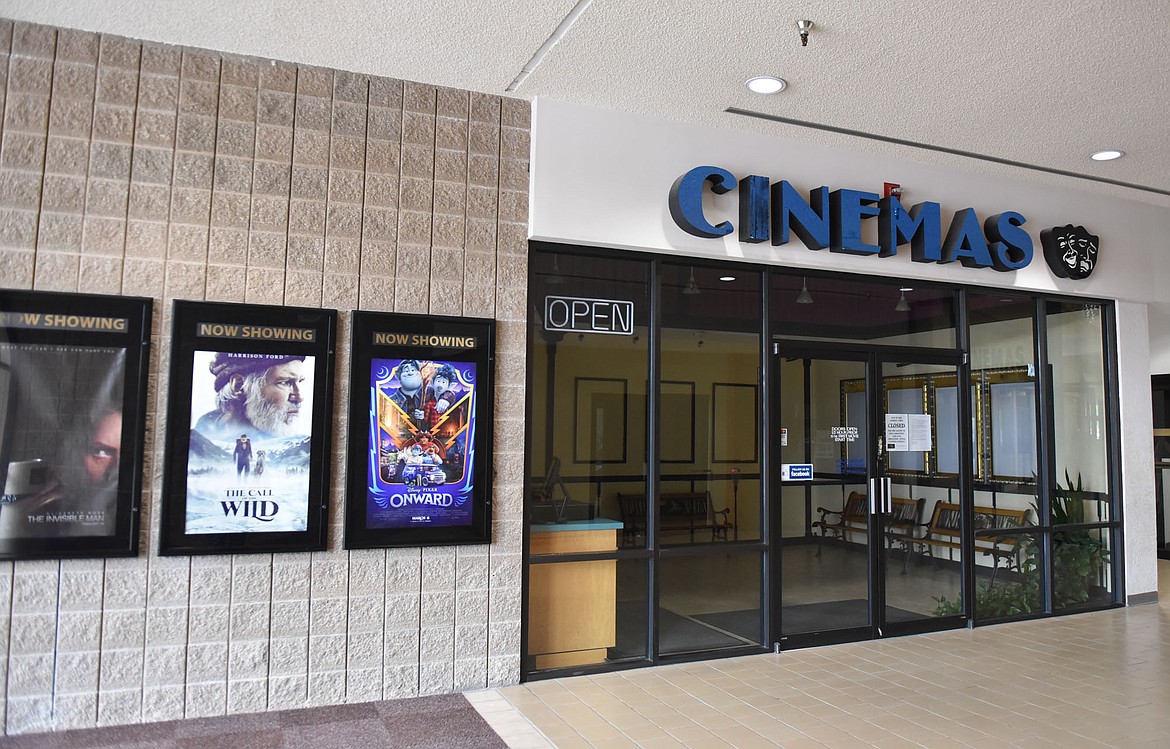 Mountain Cinema 4 inside the Mountain Mall still has the movie posters on display of the last films shown in the theater before it closed due to the COVID-19 pandemic. The theater is closing permanently. (Heidi Desch/Whitefish Pilot)
While Montana's movie theaters got the go-ahead to start reopening Friday, Mountain Cinema 4 in Whitefish will be shutting its doors forever.
Manager James Bauer said that Polson Theaters, which owns Mountain Cinema, had been discussing closing the movie theater down long before the COVID-19 shutdown due to rising rent costs and low concession sales. He said the company feels it would be easier to stay closed than to reopen the theater only to close it again after a few months.
"The new owners have not been working with us on our rent and we have not been able to come to an agreement. It's unfortunate, but they don't seem to care if we stay here. I know there are a lot of people in Whitefish that enjoy coming to our theater, so closing down is going to be a sad thing. This theater has been a part of the community for a long time," Bauer said.
The company has been in negotiations with California-based Argonaut Investments, which owns the Mountain Mall, about lowering the theater's rent, but could not come to an agreement that would allow the cinema to stay open.
Bauer said the theater has been located in the Mountain Mall since it opened in the 1980s.
"If something turned around all of a sudden, we might could stay open. I'm not exactly sure what it would take, but it would have to be a miracle," he said.
According to Bauer, the Mountain Cinema 4 had been averaging approximately 800 customers a week before the shutdown, but was continually the lowest in concession sales among the 11 theaters in the Polson Theaters group.
Bauer says the Polson Theater group tentatively plans to open its other 10 theaters June 15 and will rerun older releases interspersed with new releases, as they become available.
Gov. Steve Bullock announced guidelines May 7 that allowed movie theaters the option to reopen beginning May 15, as long as they adhere to strict guidelines limiting capacity, requiring social distancing, and imposing thorough sanitation requirements.
The Cinemark 14 in Kalispell will remain closed until the summer, according to Caitlin Piper of the company's public relations department. The Plano, Texas-based company cites public health concerns as the reason for the delayed opening.
According to Piper, Cinemark CEO Mark Zoradi has informed investors that the company is currently working toward a midsummer opening date, contingent upon health and safety regulations, as well as availability of studio content.
Hollywood's movie studios have also been scrambling to adjust to changes forced by the COVID-19 pandemic, including halting production of many projects while pushing back the release dates of completed films or releasing them to homes via on-demand platforms.
---