Farmers Market set to open in June with restrictions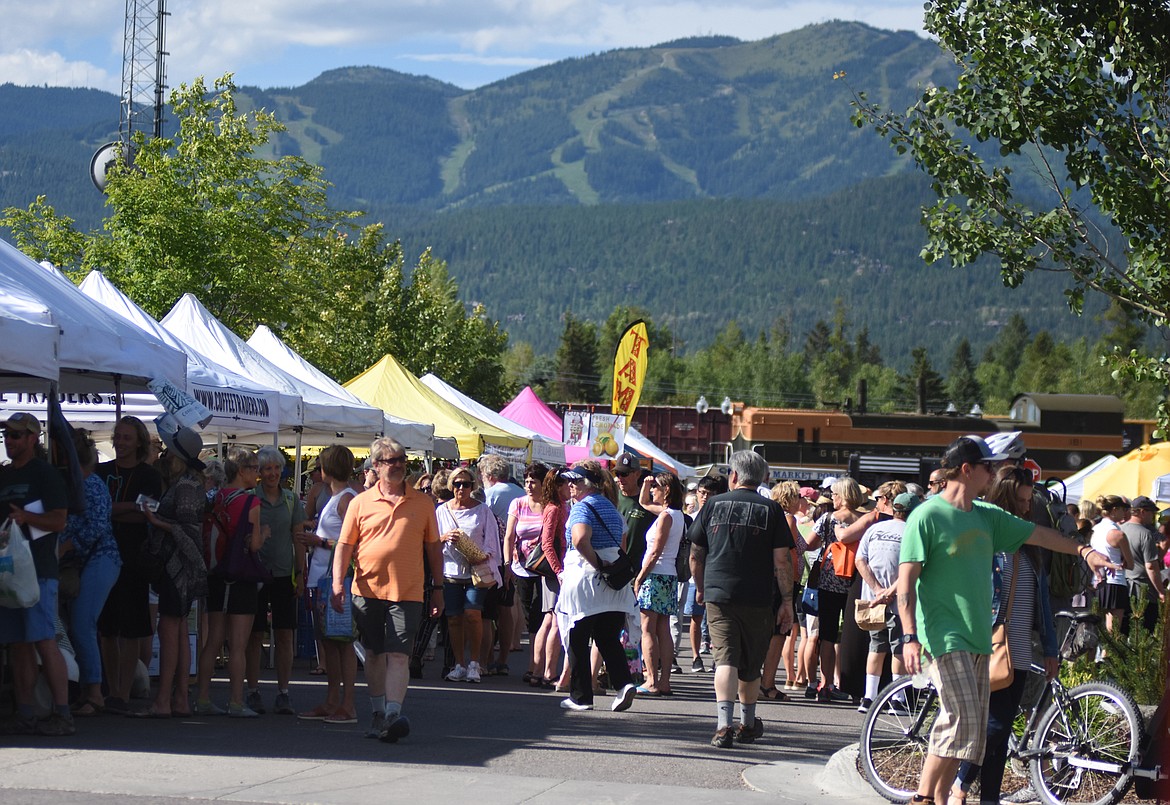 Whitefish Farmers Market is on Tuesday evenings at Depot Park.
by
HEIDI DESCH
Editor
|
May 20, 2020 1:00 AM
The Whitefish Farmers Market is delaying its opening this summer to Tuesday, June 9.
Typically the market opens the Tuesday after Memorial Day, but due to construction at Depot Park and restrictions related to the COVID-19 pandemic, market organizers have decided to push the opening date.
The market is following Flathead City-County Health Department guidelines only allowing farmers and prepared food to be sold. Market goers will be asked to purchase produce or prepared food items while maintaining social distancing of 6-feet and then leaving the market area.
Even with modifications, the organizers felt it was important to hold the market, notes Rhonda Fitzgerald.
"We recognize that the farmers have been planting and growing their crops and they need a place to sell them," she said. "These are small, neighborhood farms that need the opportunity for revenue. We also know that people want the produce, and we provide necessary access to food."
The market operates form 5-7:30 p.m.
Roughly 40 farmers and food vendors are expected to be part of the market when it opens. The distance between booths has been increased, and vendors are being asked to have one person handle food distribution and another handle payments, preferably electronically. Hand washing and sanitizing stations will be placed at each vendor booth.
It is also recommended that food orders be called in to vendors in advance to increase efficiency moving through the area.
Fitzgerald said people won't be able to gather at the market and signs will be posted entering the area to remind them of the guidelines.
Construction on the final phase of Depot Park is also taking place this spring. Thus, the market will have to shift its location from its typically spot at the north end of Central Avenue and in the park.
The main area of the market with farmers booths will be set up on Railway Street between Central and Spokane avenues. Food trucks and food vendors will set up in the parking spots along Spokane Avenue facing the sidewalk.
Once construction is complete on the park and street, which is estimated to be finished by June 30, the plan is to move back on to Central Avenue and into Depot Park. The market hopes that by then restrictions related to COVID-19 will also have eased allowing for arts and craft vendors to once again be part of the Tuesday gatherings.
"Later on we hope to have the full market up and running," Fitzgerald said. "In July, hopefully, we will have more vendors and arts and crafts."
The Farmers Market has always been a place for friends and neighbors to gather together on Tuesday evenings during the summer.
Fitzgerald said the market at its heart is about community building, and organizers look forward to when the market can once again be that.
"We're hoping that we can gradually go back to that and resemble the community gathering that is at our core," she said.
For more information, visit https://whitefishfarmersmarket.org/
---