Opposition to MudMan as it reopens in Columbia Falls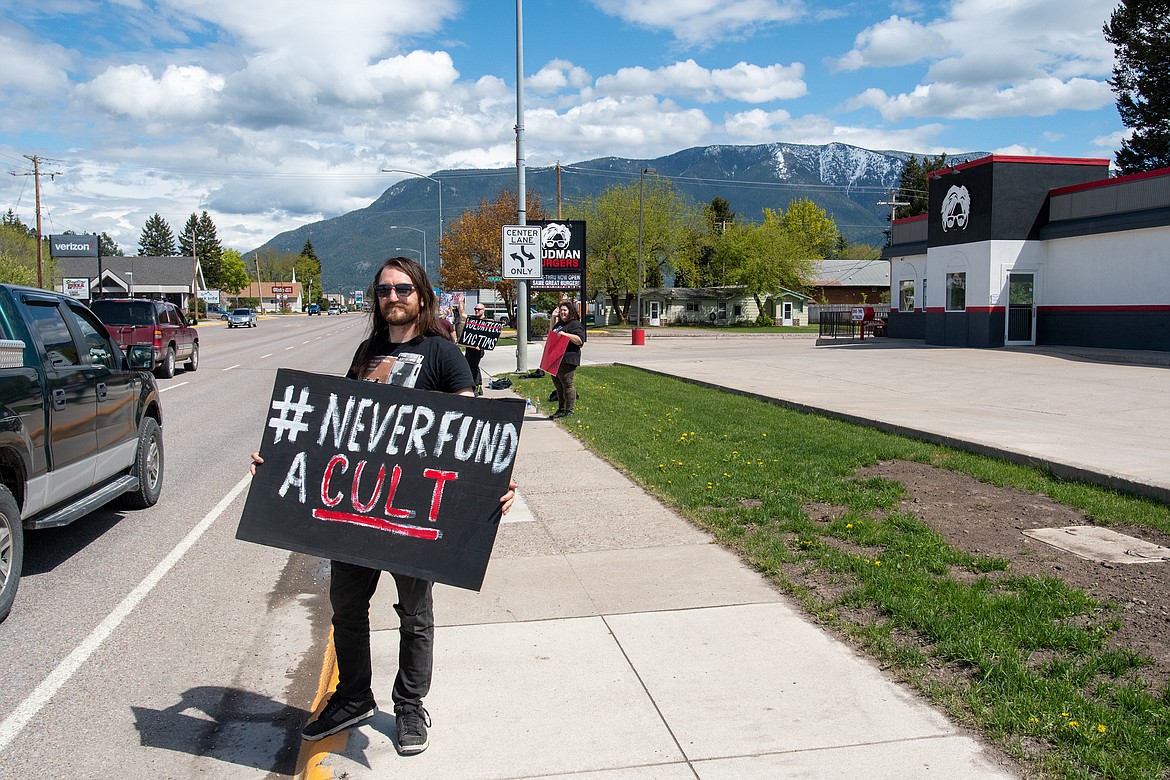 A protester who identified himself as Randall holds a sign while outside MudMan Burgers in Columbia Falls Sunday.
A group of protesters gathered in front of MudMan Burgers in Columbia Falls on Sunday to rally against the restaurant's relaunch. The group held up signs with various messages including "Workers Drug Thru Mud," "Never Fund a Cult" and "Forced Labor = Slavery."
The demonstration was organized via a public group on Facebook called "Stop Mudman Burgers," and according to a recent post on the page, protesters are expected to assemble in front of the property again Friday. The Facebook group currently has more than 2,000 members.
"We don't tolerate abuse under [the] disguise of religion in our valley," said one protester on Sunday who told the Hungry Horse News his name is Randall.
Six protesters gathered outside Sunday and many motorists honked their horns in support as they drove past.
The Columbia Falls restaurant is currently open for drive-through service Thursday through Saturday, according to a banner on the property.
Before folding last summer, the restaurants had operated as a doing-business-as entity under the nonprofit umbrella of Potter's Field Ranch. But according to the Montana Secretary of State's Office, MudMan Burgers is now registered as a for-profit limited liability company and is in "good active standing."
The popular burger joints closed down last summer amid an outpouring of allegations of psychological, verbal and spiritual abuse against the founders of Potter's Field and MudMan Burgers, Mike and Pam Rozell of Whitefish.
As part of an internship program offered through Potter's Field Ministry, interns were expected to work 40 hours per week at a MudMan location. However, sources alleged they would sometimes work closer to 80 hours per week for as little as $2 to $3 an hour. More than a dozen wage claims have been filed with the Montana Department of Labor and Industry.
More than 20 sources told the Daily Inter Lake the ministry and associated restaurants operated as "a cult." Since then, dozens more testimonies of abuse have been published on the religious blog website, phoenixpreacher.com.
---