WHS plans for outdoor graduation ceremony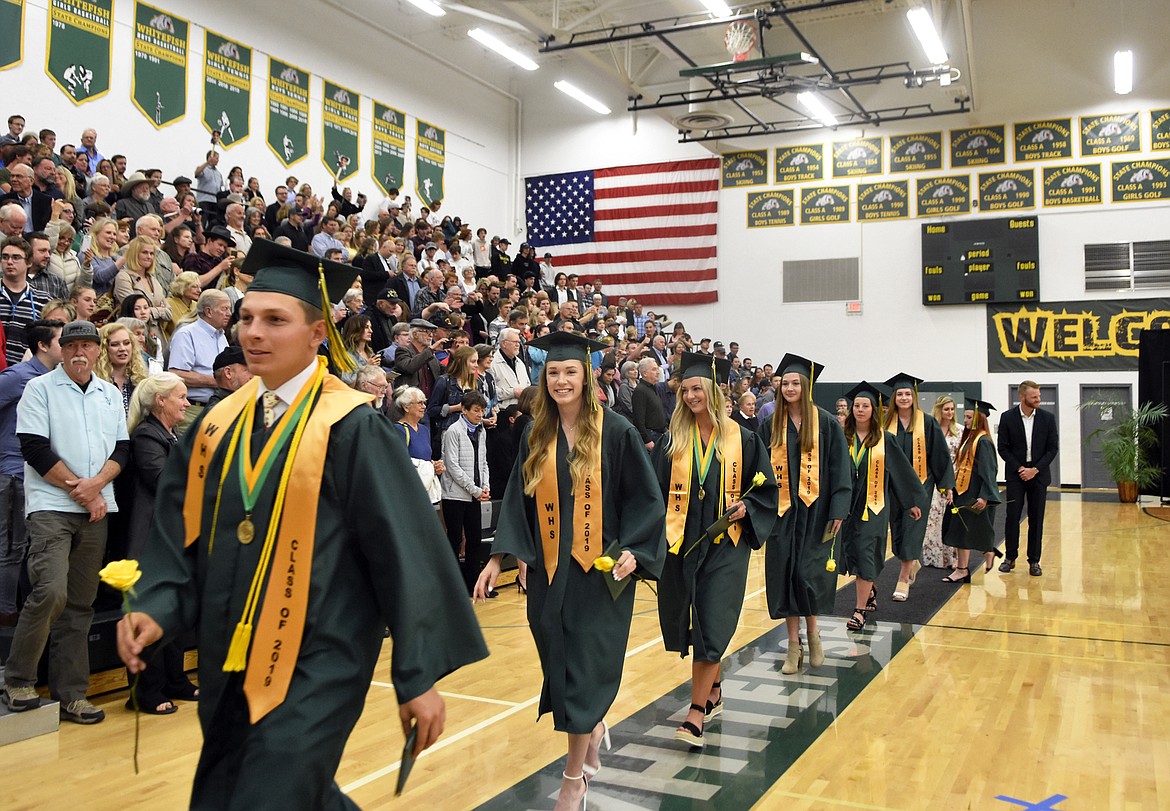 Members of the Class of 2019 exit the gym at Whitefish High School following last year's graduation ceremony. (Heidi Desch/Whitefish Pilot file)
Whitefish High School is moving forward with its plans for an outdoor graduation ceremony next month.
WHS Principal Kerry Drown presented to the Whitefish School Board on Tuesday, sharing new developments in the plans for a graduation ceremony.
Last month Drown shared three options for the ceremony, which included a video production honoring each senior, a "drive-in" style ceremony at Big Mountain Ranch where those in attendance remain in their cars, and a similar setup but with spaced-out chairs instead of vehicles.
Drown said right now they're moving ahead with one of the outdoor options, as well as the video as a backup.
"It's getting exciting as we're getting a little closer, we keep dialing this in a little tighter. I had a great conversation with the Flathead County Health Department last week that was the big test on if we are reasonable in our planning efforts to continue with this idea of an outdoor, live graduation ceremony. And [Health Officer] Hillary Hanson shared with us that she is much in favor of our planning that we've done thus far, and she gave us some guidelines that we need to follow in that kind of environment," Drown said.
Drown says the goal with graduation is bringing people together even if it's still with social distancing spacing of 6 feet.
The outdoor ceremony would be held on the Big Mountain Ranch east of town, which also hosted the first Under the Big Sky music festival. Drown said owner Johnny Shockey reached out to the district and offered the space free-of-charge for graduation.
If the state's phased reopening plan holds, the ceremony would still take place on its original date of Saturday, June 6 at 1 p.m.
Montana remains in the first phase of a three-phased plan, as set out by the governor, for reopening related to the COVID-19 pandemic. It limits group sizes of no more than 10.
There is no timeline for when the state could enter phase two and phase three. The second phase allows for group sizes of no more than 50, while the third phase lifts much of the restrictions.
Drown said he and his graduation team will be making it out to the site soon to look at the logistics of seating a limited number of people, having a stage area and ensuring that no more social contact is made than necessary.
The video production will be shown during the outdoor ceremony, and will also be available to family members that are not able to attend the physical ceremony.
"That is our Plan B in case something changes between now and June 6 in the other direction, in terms of [phased reopenings], as well as having a production that extended family can watch from wherever. That production will be recognizing each and every one of our graduating seniors," Drown said. "I think we have a great plan to take care of things locally as well as afar."
While there will be some sort of graduation ceremony, Drown said there will not be an awards night this spring, and students receiving awards will be notified via an online post.
During the meeting, Trustee Katie Clarke thanked Drown and his team for making graduation come together.
"Thank you so much for making a special day very special and certainly memorable," she said.
Drown acknowledged the efforts that have gone into putting the ceremony together.
"It's a huge team effort, and it takes a lot of people to pull this thing off. It's been heavy on our minds for all of us, the parents and students and teachers, since this onset. That was the first big question mark when this hit in March, what does this mean for this big event?" he said. "I think we're going to be in a spot to at least put on a proper celebration."
---