City parks plan phased reopening through spring, summer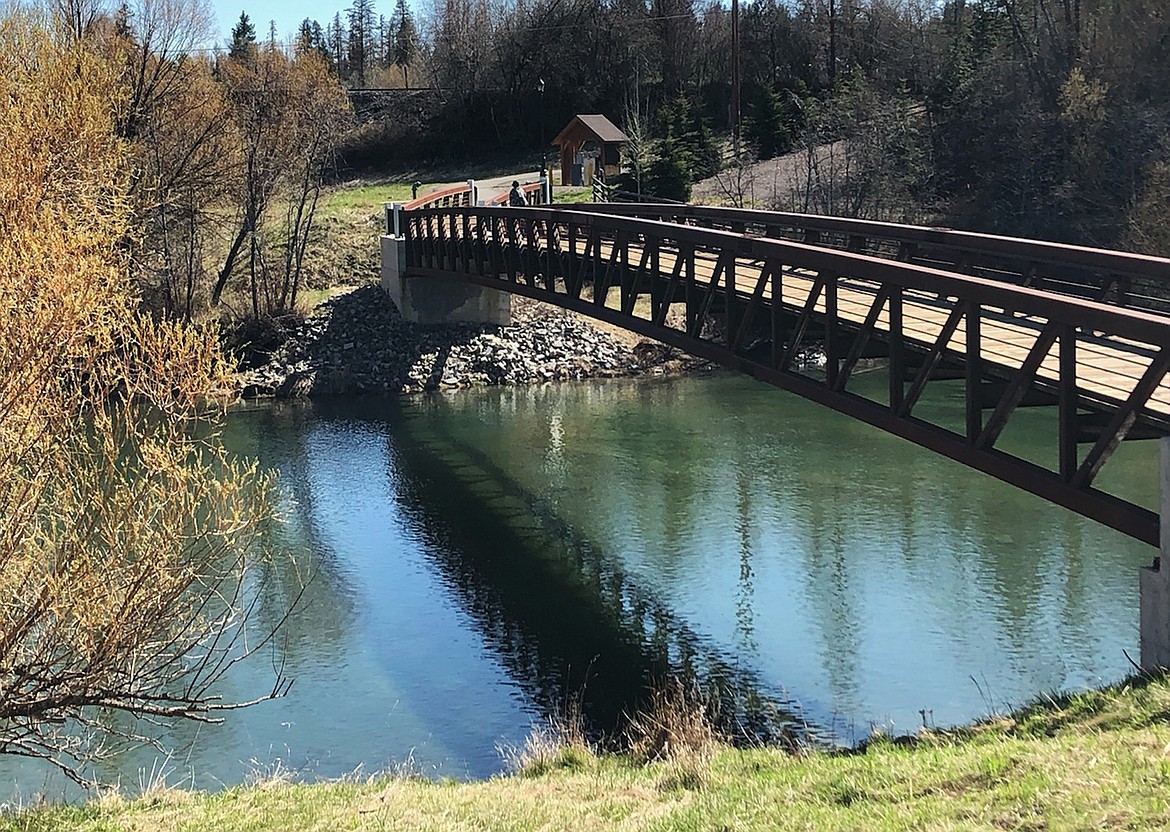 A bike rider crosses the Skye Park bridge over the Whitefish River on a recent sunny day. (Heidi Desch/Whitefish Pilot)
by
HEIDI DESCH
Daily Inter Lake
|
May 6, 2020 1:00 AM
Whitefish is planning a phased reopening for its park and recreation facilities as possible this spring and likely into summer.
Currently, only open space parks, bicycle and pedestrian paths and trails remain open to the public. The city in March closed playgrounds and certain park facilities as a result of the COVID-19 pandemic. Montana is a little over a week into phase one of reopening following the expiration on April 26 of a stay-at-home order aimed at slowing the spread of COVID-19. The phase calls for group sizes of no more than 10 and requires social distancing of 6-feet between people even while recreating.
The city Parks and Recreation Department is following, state guidelines, as well as those from the Flathead City-County Health Department and the U.S. Centers for Disease Control and Prevention, in its phased plan for reopening.
Parks and Recreation Director Maria Butts said the parks plan is meant to balance the benefits of recreation, while operating within the guidelines set forth for social distancing and sanitation.
"Our goal is to reopen parks based on state, federal and Flathead County guidelines," she said. "We want to get people out and recreating while still keeping them safe."
Gov. Steve Bullock has said that there is no timeline when the state would move from phase one to phase two of the reopening plan.
Butts says the parks plan is generally expected to follow the state as it moves through the three phases of opening, but the parks plan could be modified as necessary.
"We will reevaluate at each phase and we don't know exactly how long each phase will last," she said. "If we don't have the personal protective equipment or the sanitation supplies we need to keep our staff safe then we may need to stay in certain phases longer."
Under the first phase, all playgrounds, sports courts, the Skate Park, the WAG dog park and public restrooms remain closed. Users are asked to follow pack in/pack out rules, taking their own garbage with them.
The Roy Duff Memorial Armory, the Stumptown Ice Den and City Beach concessions remain closed. Special events at parks remain canceled.
The boat launch at City Beach currently remains in off-season status, meaning online, self-certification for aquatic invasive species prevention is required for launching access. The AIS inspection station at City Beach is closed, but could open as early as Friday.
The city is in the process of training parks staff for an ambassador program that would provide for education at certain parks to remind users to following social distancing and limit group sizes. Signs are also expected to be added at parks explaining the rules.
"Crowded parks could become closed parks," Butts cautioned. "We may have to reevaluate if there's too many people gathering at parks."
Recent sunshine and warmer temperatures have drawn people to City Beach.
Butts says City Beach will have its own parks ambassador to provide education, and the city is looking at ways to ensure users are aware of what a 6-foot distance looks like.
"City Beach is one of top priorities and our concerns," Butt said. "Beaches everywhere have been facing issues as people disregard social distancing. We may have to ask those coming to the beach to come back later if it becomes too crowded."
Under phase one, the recreational programs would not occur. The before and after school program ended when schools closed in March and will not resume since the Whitefish School District has chosen to operate the remainder of the school year through remote learning.
Under the second phase, some recreation programs could operate with modifications.
Butts said the parks and recreation department is currently planning for how its summer programs, in particular its youth programs, would operate. As more parents go back to work, she noted, the summer day camps become important for those who need a place for their children during the day.
"Our summer day camp could operate with decreased capacity and social distancing and proper sanitation in place," she said. "We're working on a plan for how those would work."
The parks department is currently accepting registration for all of its summer recreation programs, but payments won't be processed tentatively until May 25. Registration is available on the city's website at https://tinyurl.com/y8k5hmuq
Butts encouraged folks to register for the programs because she says it gives the city a better understanding of the need and interest levels for the programs so planning can occur.
In the second phase of reopening, the parks department expects to reopen certain parks and facilities with reduced capacity following the state's guidelines that group sizes can be expanded to 50 people, but social distancing should still be maintained.
Under the city's park plan, phase two would allow for sports courts, the WAG dog park, Skate Park, and restrooms to all reopen following social distancing with reduced capacity guidelines and appropriate sanitation measures.
All playgrounds would still remain closed.
Facilities like the Roy Duff Memorial Armory, the Stumptown Ice Den, gazebo rentals and City Beach concessions would be allowed to reopen with physical distancing measures in place.
Special events could occur with physical distancing and limited group size.
Modified recreational programing could occur with physical distancing and limiting of group sizes.
Under the third phase, parks and recreation facilities and programing would resume normal operations with no limits on group sizes, but physical distancing would still be observed.
For questions, contact the Parks and Recreation Department at 863-2470 or visit the parks and recreation page on the city's website at https://tinyurl.com/y8p6p6ag
Recent Headlines
---