Schools ready for start of remote learning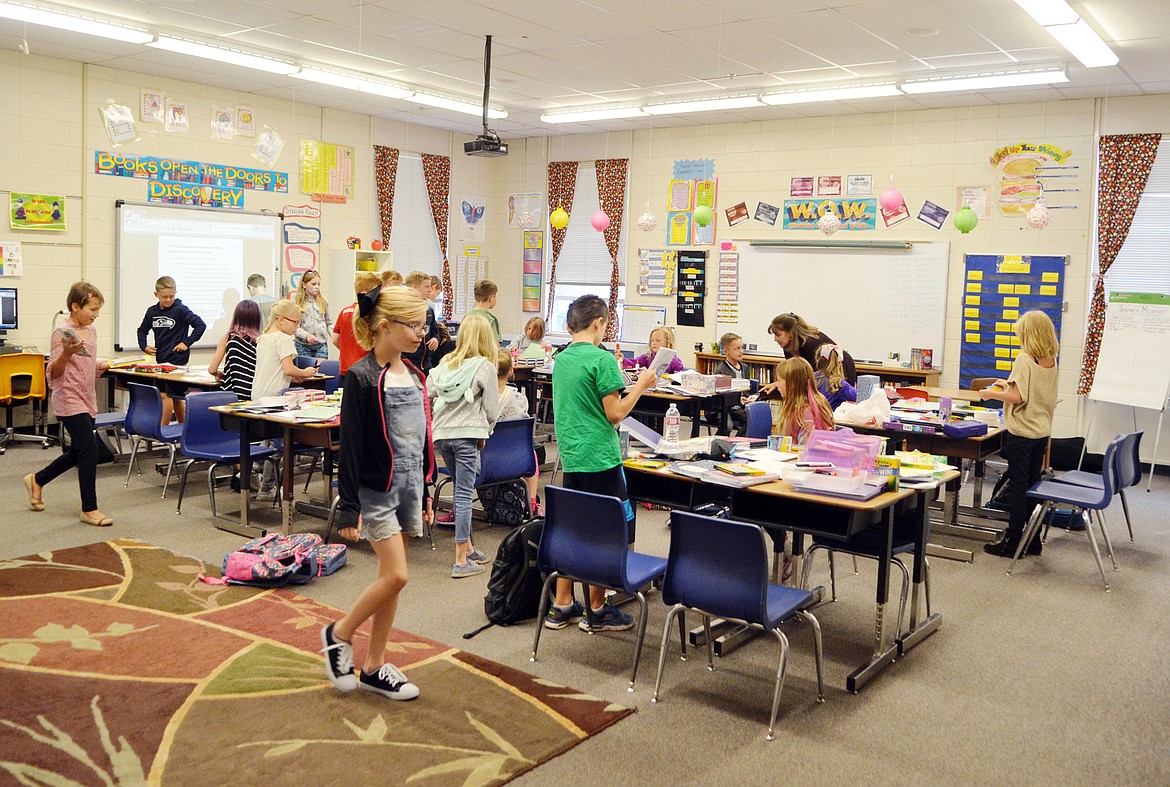 Students work inside a classroom at Muldown Elementary School in this Pilot file photo.
by
Daniel McKay
Whitefish Pilot
|
March 25, 2020 1:00 AM
Whitefish Schools are planning on a "soft start" for remote learning next week, anticipating an extension in the closures caused by the coronavirus outbreak.
The district updated its plans for the closures last week after announcing on March 15 they'd be closing in accordance with Montana Gov. Steve Bullock's directive and would instead offer remote teaching using paper materials and online resources.
Students had no school all of last week and are on spring break from March 22 through March 28.
Superintendent Heather Davis Schmidt said after a week of preparation heading into spring break, she's feeling confident in the remote learning "slow start."
"We've got a plan in place, and we feel like we're ready. I think it'll ramp up again next week as remote learning actually takes hold. We're excited about it. There's some good opportunities that come with it," she said.
Classes will not yet start on Monday, she said, as the third quarter for the middle and high school wraps up at the end of the week. Instead, building principals will be making phone calls to each student's home to check in with parents before classes resume the following week.
While the governor's directive runs until March 27, Davis Schmidt said she's preparing for a longer closure, though she's not sure how much longer.
"I do expect the closure to be extended beyond Friday, but I don't know if it'll be two weeks, four weeks, six weeks or the rest of the school year," she said. "I think the impact on our schools is much less than the impact on our broader economy. I would hope for that bigger picture reason that our schools and communities can get back on line as soon as possible."
During the closure, the schools are switching to a remote learning environment, where teachers will generally work from their office and connect with students at home via online services like the Google Drive Suite and Google Classroom.
Google services are available on all platforms, including Mac OS, Windows, Chrome OS, Android phones, iPhones and more.
Early plans called for using paper materials for grades K-2, but Davis Schmidt said conversations with teachers and parents have indicated that those in first and second grade may be doing more digital learning than originally planned.
Last week teachers underwent training for the software needed to run the remote learning, but many had already been using them in the regular classrooms already, Davis Schmidt said.
"I think our teachers and students are really well prepared for this. We've been using Google apps in our classes for a few years pretty successfully, so I think students and staff are pretty well trained," she said. "Even staff members that had been reluctant are jumping on board, and I think the things they learn will help transition classrooms beyond this."
In addition to disrupting the normal school schedule, the closures also affect the district's spring standard testing.
Davis Schmidt said the federal government has said states can request waivers for standards testing, which the Montana Office of Public Instruction indicated they would, but another complication arises with the high school juniors' ACT testing.
The district uses the ACT as a standard and works with OPI to allow all juniors to take the test for free in the spring.
"We're actually working with OPI and OPI is working with the Office of the Commissioner of Higher Education to see if we can find an opportunity for our juniors to take the test in the fall so they can take that for free and use the scores for college applications," Davis Schmidt said.
Assuming the schools remain closed following spring break, food service for students will resume on Monday, March 30.
The district's food services staff will provide food to anyone age 18 and under, with drop off sites including Muldown from 11 a.m. to noon, Whitefish Middle School from 11 a.m. to noon, Forest Acres from 11 to 11:30 a.m., and City Beach from 11:45 a.m. to noon. Each kid is entitled to one lunch and one breakfast per day, and does not need to be a part of the free and reduced lunch program or enrolled in the district to receive these meals.
Olney Bissell School will be making stops at Martin Camp Road at 12:15 p.m. and in Olney at the Mercantile on noon.
Davis Schmidt says over all, she appreciates the community's participation and willingness to go along with the district in a totally new scenario.
"I appreciate everyone's patience. I know this is a really trying time. What I've heard is that the novelty of this experience wears off after a couple weeks, so I would just ask everyone to continue to be patient and work with us and if they have any challenges to get a hold of their teachers and the principals," she said. "We're all in this to support our students and get through this."
The district is planning another update for families by 6 p.m. on Friday, March 27.
---