Glacier Nordic Ski racers compete in youth championships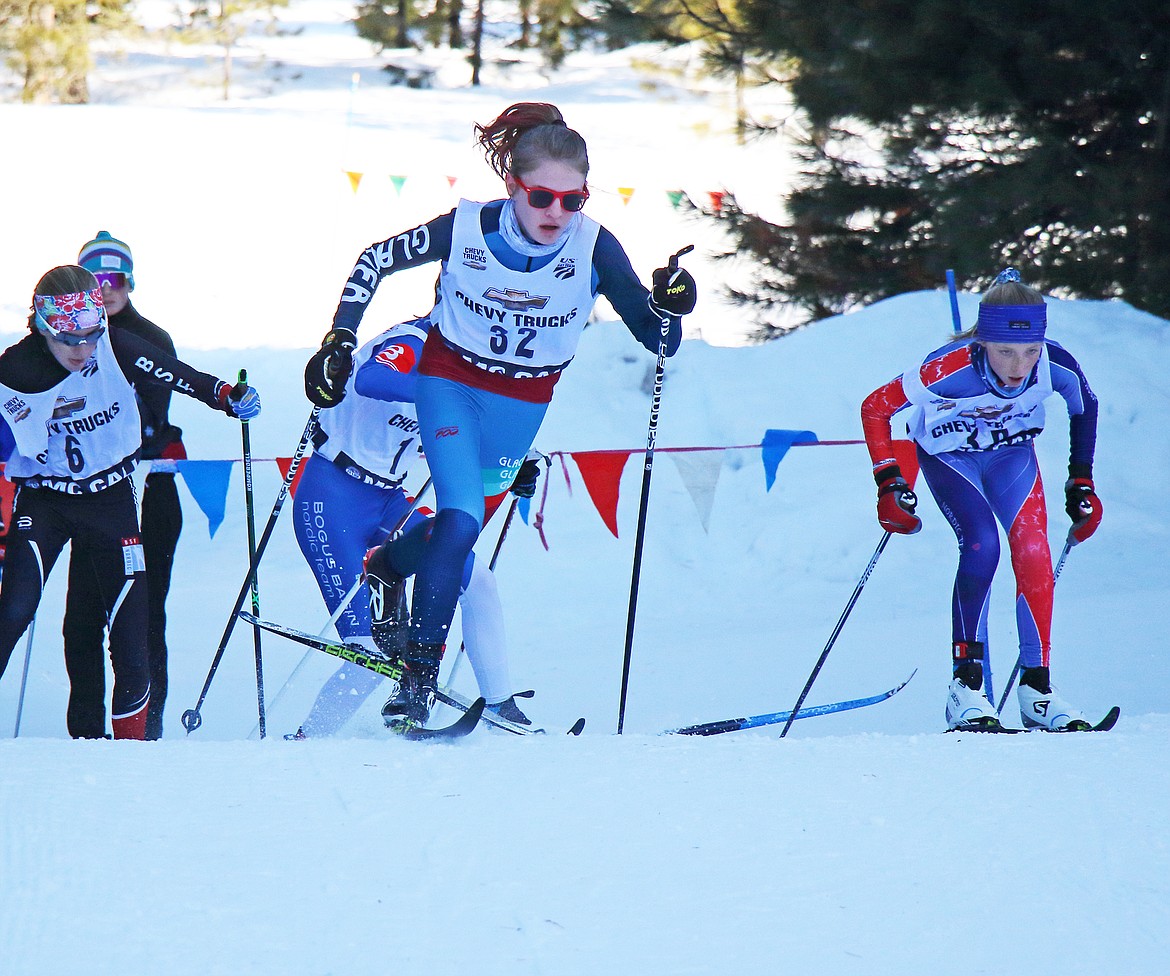 Glacier Nordic athlete Maeve Ingelfinger leads a group of racers up a hill in McCall, Idaho. (Photo courtesy Wayne Petsch)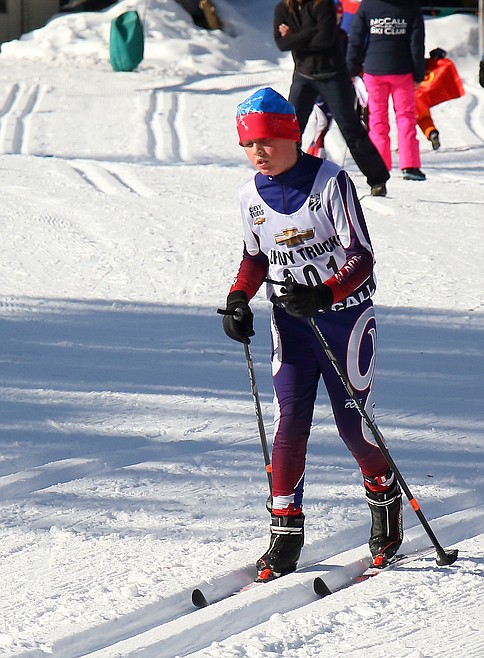 Glacier Nordic athlete Henry Tate races in McCall, Idaho. (Photo courtesy Wayne Petsch)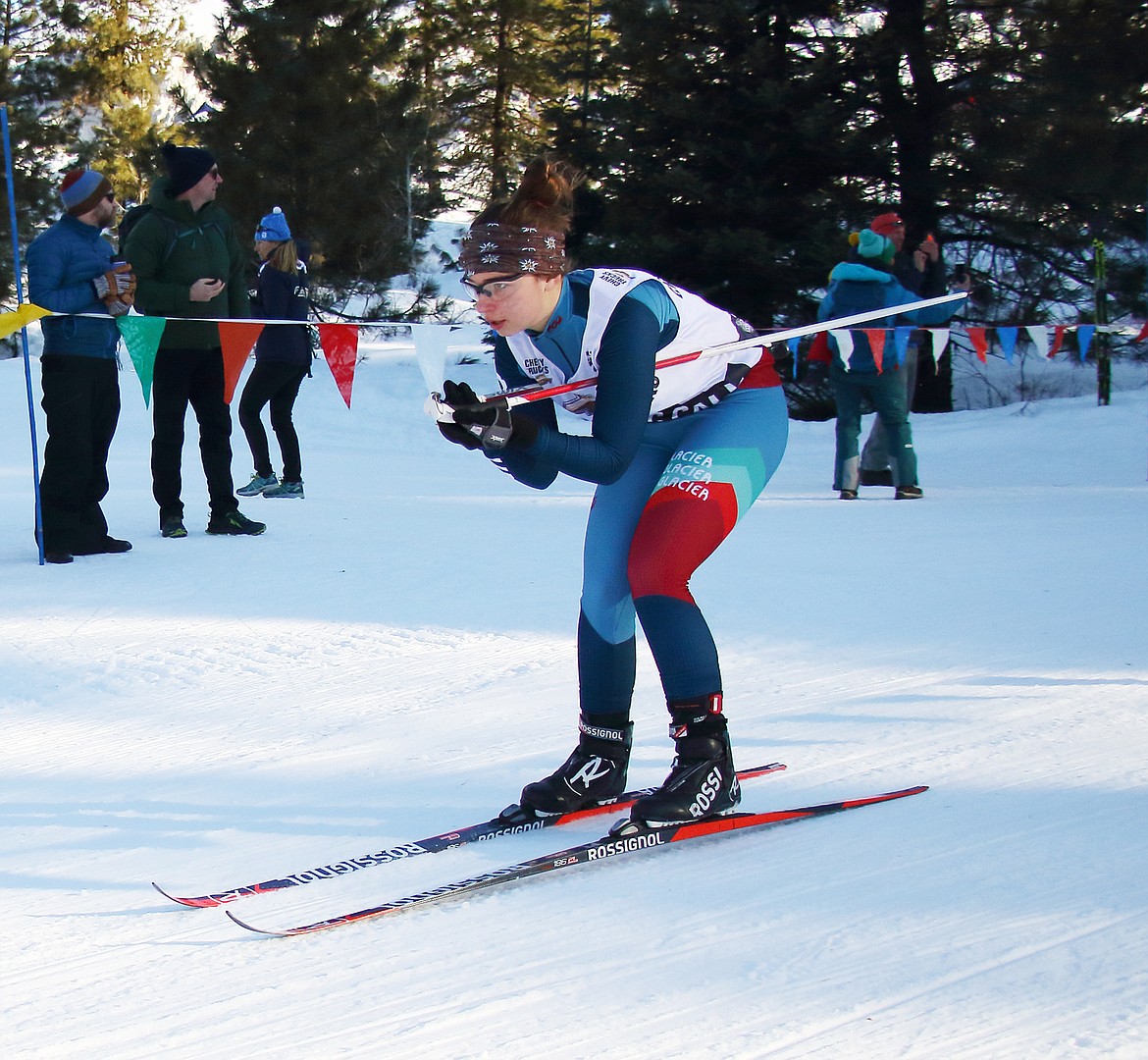 Glacier Nordic athlete Charlotte Lehman races in McCall, Idaho. (Photo courtesy Wayne Petsch)
Previous
Next
Six youth from the Glacier Nordic Ski Team traveled to McCall, Idaho on Feb. 29 and March 1 for the Intermountain Division of the US Ski and Snowboard Youth Champs races.
The races attracted more than 175 skiers from Montana, Idaho, Washington, Utah, Wyoming and Alaska. Youth Champs is the largest regional racing event for U14 cross-country skiers. Racers could enter three races starting Saturday with an interval start freestyle or skate race followed by a skier cross event. The skier cross was a downhill race, combined with obstacles, features and jumps, raced on skate skis. Sunday finished with a mass start classic race. Saturday night's cold temps led to icy, fast, klister conditions and quite a few falls on course on Sunday.
The U14 girls — Signe Ebett, Maeve Ingelfinger, Charlotte Lehman and Iona Sarraille — all had solid finishes throughout the weekend racing in a tough field of 45 girls. Maeve Ingelfinger won the skier cross and scored a third place podium spot in the classic race. The boys were represented by Henry and Colter Tate in their first Youth Champs.
Skate
U8 – 1k
Boys
4. Colter Tate
U10 – 1.2k
12. Henry Tate
U14 – 3k
8. Maeve Ingelfinger
21. Charlotte Lehman
33. Signe Ebett
35. Iona Sarraille
Skier Cross
U8
4. Colter Tate
U10
11. Henry Tate
U14
1. Maeve Ingelfinger
15. Signe Ebett
29. Charlotte Lehman
35. Iona Sarraille
Mass Start Classic
U8 – 1k
3. Colter Tate
U10 – 1.2 k
10. Henry Tate
U14 – 3k
3. Maeve Ingelfinger
24. Charlotte Lehman
31. Signe Ebett
36. Iona Sarraille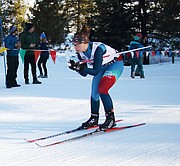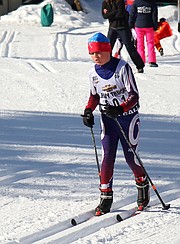 ---