Sun Road won't open to Logan Pass by July 4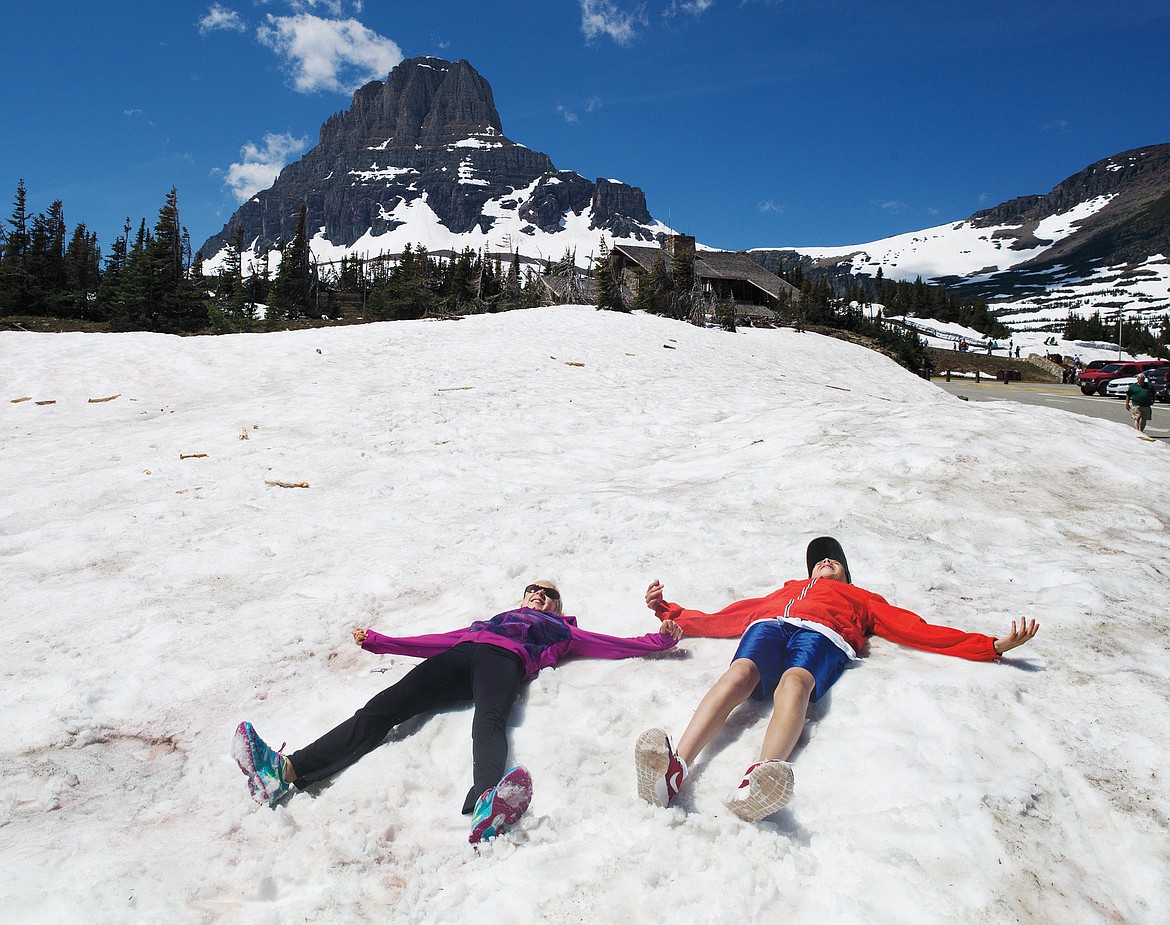 Gretchen, left, and Pierce Janssen play in the snow at Logan Pass in this file photo.
Glacier National Park's Going-to-the-Sun Road will not be open to vehicles to Logan Pass by the July 4 holiday, park spokeswoman Gina Kerzman said.
Kerzman said that while crews have punched a hole through the Big Drift, the park is behind with other necessary work on the road, including putting up multiple removable guardrails. Every year the guardrails are taken down before winter snows hit and every spring they have to be bolted back on.
Glacier has been late this year with bringing on seasonal crews that do that sort of work due to coronavirus restrictions. Seasonals have had to quarantine before they could go to work due to coronavirus. The road also has to be clear of debris and rocks before it can open to vehicles, Kerzman noted.
In addition, while crews have punched a hole in the big drift to get administrative vehicles through, it still needs more work before it could open to the public, Kerzman noted.
The big drift is a massive drift of snow just east of Logan Pass.
While the road won't be open to vehicles the July 4 weekend, it will be open to hikers and bikers to the pass starting July 2, as crews won't be working.
The Park will also open Fish Creek campground Friday, but folks must have a reservation. There is no drive-up service. Having said that, if a person sees an open campsite, they can go back to reservation.gov and reserve the spot, Kerzman noted.
Backcountry campgrounds will be available starting Friday, but only sites west of the divide and only those that aren't snowed in.
The Blackfeet Tribe has a non-essential travel restriction in place through at least the end of the month, meaning no travel in Glacier east of the divide.
As such, the Park has canceled all previous reservations at the St. Mary campground until July 9.
Kerzman said the park is considering a plan to have a turnaround at Rising Sun or Sun Point if the Blackfeet extend the travel closure, but that plan isn't finalized and it will continue to include the normal size and height restrictions to vehicles.
Up the North Fork, the Polebridge Ranger Station has been closing the roads based on traffic. On high traffic days it closes at 4:30 p.m., on lighter days it depends on the number of people in the park. The Sun Road also is closed by park staff when parking lots at Avalanche Creek fill up, to avoid overcrowding. That happens just about everyday if the weather is nice.
Both Bowman and Kintla lakes are closed to boating and the park hasn't determined if they'll open this year at all due to staffing concerns at inspection stations.
Lake McDonald is the only lake open to boating right now and all boats must be inspected before launch for aquatic invasive species.
There is a bright spot to the restrictions. Without any traffic to contend with, reconstruction of the Many Glacier Road is ahead of schedule, Kerzman said.
---