Three generations of same family taught at Muldown Elementary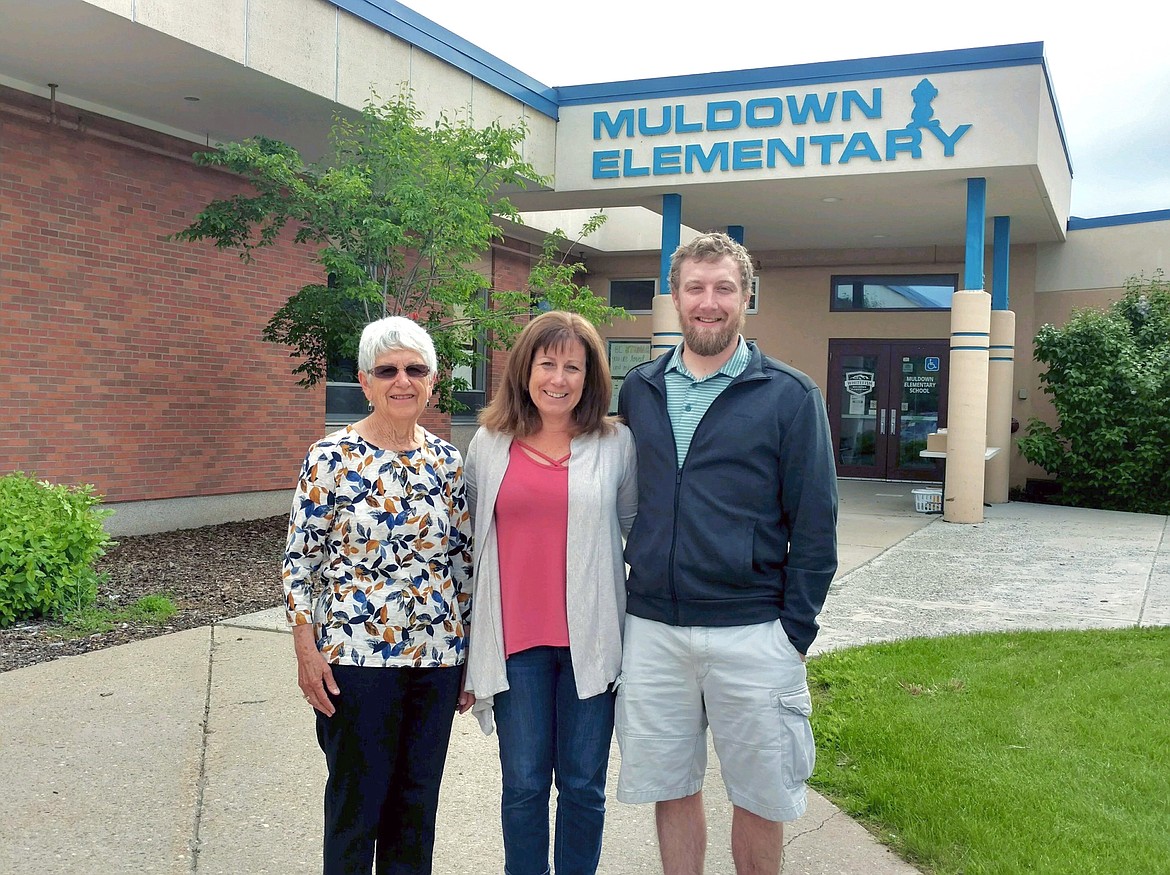 The Maddox-Snipes family has had three generations of teachers in the classroom at Muldown Elementary. Janet Maddox, left, began teaching for Whitefish School District in 1958 before the building was constructed and her daughter Shelly Snipes and grandson Tyler Snipes teach at the school today. (Courtesy photo)
by
Heidi Desch
Whitefish Pilot
|
June 24, 2020 1:00 AM
The Maddox-Snipes family has a deep connection to Muldown Elementary School — three generations of family members have taught in the building.
Janet Maddox began teaching for the Whitefish School District prior to the construction of the building in 1966. Her daughter Shelly Snipes and grandson Tyler Snipes both currently teach at the elementary school together.
The three teachers recently gathered together outside the school for a photo before major portions of the building are demolished this summer. A new Muldown building is under construction nearby and is set to open in the fall.
Janet taught first, third and fourth grades during her tenure. Shelly currently teaches fourth grade and Tyler teaches third grade.
Janet speaks fondly of her daughter's and grandson's decisions to become teachers.
"I'm very proud of them," she said. "They've worked very hard for it."
Janet and Shelly worked for a few years at Muldown together, even teaching at the same grade level.
"That was very nice," Janet said. "I remember the principal came around and asked me if I could teach with my daughter and I was so excited that they would hire her to work here."
Maddox retired in 1992 after more than 30 years of teaching. Her daughter took over her classroom, which is where she finished out the school year.
While packing up her room, Shelly says Muldown is a "pretty special place."
"It was hard as I took my stuff off the wall of the classroom — it's the end of an era," she said.
She's been thinking about all the family members who have attended school in the building, including her granddaughter, Tyler's daughter, who was in class there just this school year.
"It's sad," she said. "But it's a fresh start in a new building."
Shelly too is proud of Tyler's decision to become a teacher after serving in the military. He completed his student teaching at Muldown in the same grade she teaches and then worked a substitute teacher before being hired full-time this school year.
Both mother and son are hoping that they'll also get the opportunity in the future to teach the same grade level together. Shelly says it was a special experience when she taught alongside her mother.
Shelly and Tyler have similar outlooks on their career choice.
"I wanted something that would be upbeat and rewarding," Shelly says. "I like working with the kids and building relationships. The kids make me laugh every day."
"I wanted a job where I would get to help people," Tyler said. "Having my own kids I learned I liked to teach. Working with the younger kids you never know what to expect — they keep me on my toes."
Tyler says in returning to his elementary school, so much seems like it has remained the same — the playground equipment and Mully Night.
"It seems timeless," he said. "It will be a little sad to see it go. It's the last school building remaining that I attended that hasn't changed. It's also exciting to be moving into a new building."
---