Efforts to fight invasive species in Beaver Lake continue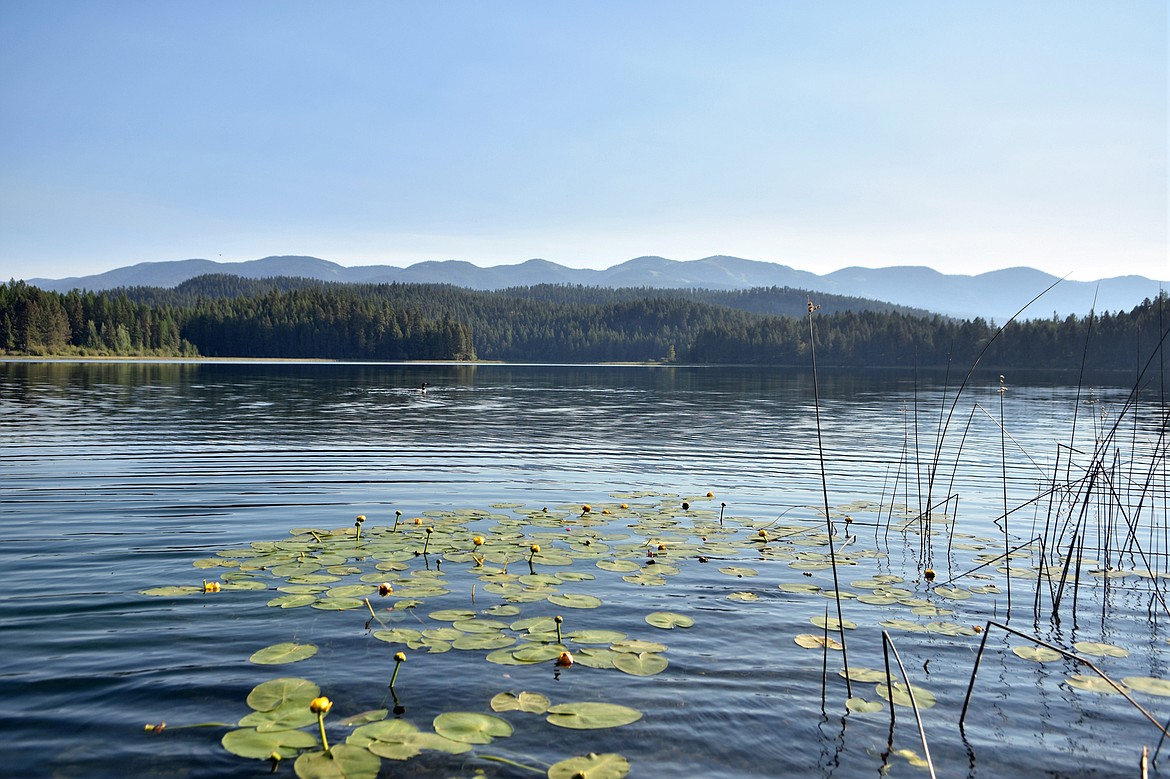 Beaver Lake is west of Whitefish. (Heidi Desch/Whitefish Pilot)
by
Heidi Desch
Whitefish Pilot
|
June 23, 2020 11:38 AM
About a dozen plants of Eurasian watermilfoil were found in Beaver Lake last summer after none were found the year before, and those involved with monitoring the lake expect continued efforts to manage the issue this summer.
Efforts to control and eradicate the aquatic invasive species began in 2012 as a multi-agency cooperative effort after the watermilfoil was discovered the year before near the boat ramp.
Until last year, efforts to eradicate the watermilfoil have discovered fewer plants than the years prior and in 2018 no plants were found. Last year Montana Fish, Wildlife and Parks assumed management of the issue in the lake with assistance from the Whitefish Lake Institute, which has monitored the situation since the first year the species was found.
Mike Koopal, executive director of Whitefish Lake Institute, said FWP and the institute plan to again visit the lake this summer and explore more areas of the lake.
"We're still optimistic about the ability to control it, if not eradicate it," he said. "If we hadn't jumped on it from the beginning and weren't as aggressive in the management that wouldn't even be possible."
In 2012 there was 23.5 pounds of watermilfoil removed from the lake. In 2017 less than a quarter of a pound of it was removed and only two plants were found in the lake.
Last year FWP divers found a small number of plants and used a suction dredger to remove them.
Bottom barriers have been placed near the boat ramp and WLI continues to maintain a sediment curtain near the lake outlet to Beaver Creek to minimize the potential for downstream drift of plant fragments to the creek and Whitefish Lake.
The Montana Department of Natural Resources and Conservation in October 2011 discovered Eurasian watermilfoil near the boat ramp at Beaver Lake west of Whitefish. Eurasian watermilfoil is an aquatic plant that grows in still or slow-moving water.
If left untreated, it can form dense vegetation mats on the water, which can threaten the health of the affected water body and interfere with recreational activities like fishing, swimming and boating.
After the discovery of the invasive species, a multi-agency cooperative effort by deploying bottom barriers near the boat ramp, which were successful in eradicating the largest population patches of the infestation.
Following that, suction dredge operations were deployed to control and eradicate isolated patches. Suction dredging involves a diver identifying plants and then suction dredging the plants from the roots to prevent fragmentation.
Beaver Lake is hydrologically connected to Whitefish Lake, and thus the issue requires continued work to ensure the watermilfoil in Beaver doesn't spread, Koopal notes.
---