School Board gives farewell thanks to superintendent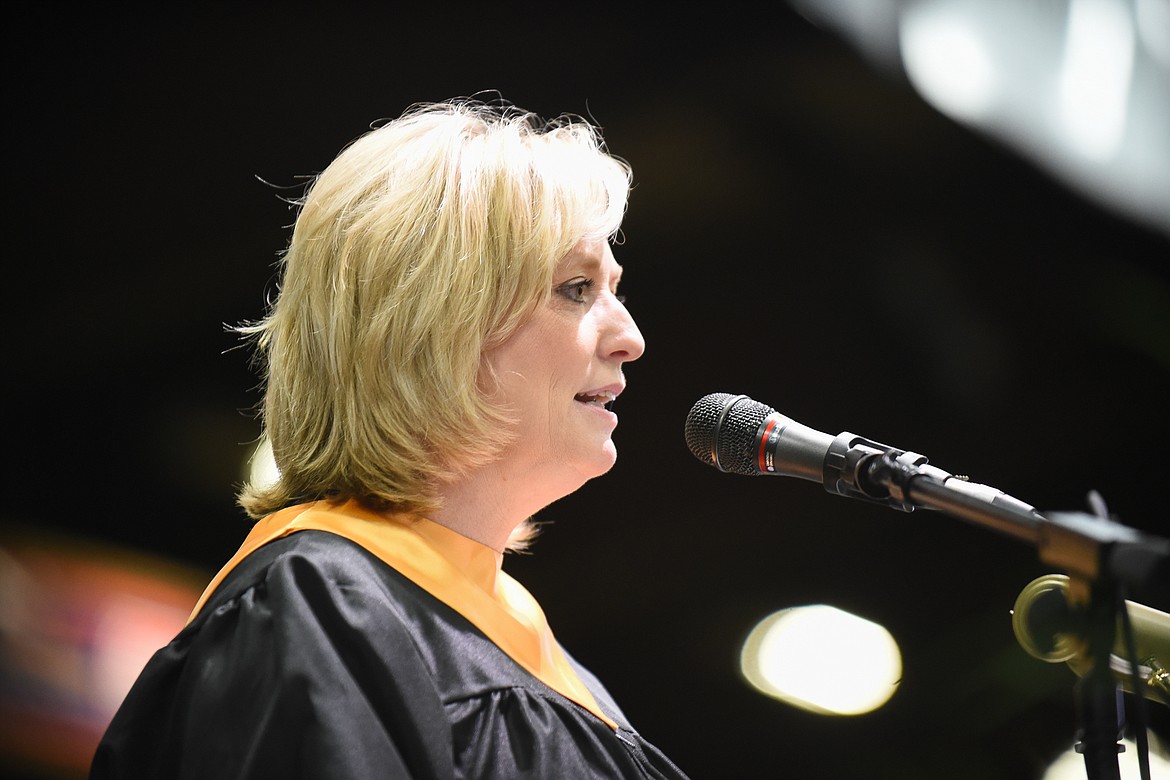 Superintendent Heather Davis Schmidt speaks to students and guests during Whitefish High School Graduation earlier this month. (Daniel McKay/Whitefish Pilot)
by
Daniel McKay
Whitefish Pilot
|
June 17, 2020 1:00 AM
Superintendent Heather Davis Schmidt has seen a lot since joining the Whitefish School District in 2015.
She's overseen the building of new structures and programs, like the Center for Sustainability and Entrepreneurship, the district's strategic plan and the construction of a new Muldown Elementary School, which is set to open in the fall.
She's also persisted through trying times, like the current closure of schools due to the coronavirus pandemic and a cyber-terrorist extortion threat that shuttered Flathead Valley schools for three days in 2017.
On June 9, during her final meeting of the Whitefish School District Board of Trustees, that coolness under pressure is what she was praised for.
"It's been five years that honestly I feel like we've been very prepared," Trustee Nick Polumbus said. "Your planning, with the strategic plan most recently, is obviously a great example, but you think about the Muldown school and all that's gone into the building project and planning ... the process to get to the bond for that school, the planning and energy and time that went into that, it's impressive."
"Remember the time we thought three days out of school for a cyber-terrorism threat was a big deal?" Polumbus added with a laugh seeming to refer to the end of the current school year being taught remotely due to the pandemic.
"That time did lead to a whole separate initiative with school safety," he added. "I just think about the knowledge you brought, and the preparedness and dedication to doing everything right and fair and legal, and the peace of mind that brings."
Davis Schmidt announced in December her decision not to seek renewal of her contract, which had been set to expire in June of 2021.
She was recently hired by Target Range School in Missoula to serve as its interim superintendent.
Board Chair Katie Clarke said Davis Schmidt's perseverance is what sets her apart.
"I so appreciate your resilience, and that there were really hard times and you never gave up. You kept showing up for kids and doing what's right and your commitment to equity — you've taught us all so much," she said.
Trustee Ruth Harrison echoed those sentiments.
"I really admire that grit and courage you've shown in the face of sometimes adversity. It's just not an easy job, and you never ran away. You were always there," Harrison said. "I really admire that."
Davis Schmidt said her successor, Interim Superintendent Dave Means, will be ready to take on her role, and she appreciates the board and their time working alongside one another.
"I told you all in January that I'm terrible at goodbyes, so thank you," Davis Schmidt said. "I just want to say you are going to be in equally capable hands. I told Dave I wouldn't change my phone number."
---