Couples still coming here to marry, but with smaller wedding parties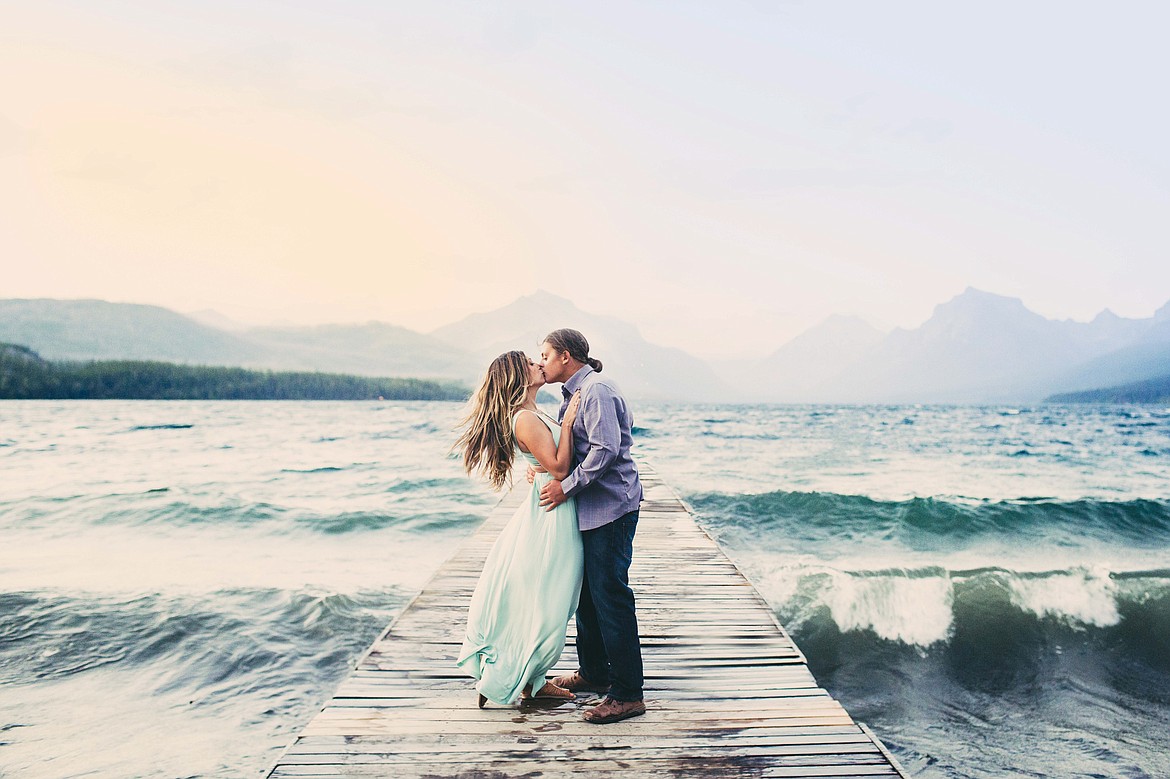 A couple kisses on the shore of Lake McDonald in Glacier National Park. (Jennifer Mooney Photography)
by
Daniel McKay
Whitefish Pilot
|
June 17, 2020 1:00 AM
It's no secret that northwest Montana and Glacier National Park are popular wedding destinations, but in the time of coronavirus, more couples are flocking to the mountains, but with smaller wedding parties.
Jennifer Mooney, a wedding photographer who's shot in the Flathead for the last eight years, says the COVID-19 closures have caused some shakeups in her summer schedule.
In June and July, she says about half of her bookings for larger weddings have either rescheduled for 2021 or made other big changes to their big day.
That drop, however, is being made up for by smaller, more intimate weddings, she says.
"The intimate micro-weddings and elopements are just blowing up," Mooney says. "Basically knowing Glacier is opening and how low our state numbers are, I think it's making people feel like Montana is the place we should go."
Carrie Doyle of Carrie Ann Photography said the same thing. She noted of the 15 large weekend weddings she had booked for this summer, she's now down to just four — already a lower number than years past as she transitions her business to smaller weddings.
But including elopements and micro-weddings, she has about 70 weddings scheduled for the summer, about 10 more than she was expecting.
It's been a wild ride in the wedding industry since March, she says.
"It started out pretty scary, I think for everyone, it was just wondering if you're going to have a season at all," Doyle says. "It kind of went in waves. It started out in panic, then everyone held tight to wait it out. As we got closer, those people with larger numbers pushing over the allowed group sizes definitely had to postpone. Probably about the same time, that's when all the elopements started coming in."
Making the best out of an unusual wedding season isn't the experience everyone is having, she notes.
"Photographers are probably fairing through this the easiest as far as all wedding vendors go, just because we do have the option of the elopement," Doyle says. "Venues, DJs, anything that has to do with a full larger wedding, they're definitely feeling the effects of this a lot more."
Cassie Baldelli, co-owner of Glacier Raft Co. and Glacier Outdoor Weddings with her husband, Jeff, agrees.
"We've probably had 25 percent of our weddings either move to 2021 or to later in 2020. Probably 75 percent of our weddings have shifted from a large wedding to less than 100 people, and half of those have shifted to friends and family only," she says.
As a business, the past few months have been tough, she says. She had to lay off most of her staff for a month and half until they were granted a personal protective equipment loan, and workers have been rejoining the staff since.
They also had to change company policies regarding rescheduling and refunds, she says.
"We've been allowing our weddings to reschedule for 2021. For us it's been about being more adaptable on our policies, making sure we have hand sanitizing stations and cleaning supplies, making sure our brides and grooms are comfortable and making sure everyone is safe," she says. "I don't know if there is an exact way to prepare for something like this."
Glacier Weddings has been able to pivot to some smaller weddings in the face of larger cancellations, Baldelli says, but it's only enough to weather the storm.
She adds that her frustrations take aim at the state's reopening plan, which until late May did not give an indicator of when phase two of the reopening would begin. Phase two started on June 1.
"[It's] not enough to make up what we lost. We're still retaining a lot of the weddings because they're moving into next year, but that takes away dates we could've had in 2021," she says. "Honestly [Montana Gov. Steve Bullock's] 14-day quarantine really screwed us at the beginning of the season. People felt like they needed to make their decision with no definitive timeline."
Looking ahead, Doyle says she's seeing more rescheduling and elopements being booked for the fall, while Baldelli says she's still retaining fall wedding dates so far.
Though the possibility of a second wave of coronavirus cases looms through the summer, Doyle says she likes to stay optimistic.
"It seems like as time goes on the news of everything gets a little more encouraging. I feel pretty blessed and fortunate to sit in a place that is definitely a desirable wedding destination spot and Glacier being one of the most desirable intimate wedding locations has really helped me out. It's definitely going to carry me through this," she says.
Mooney shares the same sentiments, though she says all the rescheduling has her spending more time at her desk and her computer than she'd like.
"I'm probably operating at a maximum amount of hours right now in the office. I hardly have any time away because there's so much revisiting of plans, that's the highest demand right now," she says. "At the same time, I think with Glacier opening it's kind of changed basically the way things were going. I think it's helping the economy, even if we have some large weddings moved to next year, it's definitely giving our industry some sense of hope right now."
For more information on Mooney, Doyle and Baldelli, visit their respective websites at jennifermooney.com, carrieann-photography.net and glacieroutdoorweddings.com.
Recent Headlines
---