Whitefish Schools begin planning for modified learning in fall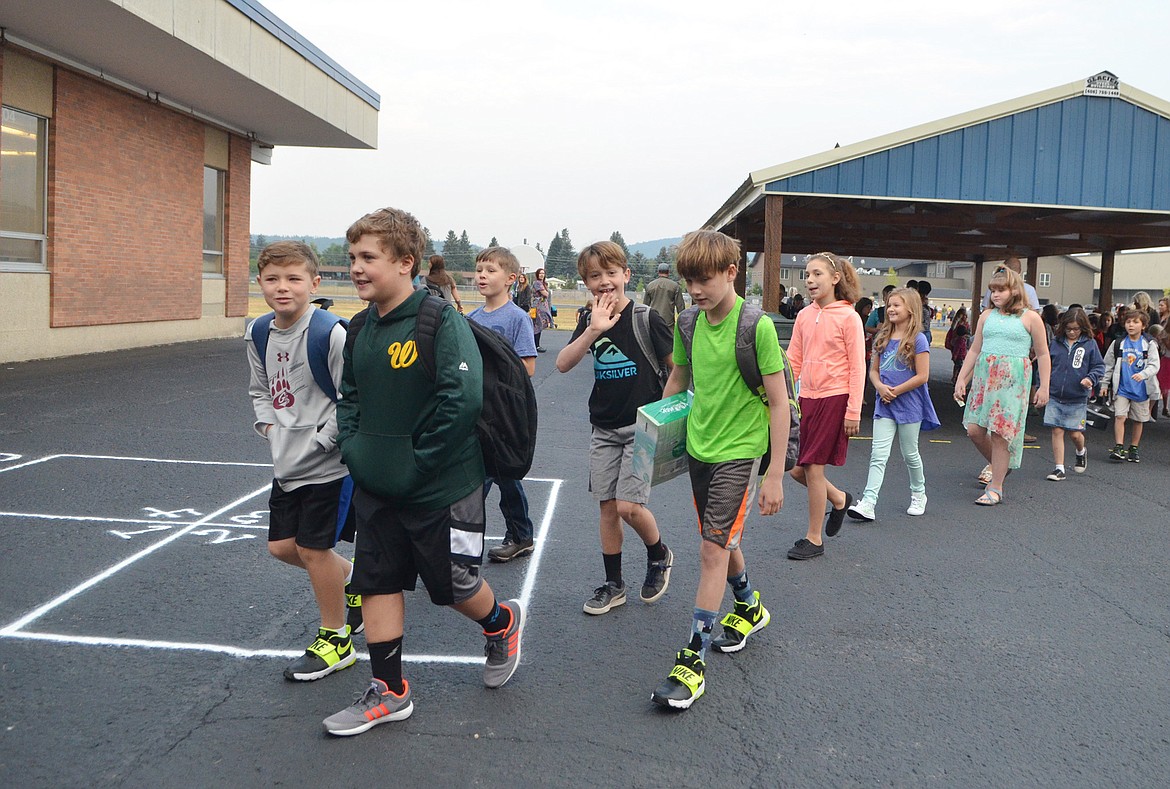 Students file into Muldown Elementary. (Heidi Desch/Whitefish Pilot file)
by
Daniel McKay
Whitefish Pilot
|
June 3, 2020 1:00 AM
With an unusual spring semester coming to a close for Whitefish Schools, all eyes are turning to the fall.
And while it's impossible to tell what sort of closures and social distancing rules will be in place as a result of the COVID-19 pandemic by the start of the 2020-2021 school year, district administrators agree on one thing — it's going to be different.
The Whitefish School Board and district administrators got started on planning for the fall during a May 26 work session, led by Interim Superintendent Dave Means, who will take over for current Superintendent Heather Davis Schmidt in July.
"Topics like this, about what can come next, can be very emotional, and I think that's OK," Means said. "At this time, it's really a discussion about general concepts and ideas, because the further we go along in the summer and as we get closer to next school year, we'll have more information, and we'll be able to narrow and refine our ideas and concepts."
Means shared ideas on how to reopen the schools in phases once the fall comes, similar to how the state has been undergoing a phased reopening this summer.
All phases are still ideas and based on the governor's plan, the Flathead City-County Health Department and the U.S. Centers for Disease Control and Prevention, all of whose recommendations are subject to change as the summer progresses.
Currently the state is in phase two of the governor's reopening plan, which expands gathering sizes to 50 people but still requires social distancing.
In phase one of its own plan for fall, Whitefish Schools would aim for a reopening with 25% capacity, meaning only a quarter of students are in the school each day, with class rosters divided into fours and assigned either Monday, Tuesday, Wednesday or Thursday. Students would then be remote learning for the remainder of the week, and Fridays would be reserved for extra preparation for teachers.
During phase one, each employee would wear masks and masks would be added to back-to-school supply lists. One room in each building would be designated for students showing symptoms of the coronavirus, and sanitation and cleaning would be ramped up in each building.
In phase two, schools would reopen at 50% capacity, with students spending two days a week in the building and the other three days learning remotely.
Phase three would see 80% to 100% capacity, with the schools resuming relatively normal operations, schedules and calendars. Continued physical distancing would be enforced, and the ability to switch back to remote learning if needed would continue to be an option.
While these plans follow a lot of different external guidelines, Means said it comes down to what the county health department says is best once the fall rolls around.
"Ultimately Flathead County Health can make a decision about whether we're going to be in school or not, and we may need to go through different levels based on their recommendations," he said.
During the meeting, building administrators shared ideas that have been shared between teachers within their professional learning communities on how to effectively move forward in the fall.
Kerry Drown, Whitefish High School Principal, said experience will be a factor in crafting a reopening plan.
"Based upon our experience thus far, we are literally 200% smarter than we were back in March. We want to use that experience to help guide us moving forward while still staying within the [public health] parameters," he said.
Drown said his teachers have been talking about how to best equip students with the tools and methods to make the most of online learning, noting the more self-driven approach works better for some than for others.
"What are those things that will add to their success that we can strategically teach them about managing time, helping with their own self-discipline, maintaining a joy for the learning, accountability, academic integrity — some of those soft skills that are hard to measure but so important to implement," Drown said.
Drown added he and his teachers have also been discussing different approaches based on how well students have taken to the remote learning paradigm.
"The students that are adept at being remote and they're showing that's working for them, maybe they don't need to come in on a strict, rigid schedule, and maybe the students that need more support need to come in more often, rather than a simple split formula of this group of students one day and that group the other day," he said.
Linda Whitright, Principal at Muldown Elementary School, said her teachers have been looking at the role masks will play in a return to the classroom.
Whitright said she's received comments about masks not "being really conducive" for students in terms of fostering the student-teacher relationship. It will also be difficult to get younger students to wear the masks constantly and return to school again and again with the masks.
Whitright also pointed out the confusion that could arise from an abrupt end to one school year and an unusual start to a new year, this time in a new building, as the new Muldown is set to open in the fall.
"A lot of comment has come up about the fact we have not been able to effectively say goodbye to these kids. Along with that, I can't help but think they left on March 13 and didn't get to come back, and yes, [teachers] have seen their lovely faces on remote learning, but it's not the same. And then the building is going to be gone," she said.
Knowing remote learning will still play a big role in the upcoming school year, the district is expanding the role it's playing in regard to technology for students and staff as well.
Jacob Phillips, Technology Director, said he plans to provide laptops for each teacher and Chromebooks for each paraeducator starting next year. Students in second grade and older will all be able to have a Chromebook as well.
All of this comes from the existing technology budget, Phillips said, and will be sustainable moving forward as well.
"That way it will be equal access for all students, no matter if we're at school or if we're at home or wherever they're at, they'll have the same access across the class," he said. "We're excited because it is sustainable from just the technology budget as is, so that's something we can continue once we get this up and going."
The district is also partnering with an insurance firm to insure each device against damage — a partnership Phillip said also comes with $30,000 worth of computer cases as a benefit — and a repair company that will be able to sanitize and repair each device at the end of the school year.
"Those two things give the technology department the support we need to be able to support this many devices for both staff and students," he said.
During the meeting, school board trustees shared their own concerns and thoughts regarding the upcoming school year.
For Trustees Ruth Harrison and Darcy Schellinger, ensuring student buy-in and engagement in remote learning will be vital moving forward.
"I think it is really a challenge to get a child to think about their own responsibility for their own education, because I don't see how else online learning is going to work," Harrison said.
"I think they all got the idea this is pass or fail right now," Schellinger added, "and they need to understand that going forward it's serious, it's not just a crazy thing we're living through for two months."
Board Chair Nick Polumbus added his sentiment that a lot of focus needs to be placed on the students' wellbeing as well.
"I have moments where I think five years from now, when we talk about COVID-19, we're going to be talking about behavioral and mental health fallout, not the virus itself," Polumbus said. "I think that's a really big deal."
---