Twins go 3-1 in second week
by
Daniel McKay
Whitefish Pilot
|
June 3, 2020 1:00 AM
The Twins worked past their 1-2 opening weekend with three big wins last week.
The team took on Libby and Mission Valley in a pair of home doubleheaders last week, winning big.
On Wednesday, Glacier opened the week with a 10-6 win over the Loggers.
The Twins got to scoring early, racking up seven runs through the first three innings. Libby came back in the fifth, stringing together a five-run inning to cut the lead, but they couldn't hold off another three runs by the Twins.
Glacier totaled seven hits to the Loggers' eight. Jacob Polumbus and Trenton Tyree combined for 10 strikeouts on the mound.
Things weren't as close in the second game, which saw Glacier winning 13-3.
The twins got the scoring going in the second inning, driving home four runs before stringing together three straight innings with three scores each.
Libby's three runs came in the fourth inning.
Glacier dominated at bat, totaling 15 hits to Libby's one.
Tyree notched a triple and a double, while Cade Morgan, Mason Peters, Polumbus and George Robbins all doubled.
Then on Friday the Twins hosted the Mission Valley Mariners, winning the first game 11-1 but falling in the second 7-5. Stats were not available for those games.
Despite the strong play, head coach Kevin Slaybaugh said he's still looking for his team to mature as the season progresses.
"We're young and green and making too many mistakes, but I can see a lot of good things in the future," he said. "We haven't hit that well yet this season. We have a lot of kids in our program that can hit, and for some reason we haven't had two guys hit in a row, and that's where the big deal is."
"Our pitching is starting to come around, I'm pretty happy with what's going on there," he added.
On Tuesday the Twins faced off against Libby in an away battle after press time. Then on Thursday they'll play in the Archie Roe tournament against the Lakers, and on Sunday they'll host Libby again at 1 p.m.
Slaybaugh said he's hoping to see his team tighten up their play as they start facing conference opponents for the second and third time.
"Hitting's the most important thing for us to improve in right now. And focus, concentration, playing the game one pitch, inning, play at a time," Slaybaugh said. "Our season is just starting to fire up now."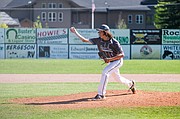 ---