Teaching in the field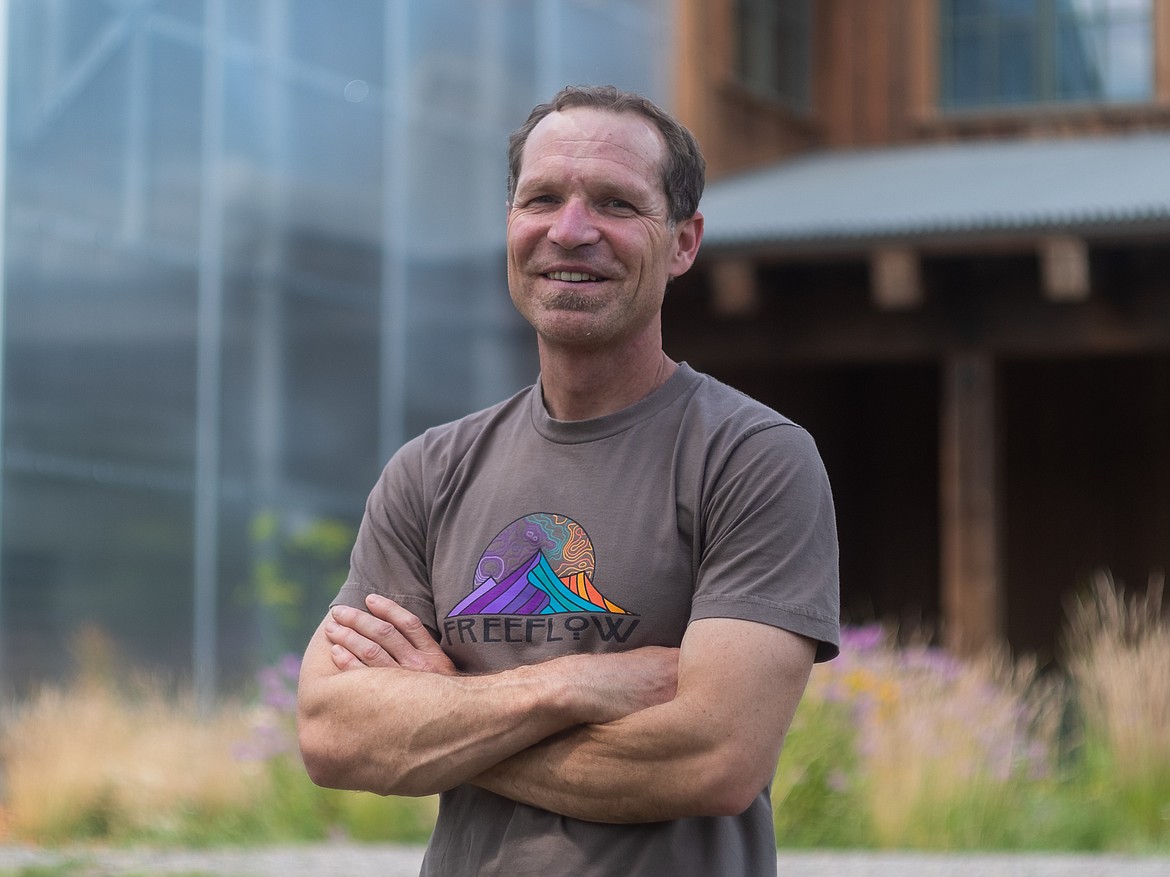 Whitefish High School teacher Eric Sawtelle was recently awarded the Chris Ruffatto Excellence in Education Award by the Whitefish Lake Institute. (Daniel McKay/Whitefish Pilot)
by
Daniel McKay
Whitefish Pilot
|
July 28, 2020 2:17 PM
As a field scientist, Eric Sawtelle appreciates the lessons that come from getting your hands dirty.
And as a teacher, he remembers that style of learning being far more interesting than sitting in a classroom.
"I don't have a lot of patience for that. I know what it's like to be a student, and for me I had a hard time sitting through lectures when I could read it myself," he says. "I like field science because there's just constant problem solving challenges, either with technology we're working with or trying to design a good study. I think that's great experience."
Sawtelle has been teaching science classes and leading the FREEFLOW club at Whitefish High School for the last nine years, and before that taught for eight years at Flathead High School.
He was recently named the winner of the Whitefish Lake Institute's Chris Ruffatto Excellence in Education Award.
Lori Curtis, Science and Education Director for WLI, says Sawtelle is more than deserving of the honor.
"Eric's creative collaborations with fellow high school science teachers, elementary school teachers, and local organizations is beyond impressive," she says.
Originally from California, Sawtelle's path into teaching was borne out of his love for biology and the outdoors.
"I honest didn't really plan on being a teacher. I went through my bachelor's degree in Cal Poly just thinking I would be a field scientist really," he says, adding that it took an offer to help lead a garden at the Yosemite Valley School at Yosemite National Park. "At the time I thought that would be great, to be in Yosemite and study plants with students. I signed up for that and ended up being there for three years."
As a teacher, Sawtelle says the variety of the job is one of the things he loves most about it.
Things are always changing, he says, or at least there's always new problems to solve with students.
"It's a really dynamic job, there's so many facets to it. It's certainly never boring. As a teacher, you have a lot of control over your and students' experiences. There's some pretty powerful moments that you can create, which is what held my attention," he says.
In addition to his science classes, Sawtelle also gets to bring students to new outdoor opportunities in FREEFLOW.
FREEFLOW stands for Flathead River Educational Effort for Focused Learning in Our Watershed and is a field science high school club that centers around water quality and natural resource issues that affect the environment.
The club was started by Ruffatto, who passed the torch over to Sawtelle when he joined Whitefish schools.
The club's projects and field trips are too numerous to list. Just last year, FREEFLOW students studied fire ecology and forest fuel loads, partnered with the Flathead Avalanche Center in snowpack studies, traveled to the Oregon coast to study marine ecology, and continued to conduct water quality testing on Cow Creek in Whitefish for the eighth year, among various other activities within the community and at the district's Center for Sustainability and Entrepreneurship.
Sawtelle says he looks for a myriad of different experiences for his FREEFLOW students, as well as those that can be found in the Flathead Valley.
"What we're trying to offer students that go through Whitefish High School and FREEFLOW is an opportunity to experience the desert and coastal ecosystems along with the mountain ecosystems through different recreational opportunities. All of those trips involve different research questions we're investigating along the way," he says. "We try to get students out of their comfort zone and out of their own back yard, but then we bring them back and have great experiences here as well."
FREEFLOW is a noncredit extracurricular club, he notes, though the interest from students has led to his GIS and Field Ecology class and the upcoming addition of an AP Environmental Science class this school year.
For there to be so much interest in a noncredit club is pretty cool to see, he says.
"It's really encouraging, especially when students are willing to put in the extra mile to take time out of their schedule to present their works," Sawtelle says. "You see the passion in them and it gives you a little hope for the future."
Sawtelle also stresses that while he's happy to receive the WLI award, he isn't the only one responsible for the outdoor learning that happens at Whitefish High School.
He says his work wouldn't be possible without fellow teachers like Kyle Fedderly and Nikki Reed, as well as the administration and school board. Then there's the community, he adds, including the Whitefish Community Foundation and other fundraising projects like the Richard Atkinson's Old Man Walking campaigns that have helped fund projects at the school.
"There's just so many groups that help us in numerous ways," he says.
---