Cooney visits Whitefish hops producer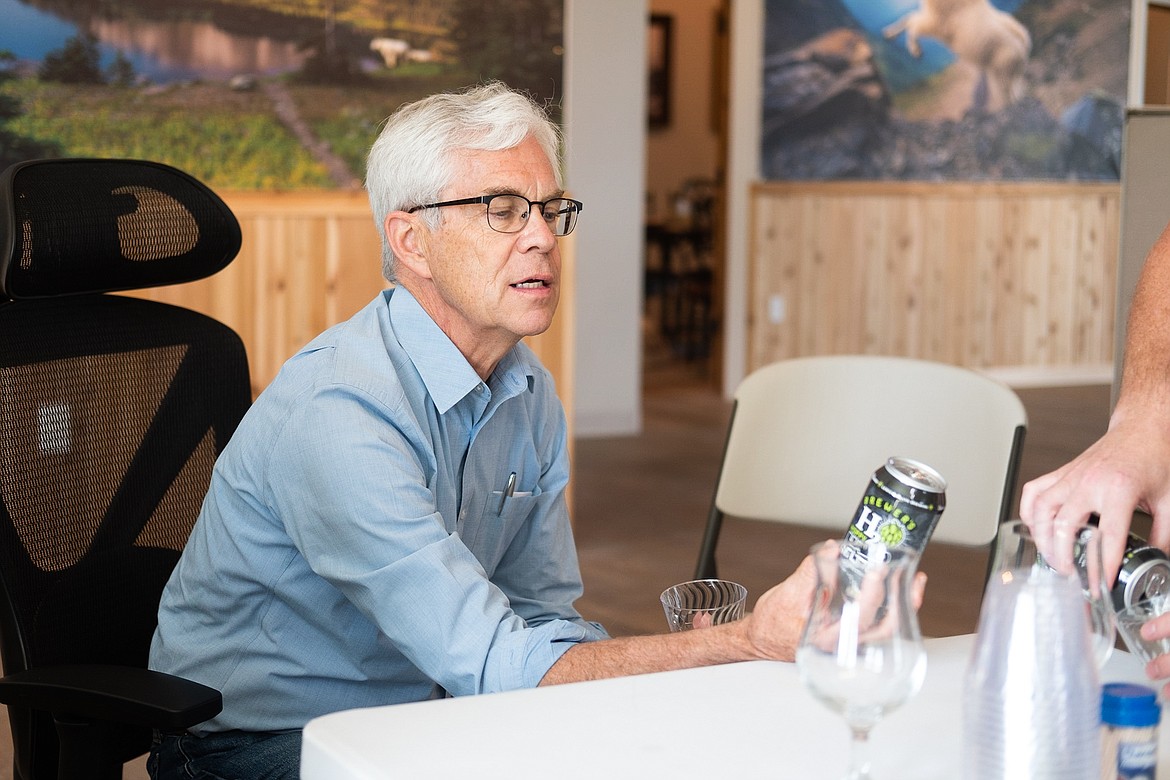 Montana Lieutenant Governor Mike Cooney examines a "hoppy" hard seltzer during a visit to Glacier Hops Ranch's Whitefish office last week. (Daniel McKay/Whitefish Pilot)
by
Daniel McKay
Whitefish Pilot
|
July 28, 2020 2:17 PM
Montana Lieutenant Gov. Mike Cooney got a chance to taste what's brewing at Glacier Hops Ranch on Friday.
Cooney visited the ranch's Whitefish office as part of a Flathead Valley trip to see how Glacier Hops is utilizing its Business Stabilization grant that came as part of the state's Coronavirus Relief Funds.
Glacier Hops Ranch was the first commercial research "Hopyard" in Montana, established in 2012, and produces hops used across the world, as well as Hopzoil, a fresh hop, steam-distilled pure essential oil that allows brewers to retain flavor that can be lost in the drying process. The oil is an alternative to hop pellets in the brewing process.
During the tour, owner and founder Tom Britz took Cooney around the office to see how the products come about, specifically the Hopzoil.
Concentrated in tiny vials smaller than a finger, the oils can pack a punch when it comes to adding or enhancing flavoring in different beers, Britz explained.
He told the story of testing the oils in cheaper light beers, but never getting the amount right. Then, on a whim, he dipped just a bit of the oil and mixed that into a beer, and it turned out he had been using far too much of the concentrated oil.
"We'd take six ounces of Miller Lite, put a drop in and taste. 'Well, that's not good.' So we'd put a second drop in, and that was even less good. We couldn't figure out what we were doing wrong," Britz said. "I took a coffee stir stick and just put a little bit in, and it was jaw-dropping. I realized we'd been over-dosing it."
Britz demonstrated that story by transforming a normal Keystone Light beer into a hazy citrus beer, done by just a bit of Hopzoil and a toothpick.
"It's just the aroma immediately, it totally changes it," Cooney said.
To help out during the pandemic, Glacier Hops received a $10,000 Business Stabilization Grant from the state's Coronavirus Relief Fund, which allocated $1.25 billion in federal emergency relief funding through the federal Coronavirus Aid, Relief and Economic Security Act.
Britz said his business has been grateful for the support it's received from the state, through the COVID grant as well as other grants from other departments.
"I'm finding that Helena has been way more full of resources for us than I ever imagined possible, more helpful than I ever imagined possible," he said. "As a small business owner, if I've got a question or a problem or a curiosity ... I don't have any hesitation of getting on the phone and saying, 'I need some help.' And I think there is a culture there of helping small businesses."
Cooney said building helpful relationships has been a focus of his since he first started in Helena.
"It's something we always strive for. When I was Secretary of State and first got to the office, I just noticed there were people in the office that when people called and needed help, they'd say, 'No you can't do that.' And finally I said, 'We need to have a different attitude here,'" he said.
"It's easy to get mad at government. As hard as we try, we don't always satisfy everybody, but I do think we have worked hard to understand that you and a lot of other people in Montana are out there dealing with issues on a day-to-day basis, making a payroll, dealing with your employees and issues like that," he added. "The last thing you need is your big problem being the state of Montana."
---