Rosanova, Johnston win competitive Fourth tourney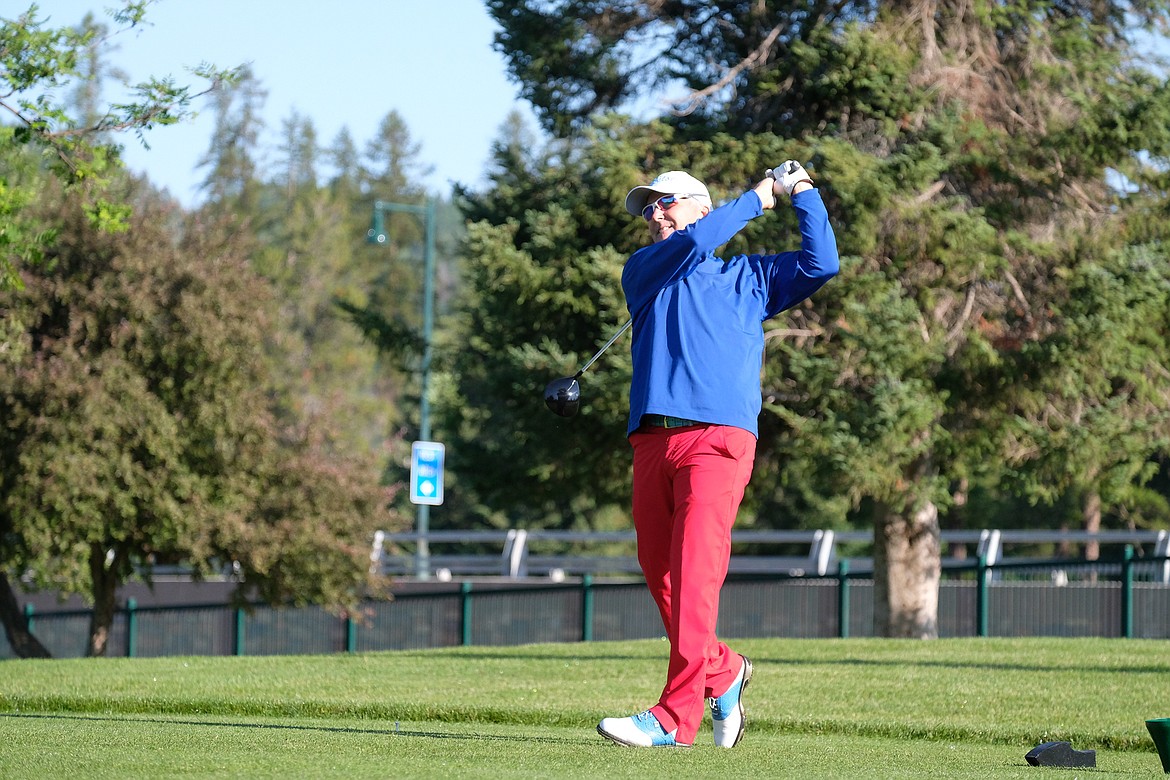 Brad Grattan nails his tee shot on day two of the Whitefish Lake Golf Club's Fourth of July Tournament on Friday. (Daniel McKay/Whitefish Pilot)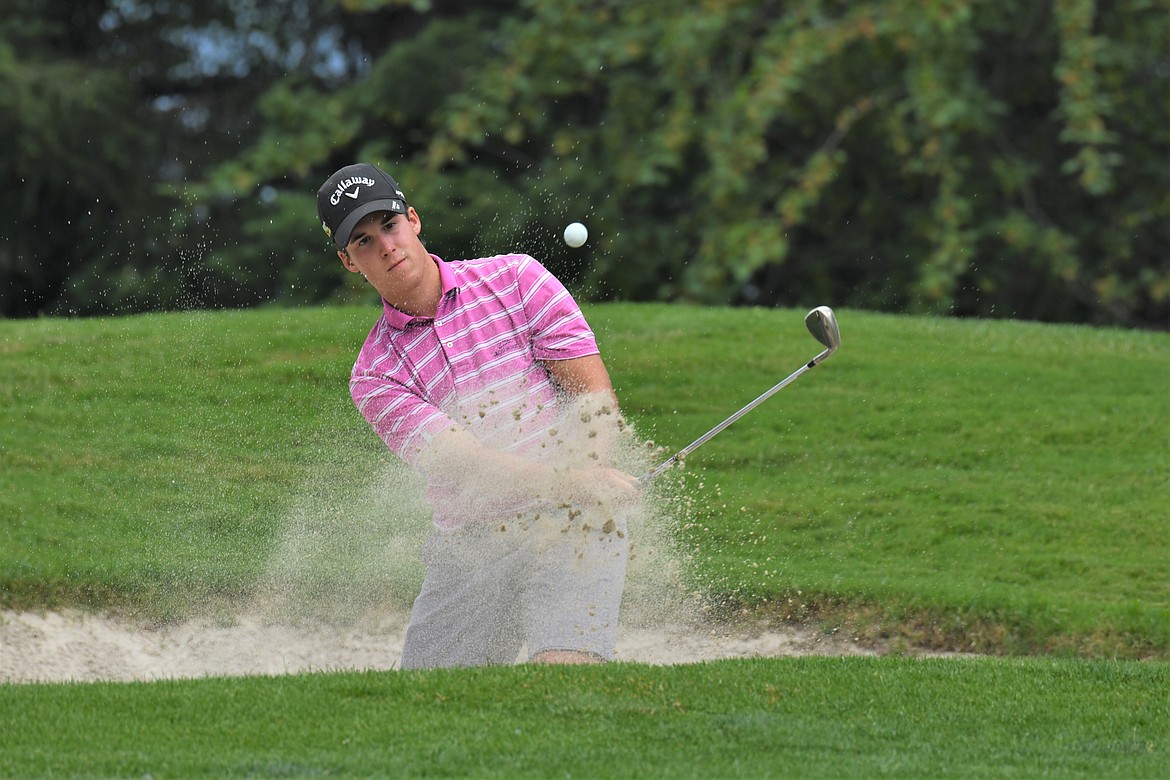 Joe Stover chips a shot out of the bunker during Whitefish Lake Golf Course's Fourth of July tournament. (Jeff Doorn photo)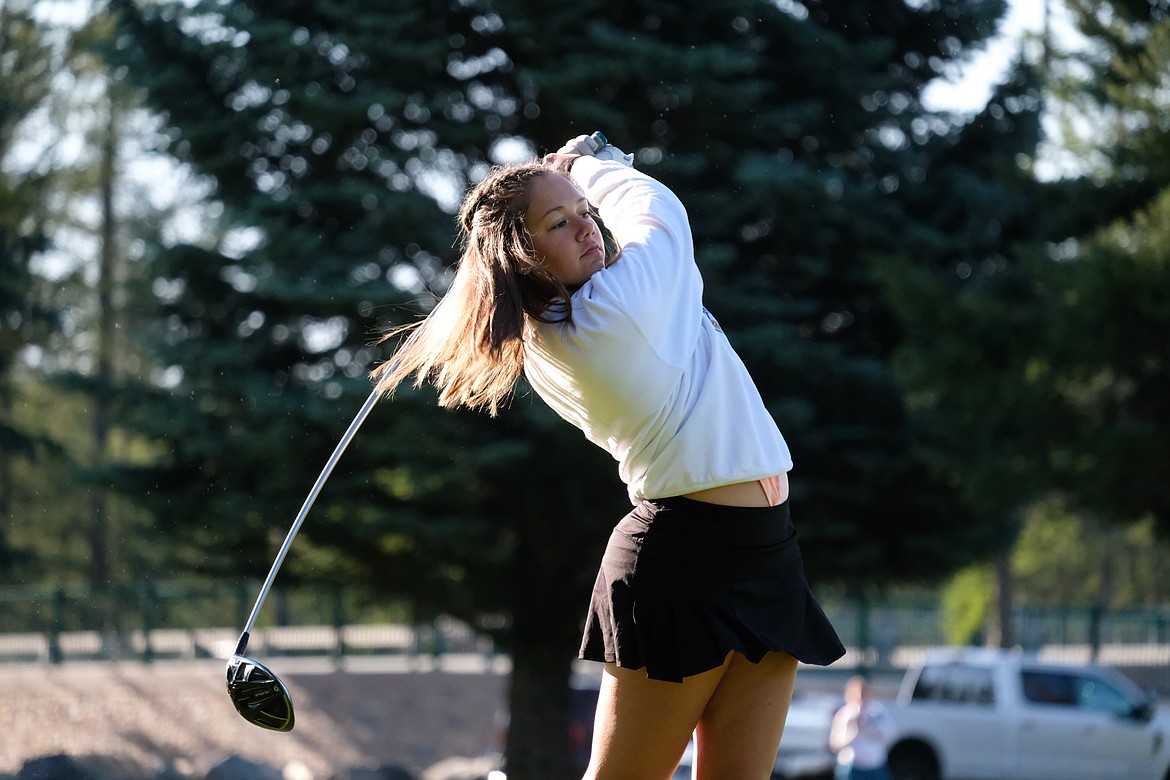 Chloe Tanner tees off on day two of the Whitefish Lake Golf Club's Fourth of July Tournament on Friday. (Daniel McKay/Whitefish Pilot)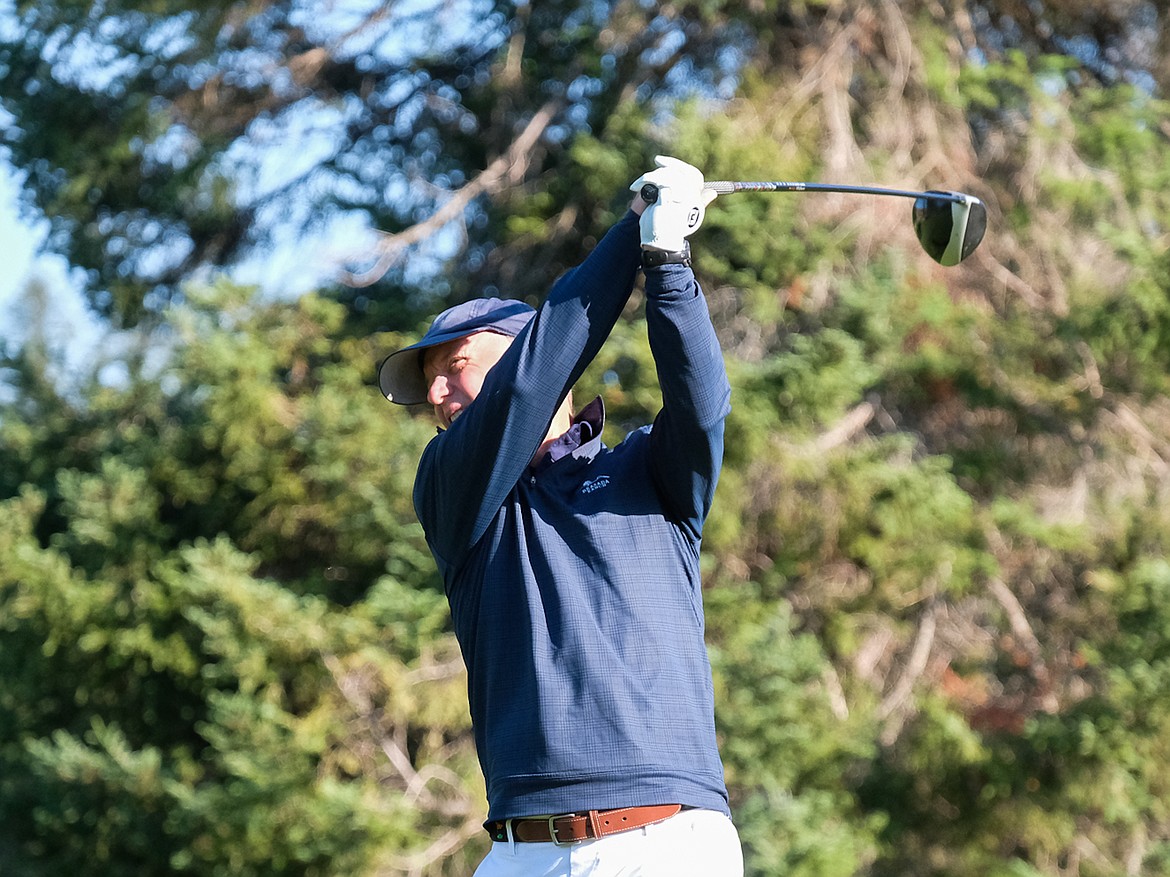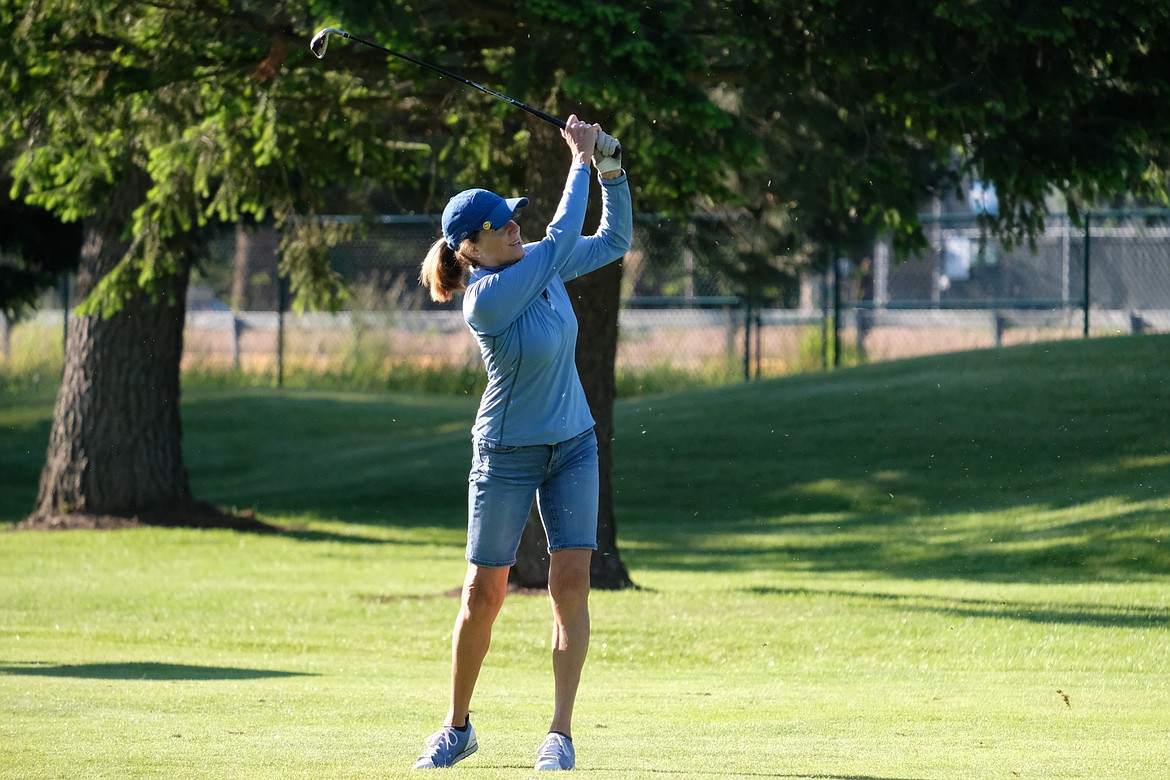 Previous
Next
by
Daily Inter Lake
|
July 7, 2020 11:41 AM
WHITEFISH — Cora Rosanova bested Teigan Avery by two strokes to win the women's division at the 84th Annual Earl Hunt Memorial 4th of July Golf Tournament at Whitefish Lake Golf Club on Saturday.
Rosanova shot a 76, 5 over par on the South Course. Avery shot 79 and had led two previous rounds of the tournament.
Marcella Mercer of Flathead High School finished fourth at 81-77-80—238.
Ryggs Johnston won the men's division, carding 66-69-73—208 over three rounds. Oscar Maxfield was second, trailing Johnston by one stroke. Payton Taylor finished third, and 2012 and 2016 tournament winner Andrew Medley fifth.
Dave Eames took the men's senior division title, carding 1-under par Saturday for a total of 71-74-70—215. Ron Ramsbacher, Gregory Hetzer and Nalin Maxfield rounded out the top four.
The tournament took place on both the North and South courses at WLGC from Thursday, July 2 to Saturday, July 4.
Full results are available at www.golfwhitefish.com.
84th Annual Earl Hunt Memorial 4th of July
Tournament
at Whitefish Lake Golf Club
Saturday
Women's Division
South Course
Par 71
South Course
Championship Flight
Cora Rosanova 72-77-76—225
Teigan Avery 68-80-79—227
Cathie Tronson 77-79-79—235
Marcella Mercer 81-77-80—238
Kinsey Irvin 78-83-78—239
Hannah Rosanova 78-80-81—239
Marcy Holt 80-89-79—248
Bobbie Lacklen 82-84-84—250
Karen Jacobson 83-87-87—257
Ginny Larence 85-93-81—259
Jannell Tanner-O'Neal 95-90-81—266
Alana Griffin 92-82-96—270
First Flight
Marcia Reimers 84-83-82—249
Isabella Johnson 85-88-85—258
Cheryl Breidenbach 91-79-90—260
Jo Anne Duncan 93-89-83—265
Jeanette Cheney 87-91-93—271
Tracey Whisenand 93-90-90—273
Chloe Tanner 93-94-90—277
Linda Ray 91-94-94—279
Cheryl Walter 95-95-98—288
Ruth Fenn 102-99-92—293
Kristin Hetzer 100-102-102—304
Stacy Denning 108-102-105—315
Men's Open Division
North Course
Par 72
Championship Flight
Ryggs Johnston 66-69-73—208
Oscar Maxfield 66-72-71—209
Payton Taylor 74-73-70—217
Andrew Medley 71-73-73—217
Joey Moore 70-73-75—218
Liam Clancy 72-74-73—219
Craig Hurlbert 73-72-75—220
Bill Dunn 72-72-76—220
Sean Benson 73-77-71—221
Sean Ramsbacher 70-79-72—221
Garrett Woodin 73-73-76—222
Riley Lawrence 73-79-71—223
Caleb Trost 72-69-82—223
Bob Hasquet 73-76-74—223
Marcus Drange 70-78-75-223
Jason Johnstone 75-73-76-224
Chris Goldan 79-73-74-226
Mark Mance 73-73-80-226
Samuel Berry 77-78-73-228
Justin Dorr 77-78-74-229
Byron Olson 77-74-78-229
Tyler Avery 75-80-75-230
Paull Veroulis 72-82-76-230
Matt Hobbs 74-80-76-230
Brad Grattan 77-78-77-232
JR Small 76-74-82-232
Art Doorn 83-76-74-233
Ben Kaul 78-78-77-233
Will Ellegard 82-77-75-234
Joe Stover 82-79-78-239
Paul ONeil 77-80-82-239
Bryce Reed 78-81-80-239
Grant Carey 81-81-79-241
Tristan Hanson 80-81-82-243
Scott Larson 85-79-82-246
Joe Opitz 89-81-90-260
First Flight
Shawn Tucker 71-76-74221
Cameron Kahle 77-73-74-224
Mack Duvall 75-75-77-227
Brady Cady 71-76-82-229
Akku Acharya 75-78-76-229
Zachary Taylor 75-78-78-231
Dan Conkling 77-79-76-232
Mark Houser 76-78-79-233
Marty Mehl 76-81-77-234
Jace Rhodes 79-75-80-234
Jack Johnston 70-76-88-234
Ross Bartell 74-87-76-237
Parker Heller 79-79-79-237
Carson Hackmann 78-76-83-237
Blake Finn 84-71-84-239
Peter Ellis 80-82-79-241
Austin Brady 80-82-80-242
Cole Jaworski 81-81-84-246
Shayne Knight 84-83-80-247
Sean Ryan 81-87-82-250
Bradley Hogin 75-91-85-251
Second Flight
Brian Hanson 78-75-74-227
Dan Maher 77-76-77-230
Tommy Lindell 76-79-76-231
Troy Toner 75-79-79-233
Ryan Santa 78-77-80-235
Ken Bush 81-80-75-236
Matt Longfield 78-83-76-237
Kade McDonough 78-80-80-238
Tanner Hanson 80-79-82-241
Hayden Peters 80-76-86-242
Parker Jones 83-79-81-243
Tyler Schiff 79-81-84-244
Max Kleinecke 78-85-85-248
Garret Lowell 90-83-77-250
Nick Hustwaite 83-82-87-252
Phil Vilar 86-81-86-253
Kurt McDonough 86-92-84-262
Third Flight Doug Honkamp 79-73-80-232
Will Salonen 80-76-76-232
Blake Hasquet 76-80-77-233
Kyle Duty 76-76-83-235
Cameron Hackmann 82-74-80-236
Connor Bennett 75-82-82-239
Baker Stockton 82-80-77-239
Matt Krause 81-82-77-240
Steve Williamson 81-79-85-245
Kirk Bennett 77-87-82-246
Kyle Sheppard 80-83-84-247
Duke Stockton 84-85-79-248
John Nau 82-81-86-249
Lindsay Woolley 85-85-80-250
Joseph Tourtelot 85-85-83-253
Jim Berry 84-88-83-255
Luke Bauernfeind 84-87-91-262
Fourth Flight Mark Evans 80-82-74-236
Josh Joseph 80-77-80-237
Johnny Nix 80-81-77-238
Micheal Burney 81-82-76-239
Kevin Ryan 83-82-76-241
Kyler Blades 74-83-85-242
Kevin Iverson 83-82-78-243
Jeff Fairlee 77-81-87-245
Mike Mulcahy 80-86-79-245
Michael Fawver 84-77-88-249
Tobin Woldtvedt 95-74-82-251
Brad Bechler 87-89-76-252
Rich Nickerson 84-85-83-252
Trey Gregg 82-88-83-253
Brad Kaiser 86-83-85-254
Ryan Stewart 89-81-86-256
Austin Ragno 93-83-87-263
Mark Stella 85-92-86-263
Michael Wong 91-85-90-266
Henry Stockton 90-93-83-266
Adrian Marasigan 95-89-86-270
Rob Carroll 97-98-94-289
Sam Hogin 115-103-102-320
Men's Senior Division
South Course
Par 71
Dave Eames 71-74-70—215
Ron Ramsbacher 72-70-75—217
Gregory Hetzer 75-76-70—221
Nalin Maxfield 77-79-75—231
Baker Montgomery 79-79-74— 232
Tim Kiley 74-77-81—232
Dow Powell 71-79-86 —236
Rod Brady 78-84-75 —237
Dan Lieberg 81-80-77 —238
Sam Saunders 77-84-78 —239
Gary Holt 83-79-78 —240
Bill Kleinecke 82-82-79 —243
John Brubaker 75-86-83 —244
Jeff Niesen 76-86-82 —244
Walt Barnes 86-83-80— 249
Mike Bailey 87-84-83 —254
First Flight
Ted Johann 81-78-81—240
Andy Breidenbach 80-86-74—240
Chris Vidulich 81-81-81—243
Kevin Woodin 87-74-85—246
Vincent DePinto 83-83-81—247
Larry Schwenke 84-85-78—247
Mike Lincoln 83-82-83—248
Bill Lelievre 83-83-86—252
Steve Wood 89-85-86—260
Greg Betthauser 88-93-83—264
Dan Wagner 91-90-86—267
Dann Rohrer 85-91-91—267
Robert Sandman 89-95-90—274
Scott Smith 96-92-90—278
Russ Warnick 95-99-101—295
Second Flight Joseph King 85-82-75—242
Dan Urie 79-84-81—244
Steve Solberg 90-86-79—255
Jeff Gosselin 85-85-89—259
Marshall Kreuter 93-84-84—261
Brian Cripe 89-87-85—261
Thom Peck 88-92-82—262
Barry Fenn 91-91-88—270
Bob Slaven 95-87-91—273
Rick Stevens 98-93-87—278
Kevan Green 97-94-90—281
---