FORLOH looks to build better threads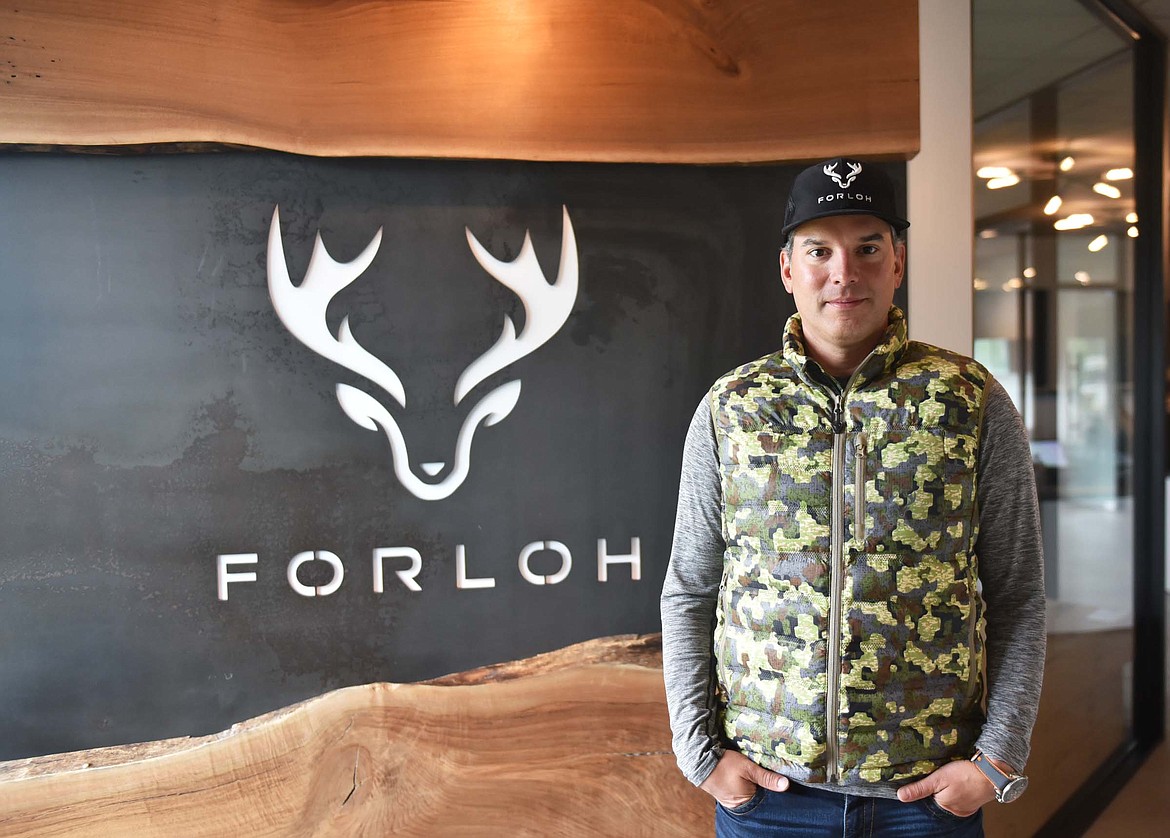 Andy Techmanski is the founder of FORLOH, an outdoor apparel company focused on technology and ensuring its products are made in the United States. FORLOH is launching online this week and opening a retail shop on Central Avenue in Whitefish. (Heidi Desch/Whitefish Pilot)
by
HEIDI DESCH
Daily Inter Lake
|
July 1, 2020 1:00 AM
Andy Techmanski, founder of FORLOH outdoor apparel company, was on a trip up the North Fork recently while wearing one of his company's shirts. The mosquitoes were so bad, he sprayed himself down with bugs repellent multiple times, and the next day when he smelled the shirt, designed to eliminate scent for hunters, it smelled brand new.
The moment was a confirmation that the research, hard work and most importantly the technology that his company has poured into its products works out in the real world.
"We want to be the new leader in the outdoor industry and challenge other companies to bring forward the highest technology while being made in the U.S.," he said from his office on Monday. "If we can do it, then they can do it too."
The Whitefish-based FORLOH launches online this week and has a soft opening for its flagship retail store on July 3 on Central Avenue. The company plans to continue releasing new products over the coming weeks with its full line is set to be available in August. FORLOH comes from "for the love of hunting" because its foundation is in hunting and fishing gear, but its goal is to make the best made in America gear using the best technology available.
"Technology and made in the U.S., are our two mantras," Techmanski said.
Techmanski created the concept for the company out of frustrations he had with outdoor clothing, primarily for hunting, including feeling like the technology was lacking to provide the best products and the consistency between garments in the same brand, and he saw a lack of quality in what he had been purchasing.
"As a consumer, the products I had purchased 10 to 15 years ago were outlasting the ones I bought just two years ago," he said. "What I learned in starting on outdoor apparel company is that the same technology has been used for years, it's just being recycled and called something new, and I wanted to change that."
Techmanski says FORLOH gear uses five to seven times the technology as its competitors, and is committed to getting families outdoors together, thus its clothing line includes men, women's and youth gear all designed based on that same technology.
Working for more than a year on design and research before its launch, the company says it recruited the most experienced product designers in the industry, sought out the most advanced technologies and fabrics, and created new science-based camouflage patterns.
FORLOH says it uses a range of cutting-edge and proprietary technologies to improve performance in warmth, breathability and waterproofing.
"We started with military specs and then said what can we do to make improvements in the fabric and improve the performance," Techmanski said.
FORLOH's down jacket, pant and vest use technology aimed at creating a more breathable and more waterproof layers.
Techmanski points out that FORLOH eliminated stitching between baffles commonly used in down insulated layers and replaced it with "sonic-welded" seams to eliminate water getting into the garment. Every feather in the down vest or jacket is treated to make it even more water resistant, he notes.
Ensuring that the gear is made in the United States was a primary goal for the company — from sourcing materials through manufacturing of the end product.
"Making sure we're made in America makes us feel good, but it's also the ethical thing to do," he said. "We want to show the way and help bring manufacturing back to the U.S."
Techmanski said in doing so it not only facilitates jobs here, but it also creates a faster route to get new products to customers.
Creating a retail shop in downtown Whitefish is also aimed at getting products to customers who live where FORLOH is based. But Techmanski is also eyeing future locations in Europe and New Zealand.
"We want there to be an advantage for those people who live here [in Whitefish] — it's a tribute to those who have supported us," he said. "We want to be a luxury outdoor apparel company, so we also want to be in so many other places where we know people are having these adventures."
Planning for the outdoor clothing company has been sometime in the making, so when the COVID-19 pandemic hit this spring the company turned its attention to manufacturing medical personal protective equipment. The company continues to be part of an effort that has manufactured more than 5 million medical gowns distributed locally and across the country.
For more information, visit FORLOH.com.
Recent Headlines
---