Young and old make music together at The Springs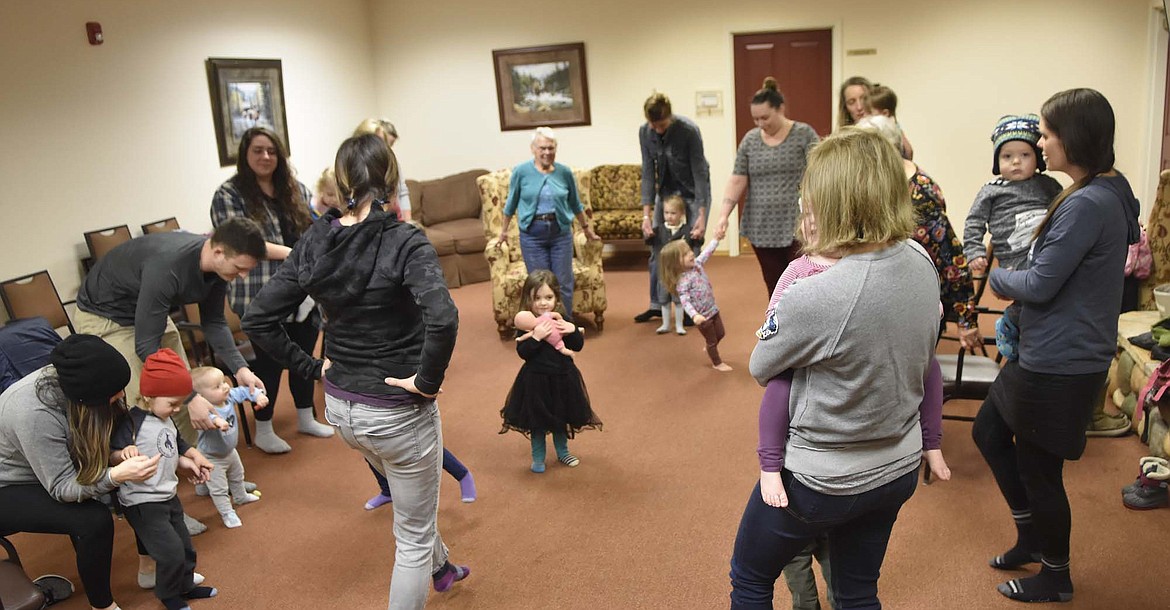 Children and adults dance together to music during North Valley Music School's Music Together class at The Springs at Whitefish on Wednesday afternoon. Residents of the Springs are invited to join in on the class designed to introduce young children to music. (Heidi Desch/Whitefish Pilot)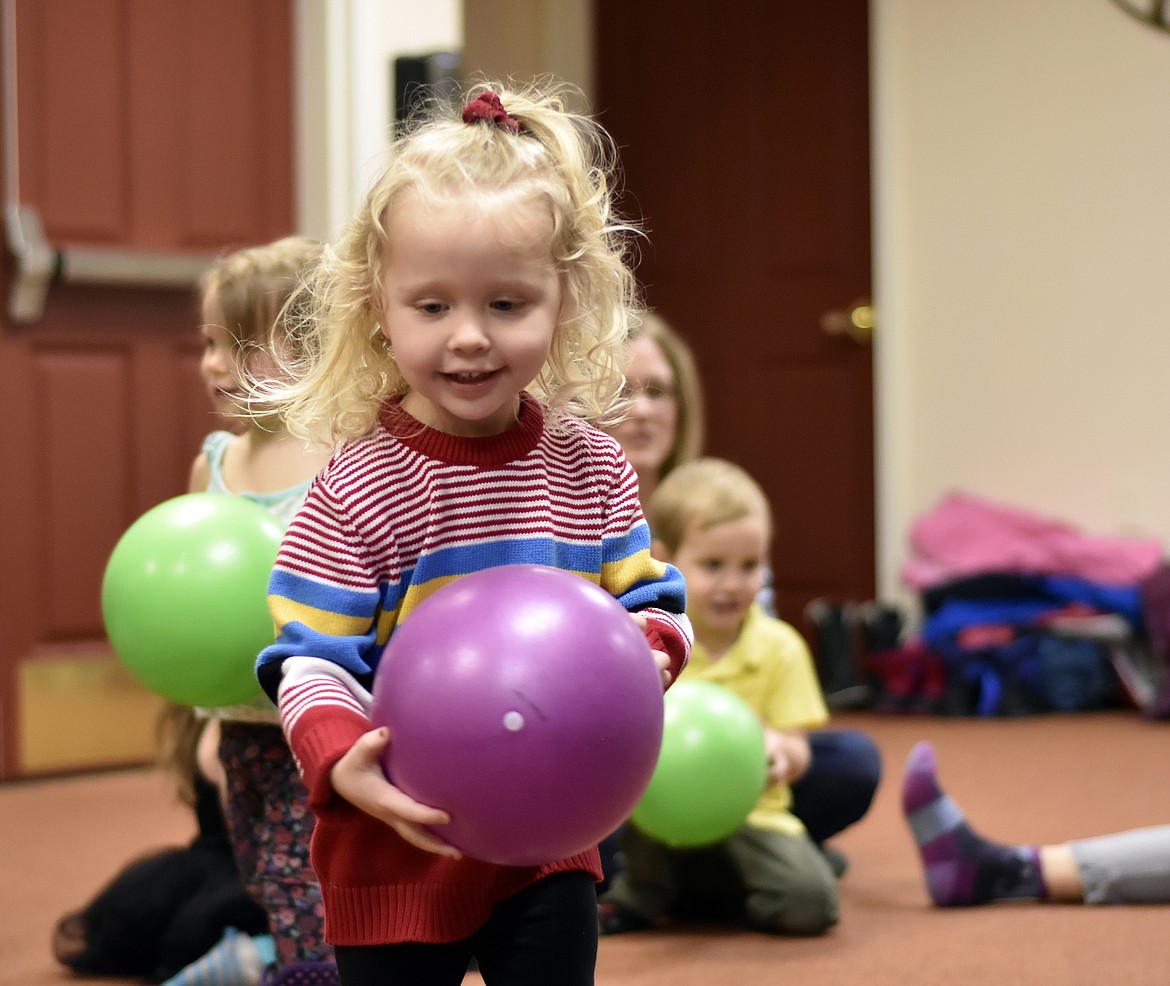 Landry Platt, 2, picks up a ball during North Valley Music School's Music Together class at The Springs at Whitefish on Wednesday afternoon. (Heidi Desch/Whitefish Pilot)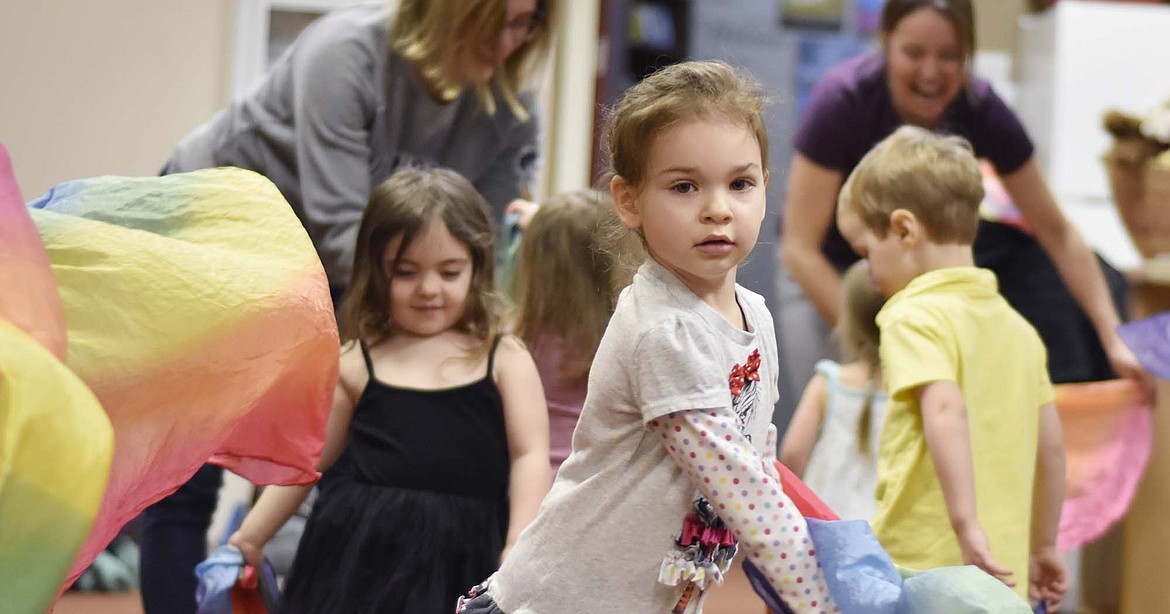 Vivian Ostrem, 4, plays waves around a piece of colorful fabric while dancing to music during North Valley Music School's Music Together class at The Springs at Whitefish on Wednesday afternoon. (Heidi Desch/Whitefish Pilot)
Previous
Next
by
Heidi Desch
Whitefish Pilot
|
February 25, 2020 1:41 PM
Youngsters use wooden spoons to drum on metal pans. Next, they wave colorful fabric while dancing to music and later hold stuffed animals while singing a lullaby.
A group of about a dozen young children up to age 5, along with their caregivers, get the opportunity to experience music in a variety of ways each week during in North Valley Music School's Music Together program. During the Wednesday session of the program, the youngsters also bring their enthusiasm to The Springs at Whitefish senior living center where residents are provided the opportunity to participate.
While the children sing and dance, the seniors smile or join in with the fun. The children include the seniors making sure they're not left out when instruments are handed out.
Instructor Jennifer Wickland says music provides a connection between the children and the adults in the room.
"The kids are often passing the instruments to the seniors," she said. "We sing some familiar songs and it's great to see the seniors singing along. It's a multi-generational experience where we can all get together around music."
A group of about a half dozen Springs residents regularly attend the music class with the 12 young musicians.
Music Together is a nationally recognized program created around the idea of using a play-together method of learning music. The music school offers the two classes a week, on Tuesdays at the school and on Wednesdays at The Springs.
The classes revolve around structured play with changes in songs, changes in toys, sitting, dancing or singing, happening roughly every five minutes. While students are exposed to instruments, that's not the sole focus.
"Music is everywhere," Wickland said. "They learn to sing the songs and pretty soon their singing with their stuffed animals at home. Music fits into their life — it's physical, emotional and mental."
Wickland, who also teaches piano lessons at the music school, has for years been teaching the music class geared to young children. She says the classes are a great way to introduce children to music and it gives them a foundation to learn an instrument, but it also goes so much further.
"The classes help them develop language skills, math skills and socials skills," she said. "They're also introduced to different cultures and languages, toning, repetition and rhythms."
As part of the class, students get a CD and book that contains the music in the class so they can practice at home. So adults and the children are able to learn the songs at home, as well.
The course runs for 10 weeks with hour-long sessions. Wickland sees a lot of friendships form through the classes with the children and their caregivers spending time together after the class session ends and throughout the class she sees music skills develop, but also growth in the students.
"They gain confidence over time and as they learn some of the songs they come back and know it and sing along," Wickland said. "It's great to see the student that is shy at first and holding back to forget they're shy and watch them grow in their confidence."
Music Together programs are held on Tuesdays from 10 to 11 a.m. at North Valley Music School and Wednesdays from 10:30 to 11:30 am. at The Springs. Drop-in students are welcome but registration is required in advance by calling the school at 862-8074.
The school is looking at adding a Music Together class on Saturdays in the spring to its course schedule.
In addition, North Valley Music School also offers Music Lingua, which introduces Spanish to children ages newborn to 8. Instructor Sandra Vasquez uses music, movement, drama, art and storytelling to develop new language skills. Vasquez, who grew up in Mexico City and holds a degree in International Relations says she is amazed to see the learning progress of her young students.
Music Lingua classes are held on Thursdays from 9 to 10 a.m. at NVMS. Drop-ins are also welcome by calling in advance.
To learn more about North Valley Music School and its full range music programs call 406-862-8074 or email info@northvalleymusicschool.org or www.northvalleymusicschool.org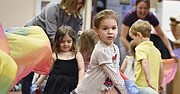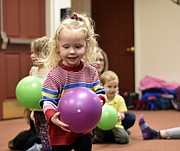 ---