Lady Dogs live on after leveling Libby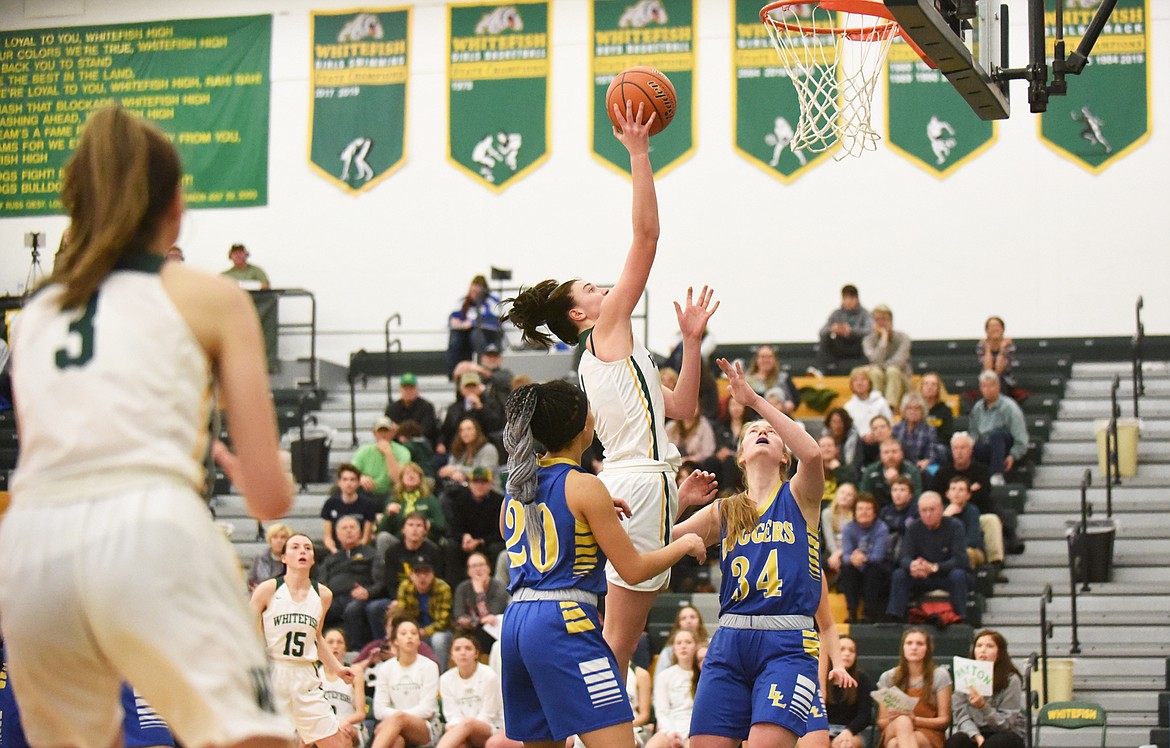 Jadi Walburn rises for the layup during Monday's play-in victory over Libby. (Daniel McKay/Whitefish Pilot)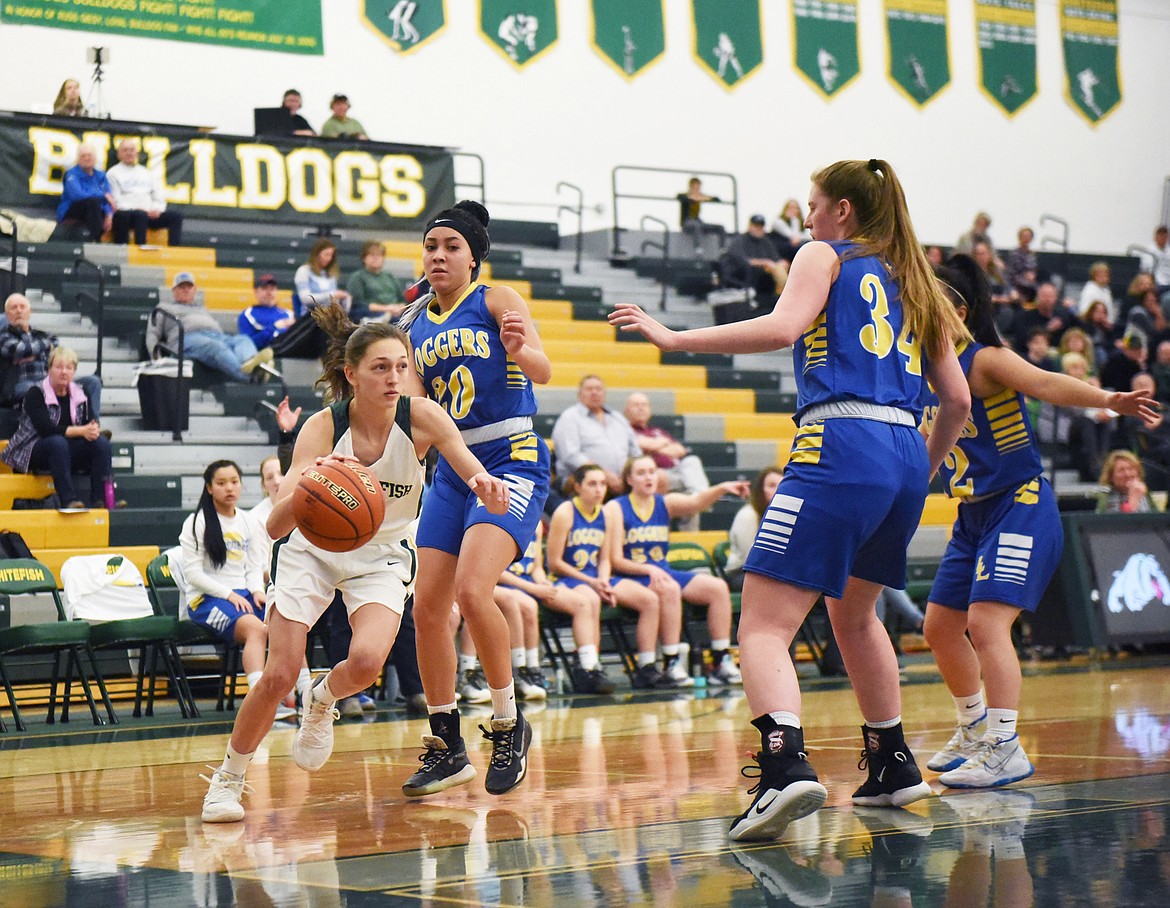 Erin Wilde looks to pass on the baseline during Monday's play-in victory over Libby. (Daniel McKay/Whitefish Pilot)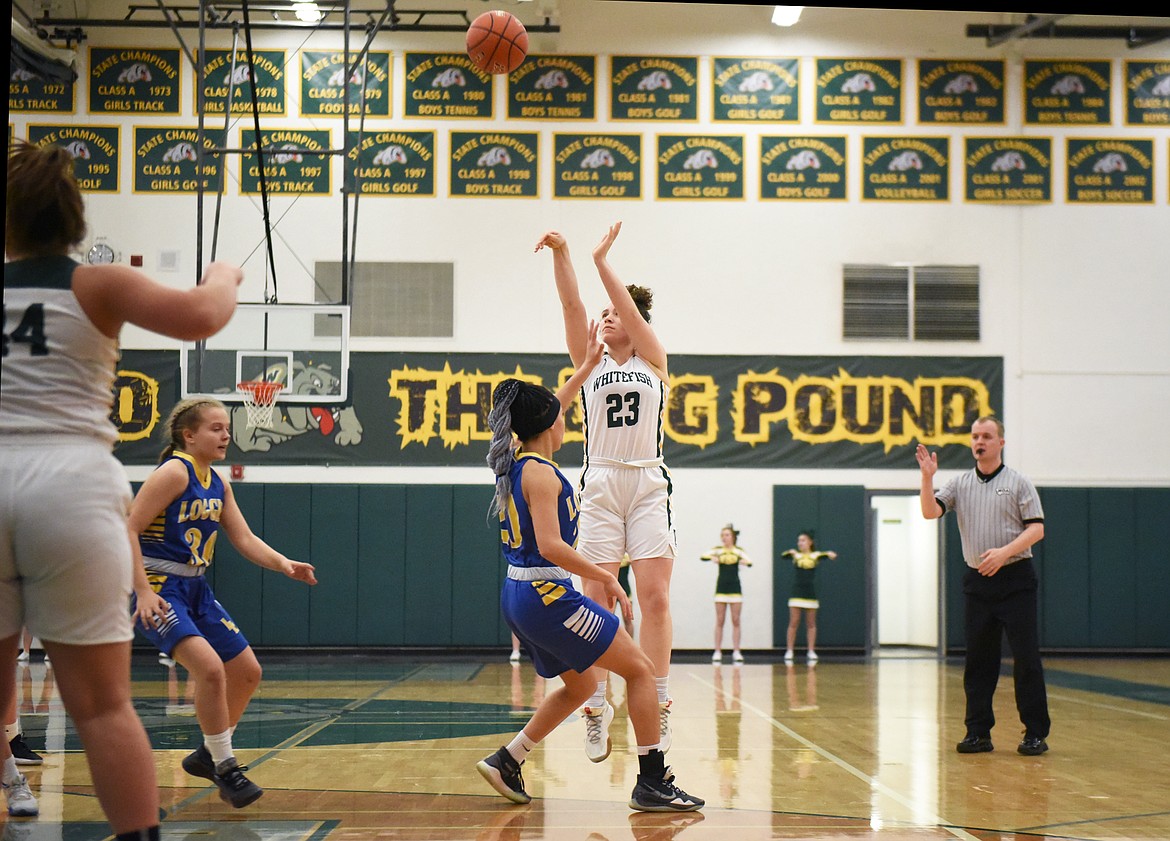 Gracie Smyley launches a three during Monday's play-in victory over Libby. (Daniel McKay/Whitefish Pilot)
Previous
Next
by
Daniel Mckay
Whitefish Pilot
|
February 25, 2020 1:46 PM
It didn't come easy, but the Lady Bulldogs secured a spot at the Western A Divisional Tournament with a 38-29 win over Libby on Monday.
Whitefish found itself in a 19-13 hole after one half of play, but Jadi Walburn took over in the third.
She scored eight straight points in the third quarter to help lead Whitefish to a 23-23 tie with a minute left in the quarter, and then scored another seven straight points in the fourth to push her team ahead for good.
Walburn finished with a team-high 15 in the game, all of which came in the second half.
Head coach Bob Bolam said he was happy to see his team rebound from a poor half offensively.
"I thought we played good, even in the first half except for offensive execution. We were just settling for every three pointer we could take. We made a couple but we missed a lot," Bolam said.
Working the ball in the paint was the big difference in the second half, he noted.
"We started getting back and working the ball inside and out, and Jadi was scoring a lot of buckets inside," he said. "Jadi hit some big shots for us."
Gracie Smyley also added a big 13 points for the Dogs.
It was a mix of good and bad for the Lady Dogs in their previous two games.
On Thursday they celebrated Hope Brown, Payton Kastella and Kali Brubaker for Senior Night while hosting the Columbia Falls Wildkats, but that game didn't leave any Lady Dogs feeling jubilant.
After a slow but close first quarter, Columbia Falls exploded for 21 points in the second quarter to open a 29-8 halftime lead.
Whitefish's second quarter, in which they scored six points, ended up as the offensive breakout quarter, as the Lady Dogs would score only two points in each of the other three quarters. The final two points came as the final buzzer sounded.
Walburn and Kastella each scored four points in that game.
The team got back at it the following night, however, taking down the Lady Loggers in the first matchup with the team in four days.
Whitefish held a 17-11 lead at the half and never let Libby get out front from there on, securing the 33-22 win.
Smyley led the team with 13 points, while Mikenna Ells pitched in eight and Walburn added six.
This week they'll take on the 13-5 Dillon Beavers in Ronan. That game will start at 2 p.m.
"We got two days of practice, and we know we're playing Dillon, so we're getting ready for getting pressed," Bolam said. "It's going to be a lot of pressure. We've worked on that all year, so now it'll
just be execution. If we can not turn the ball over and make them work defensively, then we'll have a shot."
Whitefish 2 6 2 2 — 12
C. Falls 8 21 16 8 — 53
WHITEFISH – Jadi Walburn 4, Payton Kastella 4, Erin Wilde 2, Gracie Smyley 2
COLUMBIA FALLS – Maddie Robison 10, Lakia Hill 11, Grace Gedlaman 2, Josie Windauer 18, GraceAnne Sevisind 6, Lauren Falkner 4, Madyson Hoerner 2.
Whitefish 7 10 6 10 — 33
Libby 4 7 8 3 — 22
WHITEFISH — Gracie Smyley 13, Mikenna Ells 8, Jadi Walburn 6, Hope Brown 4, Payton Kastella 3, Kali Brubaker 2.
LIBBY — Syd Grier 8, Mackenzie Profitt 7, Elise Erickson 4, Kinzee Boehmler 1.
Whitefish 3 10 12 13 — 38
Libby 8 11 4 6 — 29
WHITEFISH — Gracie Smyley 13, Mikenna Ells 2, Jadi Walburn 15, Hope Brown 2, Payton Kastella 2, Kali Brubaker 2, Taylor Means 2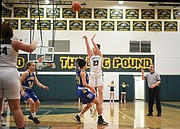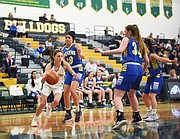 ---