Dogs stomp Cats in tourney play-in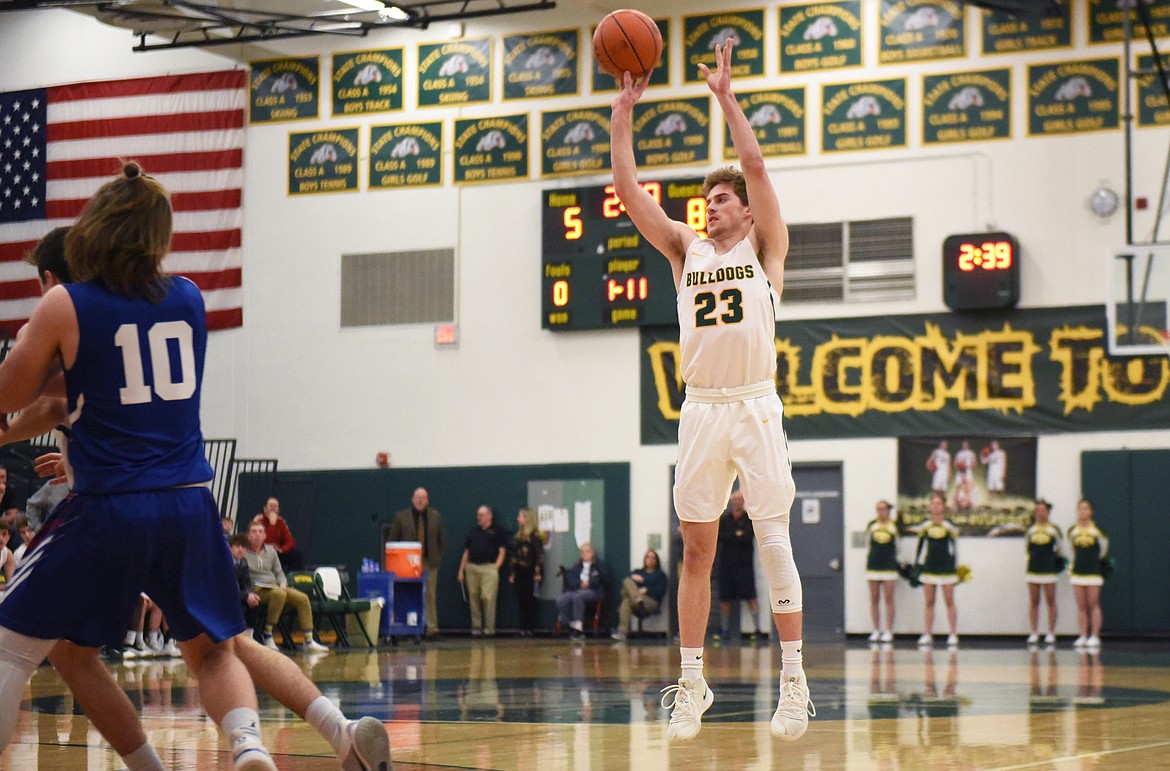 Justin Conklin launches one of his six made threes during Monday's play-in victory over Columbia Falls. (Daniel McKay/Whitefish Pilot)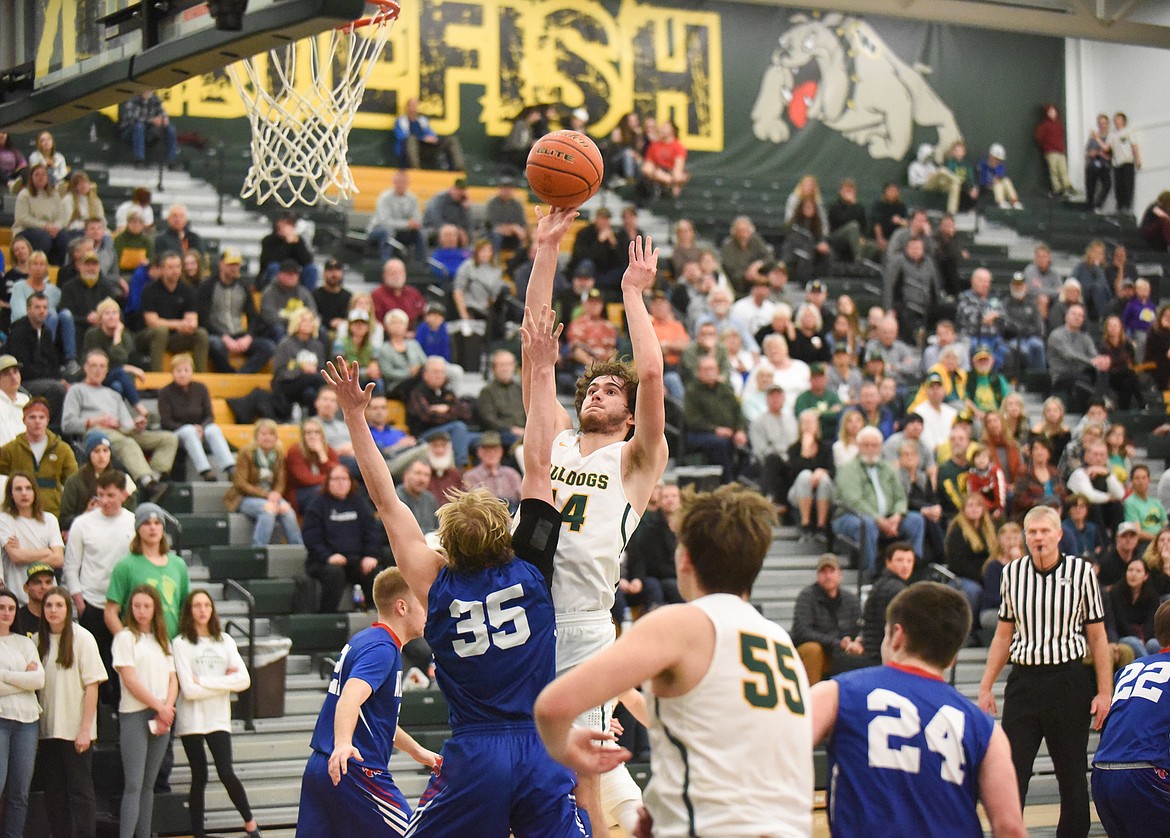 Sam Menicke puts up a floater during the Dogs' Thursday night win over Columbia Falls. (Daniel McKay/Whitefish Pilot)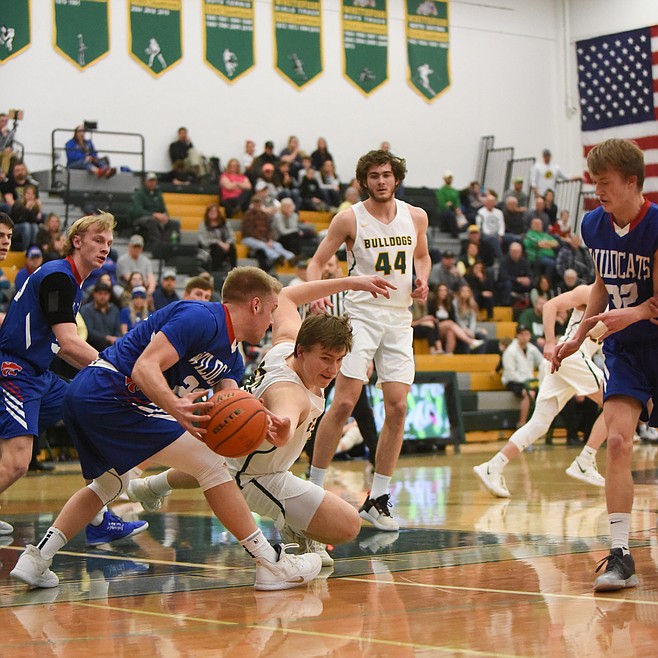 Talon Holmquist dives for the ball during the Dogs' Thursday night win over Columbia Falls. (Daniel McKay/Whitefish Pilot)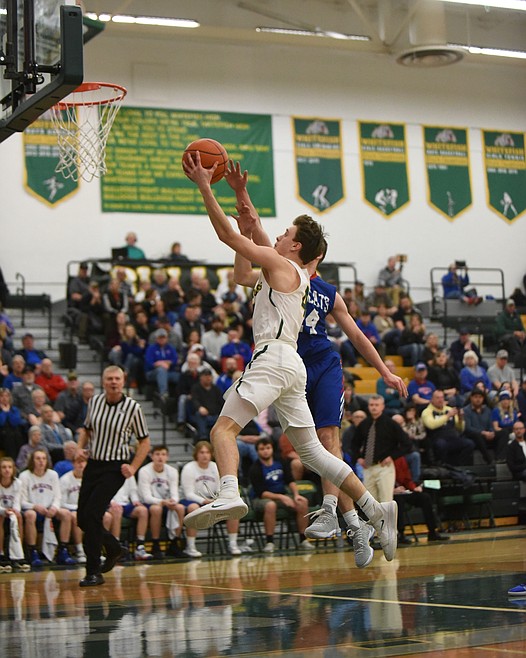 Bodie Smith skies for the layup during the Dogs' Thursday night win over Columbia Falls. (Daniel McKay/Whitefish Pilot)
Previous
Next
by
Daniel Mckay
Whitefish Pilot
|
February 25, 2020 1:45 PM
After a tight opening quarter, it looked like Monday night's play-in game against Columbia Falls was going to be another barnburner.
Then the Dogs got hot.
Whitefish went on an 11-2 second quarter run and kept the Cats from scoring for the first few minutes of the third quarter. Pretty soon, they held a 27-point lead heading into the fourth.
An even fourth quarter sent the Dogs home with a 57-31 victory, and the chance to continue their season at the Western A Divisional Tournament this week.
Head coach Scott Smith said the win is what the team has been building toward.
"That's what we're capable of playing like. We've been getting better, that's our fifth one in a row, so we've been playing like that and the kids just want it more. We've lost some close games because we didn't want it bad enough, and the last five games the kids have bought into it and they're playing their butts off," he said. "It showed."
Justin Conklin led the offensive explosion with 22 points, six of which came from behind the three point line. Bodie Smith and Talon Holmquist each added 10.
The hot shooting was sparked by solid defense, Smith said.
"Justin Conklin shot the ball extremely well tonight," Smith said. "And our defense, they had two points in the second quarter and couldn't get anything going. Our defensive intensity led to offensive opportunities down at the other end."
Monday's game was a break from what's been a season of close games.
On Thursday the team hosted Columbia Falls for the first time in five days for senior night, coming away with a 59-50 victory.
After leading only 15-13 through the first quarter, Whitefish exploded for 27 points in the next two quarters, opening up a 14-point lead heading into the fourth.
Columbia Falls wasn't done though, and got on a fourth-quarter run that culminated with a Cade Morgan three that closed the gap to just six with under two minutes to play. From there on, however, the Wildcats couldn't catch up.
Then on the following night, Whitefish came out on top in an overtime battle in Libby, coming away with the 45-44 win.
Now it's on to the tournament.
Whitefish will open on Thursday with a Northwest versus Southwest battle against Hamilton. That game will start at 3:30 p.m. in Ronan.
After three games in five days, Smith said he's got a couple practices to take it easy before they head to Ronan.
"It's going to be a lot of shooting, a lot of getting the legs back and a lot of mental rep stuff, preparing for who we could play. Sometimes you can't just prepare for one team come tournament time, you have to prepare for multiple teams," he said. "Hopefully it's a battle down there, whoever we play, and we can come out on top."
Columbia Falls 13 2 13 22 — 50
Whitefish 15 7 20 17 — 59
Whitefish — Bodie Smith 11, Justin Conklin 12, Garrett Brock 6, Jayce Cripe 12, Sam Menicke 5, Talon Holmquist 13.
Whitefish 13 12 5 8 7 — 45
Libby 11 11 4 12 6 — 44
WHITEFISH — Justin Conklin 15, Bodie Smith 11, Jayce Cripe 9, Sam Menicke 5, Talon Holmquist 3, Garrett Brock 2.
Columbia Falls 8 2 9 12 — 31
Whitefish 13 11 22 11 — 57
Whitefish — Bodie Smith 10, Jackson Schlauch 2, Justin Conklin 22, Oryan Moore 3, Jayce Cripe 6, Sam Menicke 4, Talon Holmquist 10.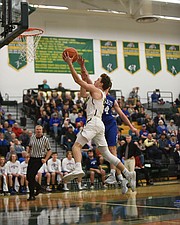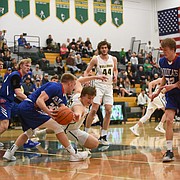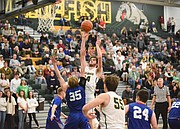 ---