DECA team wins big at state tourney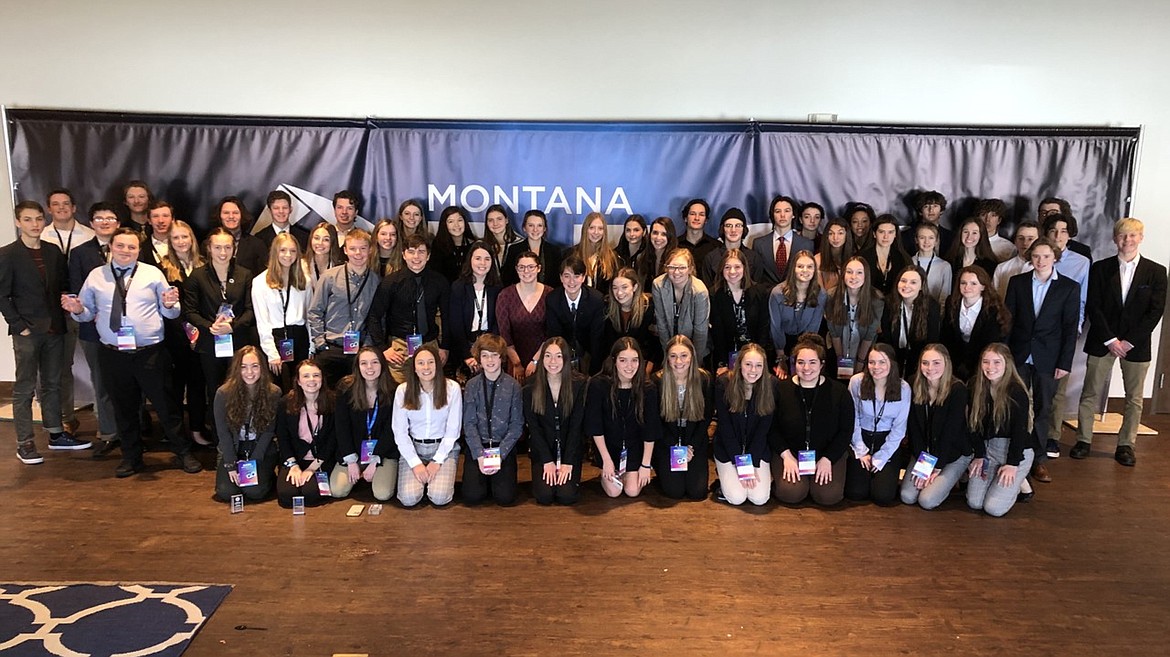 The Whitefish High School DECA team competed last week at Fairmont Hot Springs in Anaconda, coming away with six individual champions. (Photo courtesy Kala Johnston)
by
Daniel Mckay
Whitefish Pilot
|
February 18, 2020 3:39 PM
Whitefish High School showed up to compete at the State DECA tournament last weekend, coming away with six state champions and 34 total finalists.
Anna Cook won Entrepreneurship, Ian Calaway, Laura Eshleman and Olivia Potthoff won Integrated Marketing Plan, Tanner Harmon won Principles of Marketing and Kiefer Adams won Principles of Business Management.
Cook also qualified for Travel and Tourism Team Decision Making and Marketing Communications.
Thea Vrentas, Elizabeth Campbell and Grayson Butler also qualified in multiple categories.
Vrentas qualified in Finance Operations Research, Business Finance and Entrepreneurship Team Decision Making, Campbell in Apparel and Accessories Marketing and Entrepreneurship Team Decision Making, and Butler qualified in Financial Consulting and Financial Services Team Decision Making.
Finalists placed in the top eight for their category.
Head coach Kala Johnston said she was pleased to see how well her team cleaned up at the competition.
"I'm very happy with the results," she said. "We had 20 automatic qualifiers and out of that, five are newcomers. We are excited to represent our school at Nationals in Nashville this year in April."
The national competition is set for April 29-May 2.
Results:
Anna Cook, Senior — Entrepreneurship, Travel & Tourism Team Decision Making, Marketing Communications
Thea Vrentas, Senior — Finance Operations Research, Business Finance, Entrepreneurship Team Decision Making
Elizabeth Campbell, Senior — Apparel & Accessories Marketing, Business Services Marketing, Entrepreneurship Team Decision Making
Grayson Butler, Junior — Financial Consulting, Financial Services Team Decision Making
Samantha Bee, Senior —Finance Operations Research
Ian Calaway, Senior — Integrated Marketing Plan: Event
Laura Eshleman, Senior — Integrated Marketing Plan: Event
Olivia Potthoff, Senior — Integrated Marketing Plan: Event
Tanner Harmon, Sophomore — Principles of Marketing
Kiefer Adams, Freshman — Principles of Business Management
Katie Arterburn, Senior — Finance Operations Research
Highland Lee-French, Sophomore — Restaurant & Food Service Management
Maile Vine, Sophomore — Human Resources Management
Lucy Lowry, Sophomore — Principles of Hospitality & Tourism
Faith Johnston, Senior — Travel & Tourism Team Decision Making
Niko Hunter, Sophomore — Buying & Merchandising Team Decision Making
Natalie Cook, Sophomore — Buying & Merchandising Team Decision Making
Cameron Kahle, Junior — Financial Services Team Decision Making
Sydney Buckmaster, Freshman — Entrepreneurship Team Decision Making
Muriel Mercer, Freshman — Entrepreneurship Team Decision Making
---