Bulldogs swat Yellowjackets in overtime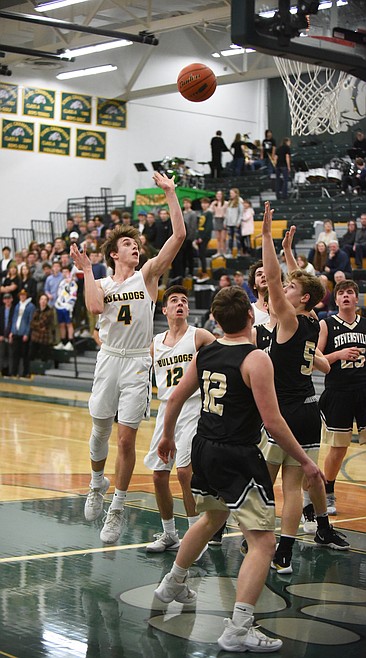 Bodie Smith floats a shot during Friday's home battle against Stevensville. (Daniel McKay/Whitefish Pilot)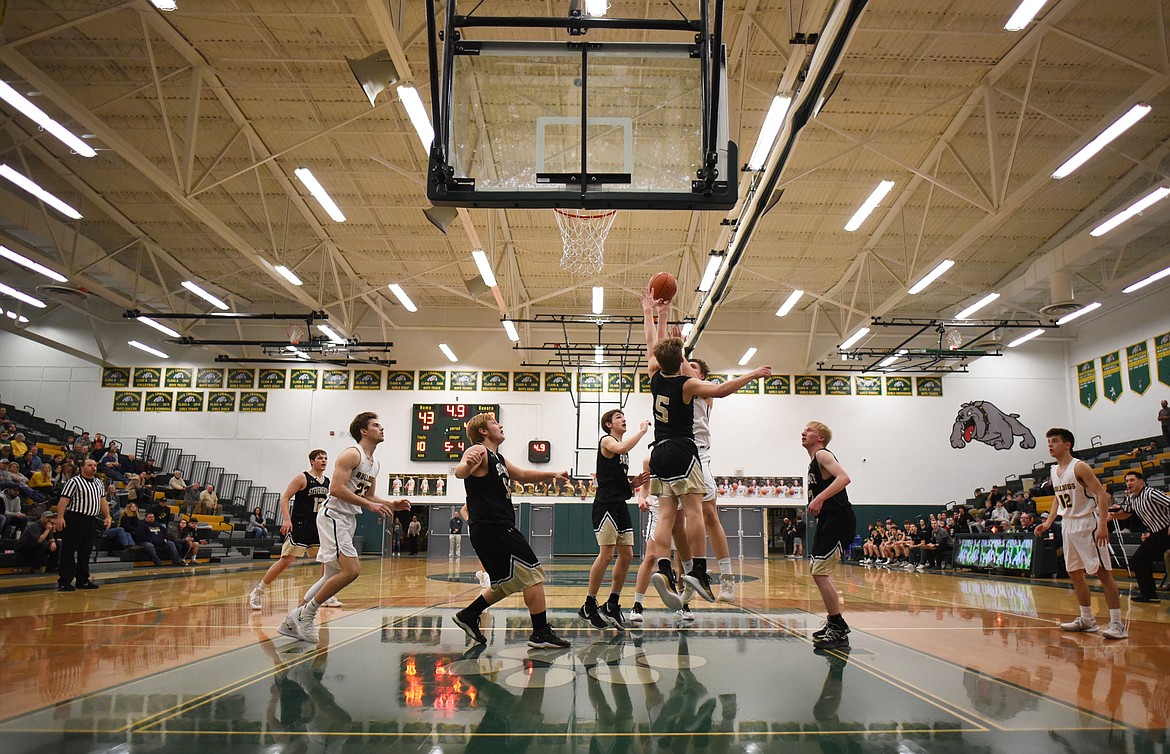 Talon Holmquist puts up the game-winning shot during Friday's home battle against Stevensville. (Daniel McKay/Whitefish Pilot)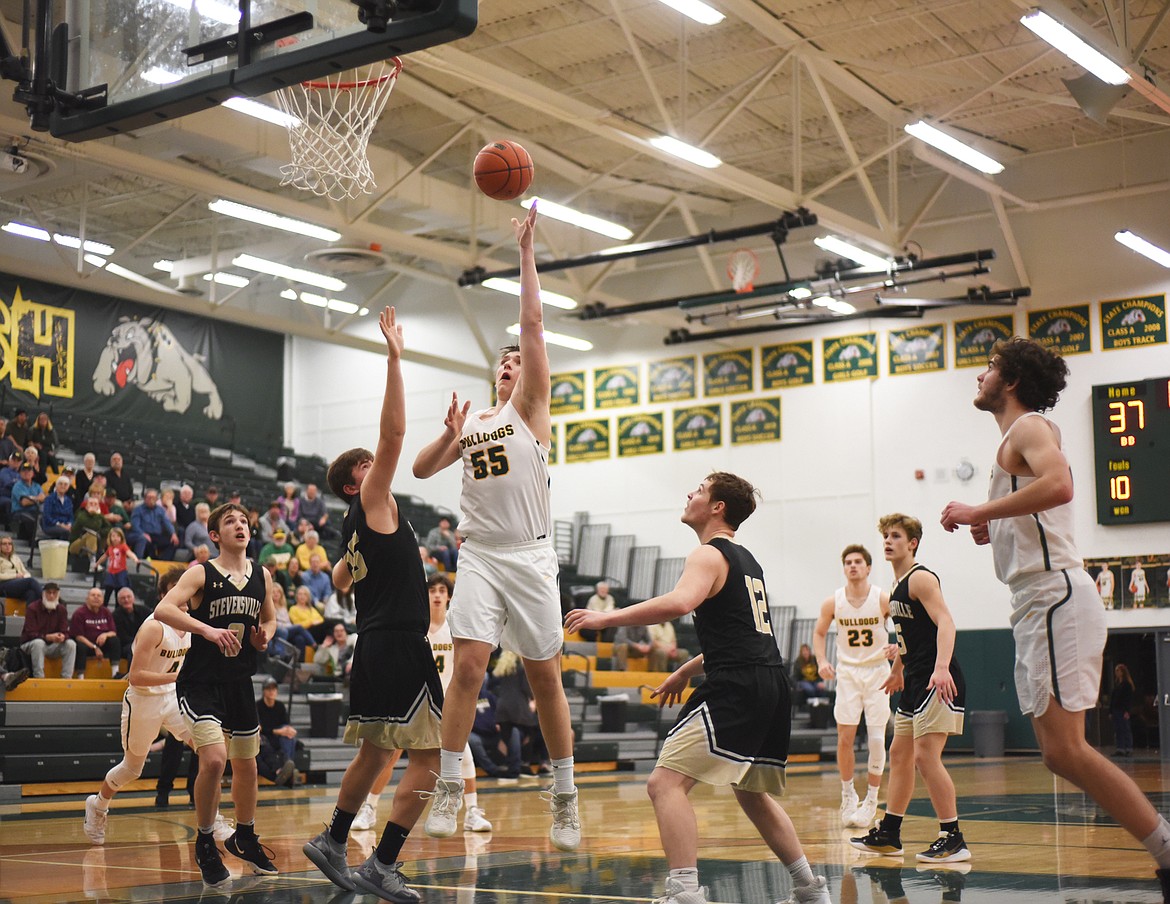 Talon Holmquist tries to end the game in regulation during Friday's home battle against Stevensville. (Daniel McKay/Whitefish Pilot)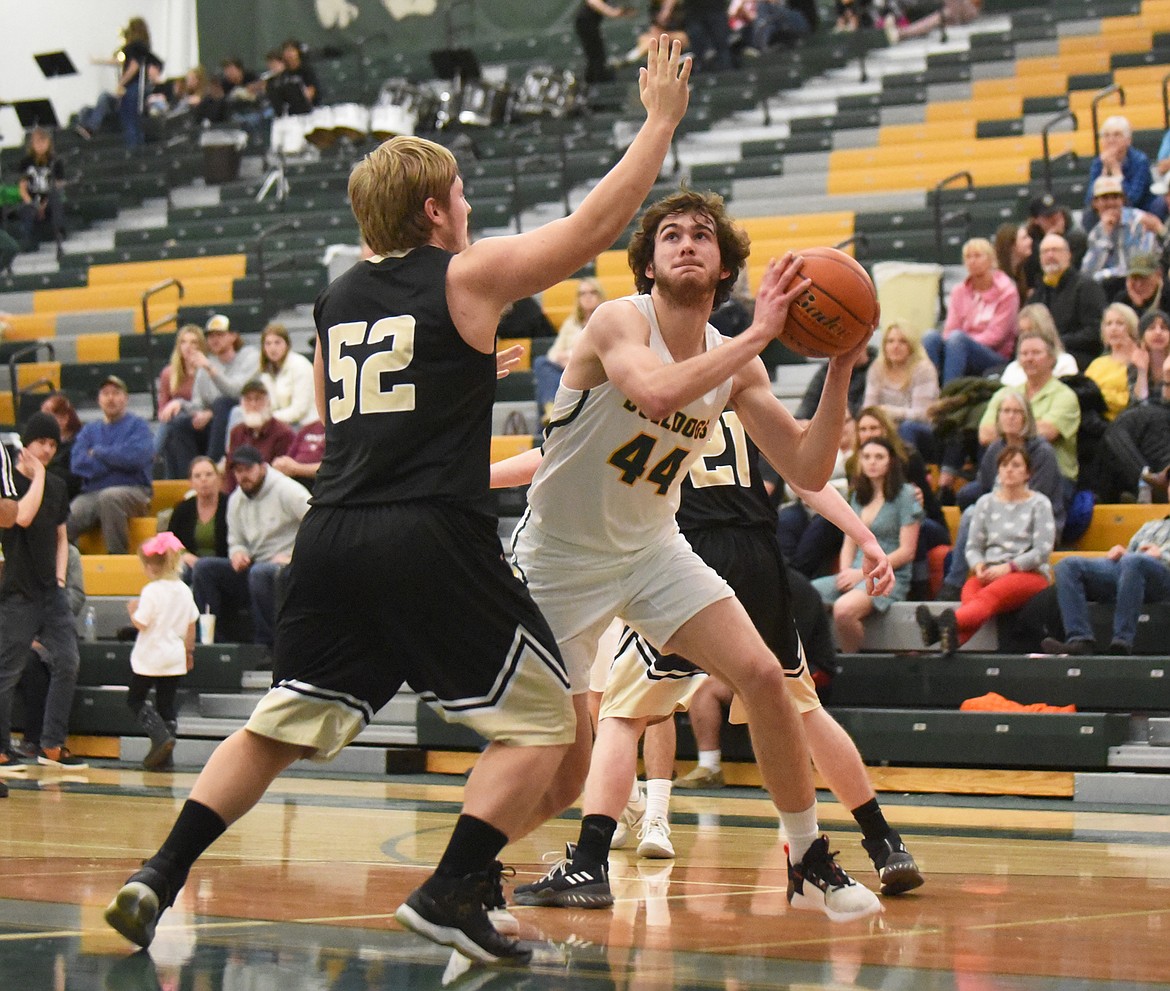 Sam Menicke posts up a pair of Yellowjacket defenders during Friday's home battle against Stevensville. (Daniel McKay/Whitefish Pilot)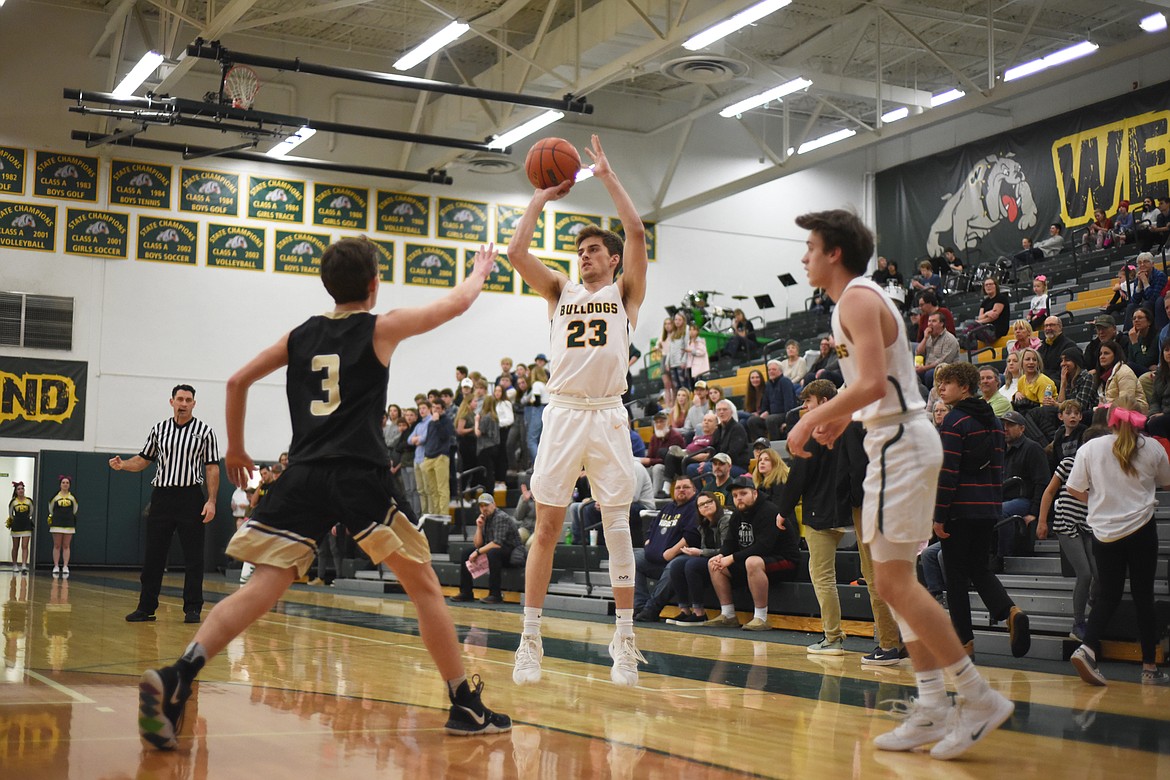 Justin Conklin fires a three during Friday's home battle against Stevensville. (Daniel McKay/Whitefish Pilot)
Previous
Next
by
Daniel Mckay
Whitefish Pilot
|
February 18, 2020 3:39 PM
The Bulldogs have had their share of close games this season, and finally Friday's battle with Stevensville went their way.
It wasn't easy, however, and it took overtime for Whitefish to come away with the 45-43 win at home.
Tied 43-43 with 17 seconds remaining, the Bulldogs held for the final shot — the same situation they'd been in at the end of regulation.
Again the would be deciding jumpshot fell flat, but this time Talon Holmquist snagged the offensive rebound and scored on the putback with 1.5 seconds remaining to win the game.
That came after a back and forth overtime quarter that hinged on a key charging call against Whitefish's Bodie Smith with one minute remaining.
Just after hitting a pair of double bonus free throws with 1 minute left, the charge call against Smith took Whitefish's leading scorer out of the game and gave Stevi the ball and a chance to take the lead.
The defense held, however, and set up the final putback for the win.
Holmquist scored 13 points in the game, along with Bodie Smith's team-high 14 points.
Whitefish spent the early part of the game playing catchup.
They scored only five points in the first quarter, digging themselves an eight point deficit after eight minutes. They rebounded in the second, outscoring Stevi 14-5 to take a 19-18 halftime lead.
In a bit of foreshadowing, Holmquist closed out a strong third quarter with a buzzer-beater to put Whitefish up 31-29 heading into the final frame.
This week Whitefish will get its second look at a pair of conference foes.
On Thursday they'll host Columbia Falls for Senior Night, and they'll be looking to avenge the overtime loss they suffered in their first matchup with the Wildcats.
That game will start at 7:30 p.m.
Then on Friday they'll take on the Loggers in Libby at 7:15 p.m.
Stevensville 13 5 11 8 6 — 43
Whitefish 5 14 12 6 8 — 45
STEVI — Ethan Schobe 4, Kellan Beller 14, Tanner Pendergast 10, Carlos Morales 2, Shawn Craft 8, Gavin Rahl 5.
WHITEFISH — Bodie Smith 14, Danny Davis 3, Justin Conklin 4, Garrett Brock 4, Jace Cripe 2, Sam Menicke 5, Talon Holmquist 13.
---