Lady Dogs can't hold on against sharpshooting Wildkats
by
Daniel Mckay
Whitefish Pilot
|
February 11, 2020 2:29 PM
A rough opening quarter was all it took to put Friday's game against Columbia Falls out of reach for the Lady Dogs.
Whitefish was outscored 24-6 in the opening quarter, aided by five three-pointers by the Wildkats.
From there on the scores were a little closer, though Columbia Falls extended their lead by 16 in the final three quarters of the game.
Payton Kastella was Whitefish's high scorer with 11, while Jadi Walburn and Mikenna Ells added six points each.
On the Columbia Falls side, Hannah Schweikert scored a game-high 17 points, while Maddie Robison and LaKia Hill each scored 14.
Whitefish head coach Bob Bolam said the start of the game set the tone.
"We came in hoping to play decently well and I think the first quarter was just a tough quarter for us. They kind of blitzed us right from the beginning," he said. "We have to learn to play a little more aggressive. It was a tough game, but we'll learn from it."
"We knew they were good, and they were," he added. "We couldn't match up with that."
The loss puts Whitefish at an overall record of 3-10 and a league record of 3-4.
They'll look to right the ship this week with a conference game and a southwest versus northwest battle on Friday.
On Tuesday after press time they traveled down to Ronan to battle the Maidens. On Friday they'll make the long trip down to face off against Corvallis.
Both games will bring their own challenges, he said.
"Ronan is a deep team. They can bring a lot of kids in that can really put the ball in the basket," Bolam said. "They like to run, they press and all that. For us, it's going to be another battle of turnovers, limiting open shots and playing the post well. They've got good post players and girls that have been hitting outside shots. It's going to be a tough battle, like it was with Columbia Falls."
Against Corvallis, Bolam said he's hoping his team can bring their best against a wavering Blue Devils team.
"They have some size and some weapons. They've been hot and cold this year though, so hopefully we'll go down there and play well and see what happens."
Whitefish 6 9 9 8 — 32
Columbia Falls 24 10 15 17 — 66
WHITEFISH — Peyton Kastella 11, Jadi Walburn 6, McKenna Ells 6, Gracie Smyley 5, Hope Brown 5.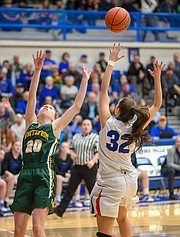 ---