Five event champions lead speech team at state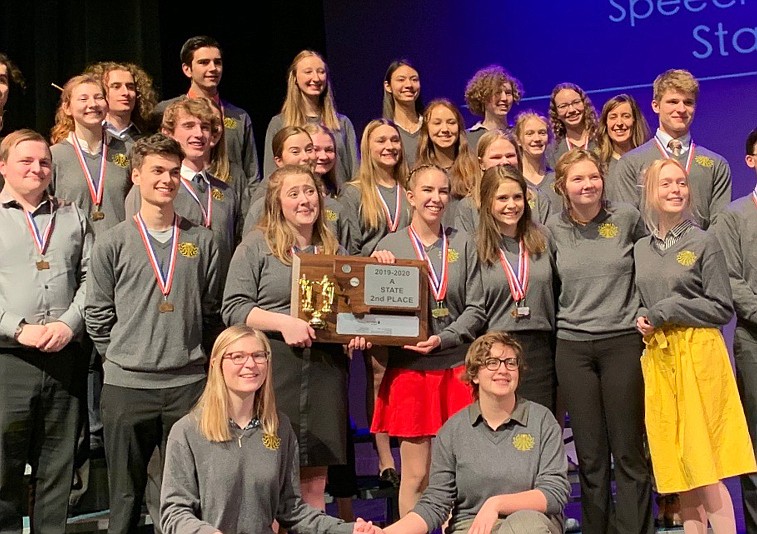 The Whitefish Speech and Debate team took second place at the Class A State Tournament last week, held in Whitefish. (Courtesy photo)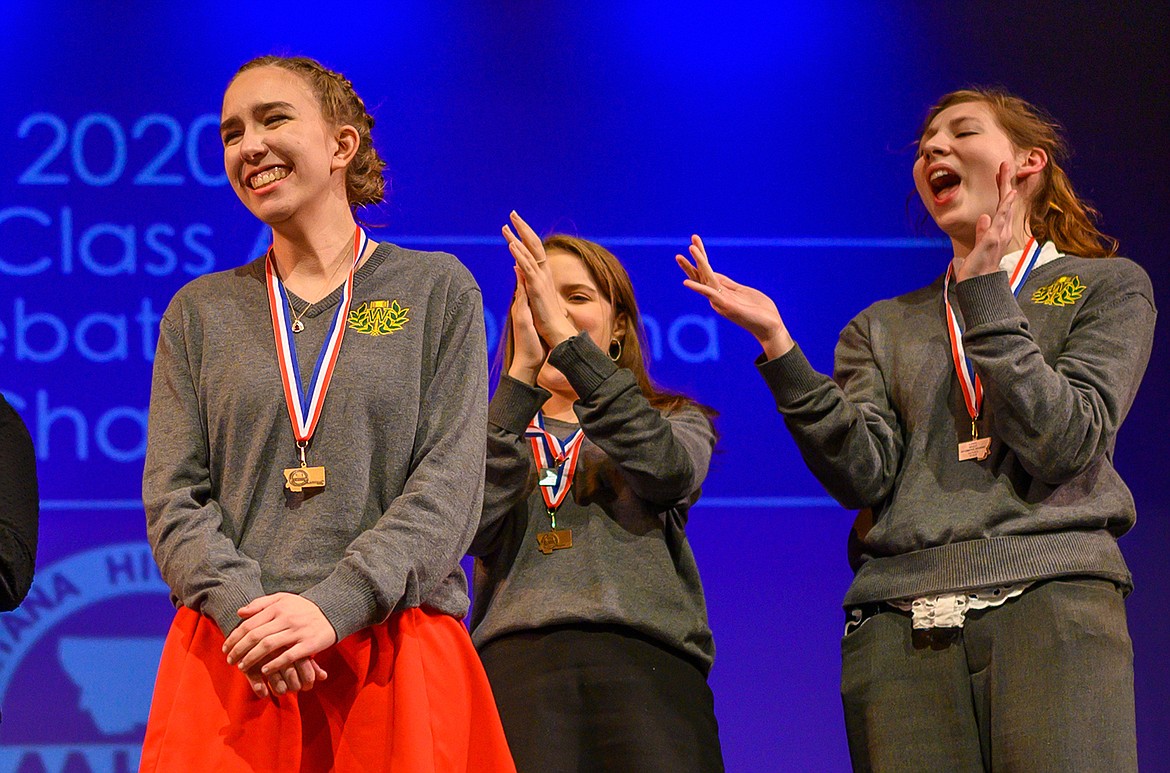 Competitors from Whitefish's speech and debate team swept the informative speaking event at the Class A state speech meet Saturday at Whitefish. Bethany Barnes, left, earned the championship, runner-up was Gabby Pickert, middle, and third place went to Eden Scrafford, right. (Chris Peterson/Hungry Horse News)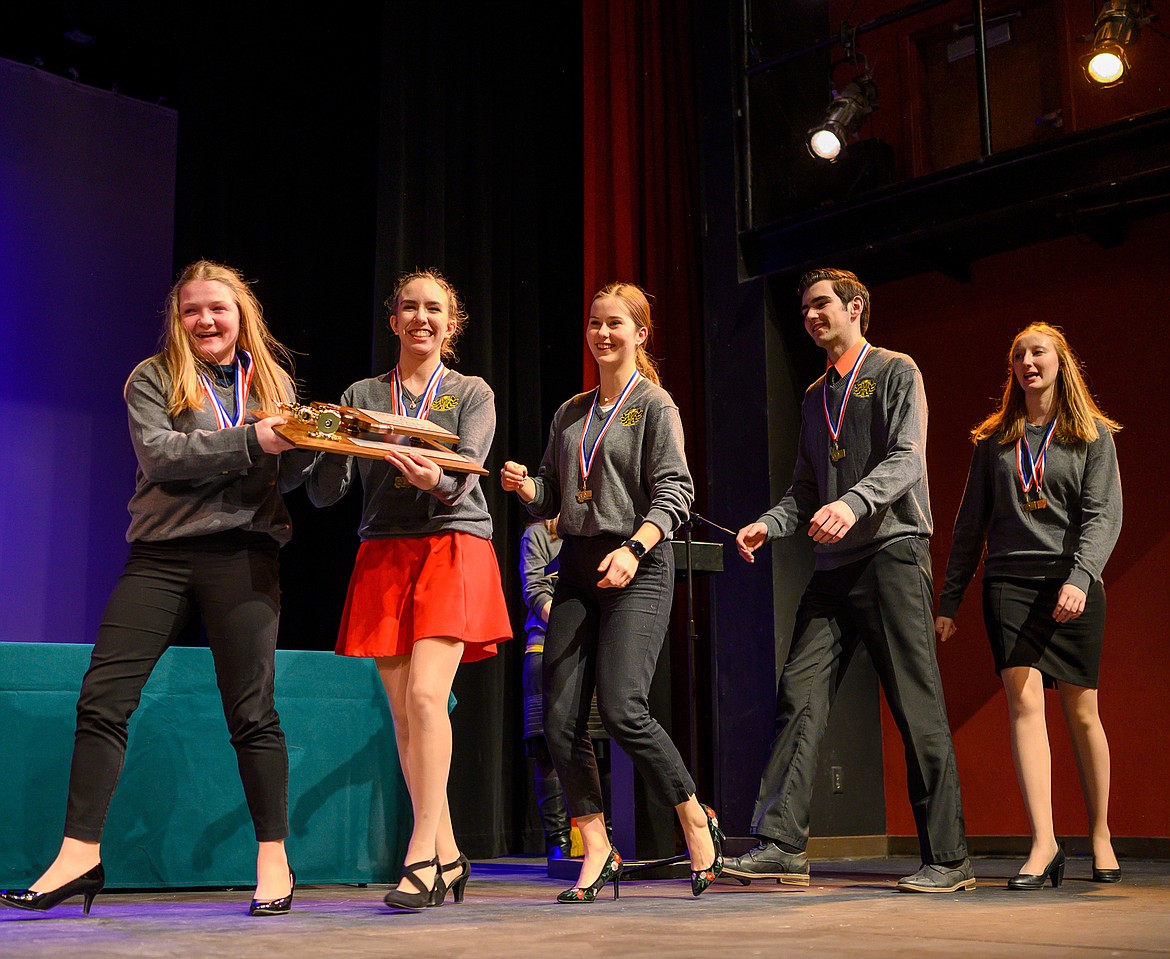 Whitefish state champions, from left, Danika Tintzman (impromptu), Bethany Barnes (informative), Grace Benkelman (memorized public address), Logan Mercer (humorous interpretation), and Abigail Bowden (extemporaneous), accept the team's plaque for their second place finish at the Class A state speech and debate meet Saturday at the Whitefish Performing Arts Center. (Chris Peterson/Hungry Horse News)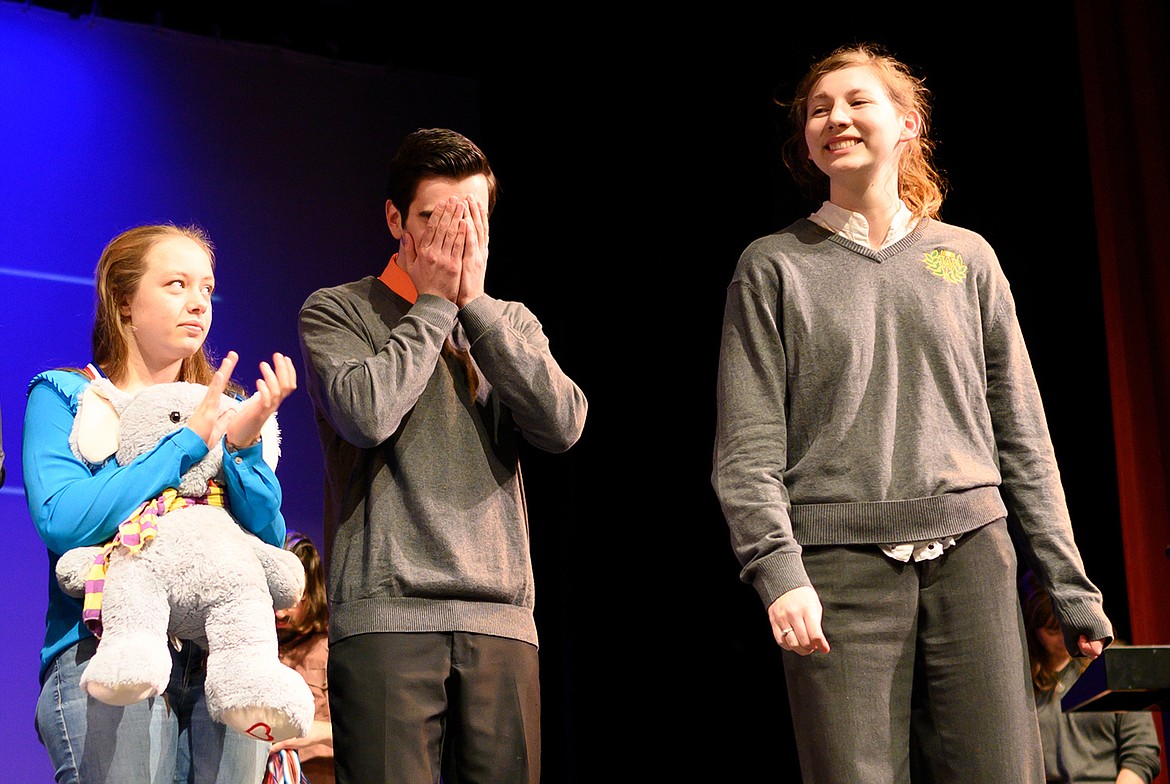 Whitefish's Logan Mercer, center, reacts Saturday to being named the Class A state champion in humorous interpretation, while fellow Bulldog Eden Scrafford, right, reacts to earning the runner-up position at the Whitefish Performing Arts Center. (Chris Peterson/Hungry Horse News)
Previous
Next
by
Daniel Mckay
Whitefish Pilot
|
February 11, 2020 2:29 PM
The Whitefish speech and debate team capped off another strong season with a second-place finish and five individual champions Saturday.
The team took second behind Columbia Falls and ahead of Frenchtown — a season-long trend — at the Class A State Tournament, hosted at Whitefish High School.
In spite of a power outage on Saturday that shook up the tournament, the team put on a strong performance.
Danika Tintzman in impromptu, Abigail Bowden in extemporaneous, Grace Benkelman in memorized public address, Bethany Barnes in informative and Logan Mercer in humorous interpretation, all took first place overall.
Benkelman and Barnes both successfully defended their state titles from last season as well.
Eden Scrafford took second in humorous interpretation and Lucy Schindler second in dramatic interpretation. A number of Bulldogs also took third place, including Schindler in original oratory, Danika Tintzman in memorized public address, Scrafford in informative and Muriel Mercer and Rachel Rowles in public forum debate.
Head coach Sara Mueller said the season was one to be proud of.
"This season we experienced an unprecedented number of individual successes, culminating in five state champions," she said. "This group of students is gifted and willing to work hard for competition, but they are first and foremost excellent teammates to each other. The team knows how to be leaders, to step up when it is required, and to build each other up when they get a chance."
Individual results:
Policy debate: 7. Gavin Carmichael and McKenna Ferril, 8. Chaz Gillette and Grayson Butler
Public forum debate: 3. Muriel Mercer and Rachel Rowles
Impromptu: 1. Danika Tintzman, 4, Abigail Bowden
Extemp: 1. Abigail Bowden, 7. Bethany Barnes
Original oratory: 3. Lucy Schindler, 7. Aidan Reid
Memorized public address: 1. Grace Benkelman, 3. Danika Tintzman
Informative: 1. Bethany Barnes, 2. Gabby Pickert, 3. Eden Scrafford
Dramatic interpretation: 2. Lucy Schindler, 6 Gabby Pickert
Humorous interpretation: 1. Logan Mercer, 2. Eden Scrafford
Sweepstakes: 1. Columbia Falls, 2. Whitefish, 3. Frenchtown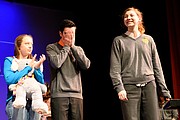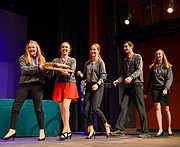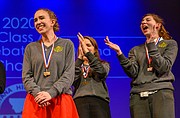 ---