Arnold Quentin Sandefur, 96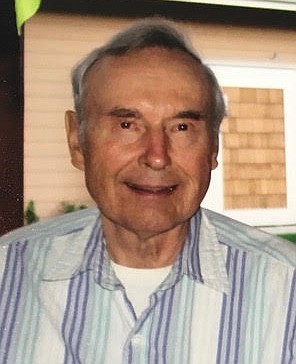 |
December 30, 2020 1:00 AM
Last Tuesday afternoon, Arnold laid down in the grass on his daily walk to the mailbox.
He spent Wednesday, his 96th birthday, in the ICU, was able to squeeze hands and smile at family that was there. He took a turn early Thursday morning, Dec. 10, they said he had a narrowed aortic valve, and went into the arms of Jesus, our Lord and Savior.
Arnold was born to Herbert "Hub" and Anna (Chanlund) Sandefur on his mothers birthday, Dec. 9, 1924, on the family homestead near Beaver Creek, southeast of Malta Montana. Anna's new little boy was delivered by his dad because the neighbor lady didn't make it in time so he joined his brothers Herb, Richard, and later Glenn.
Dad was schooled in the Malta school system, but when 17 years old, joined the U.S. Navy, had basic training at Farragut, Idaho, then was schooled in electronics and served 18 months as a radioman in WWII on the small airstrip isle of Palmyra in the South Pacific.

After the war was over, dad held various jobs, had an appliance repair shop in Malta for a short time, and worked for Oscar Thronson at his general store in Babb, Montana for a time. He liked the mountains, and worked on the building of Hungry Horse Dam as a surveyor. He hired out on the Great Northern Railway in 1953, and spent 35 years traveling the hi-line as a freight conductor retiring in 1988.
Arnold married Eileen D. Ohs in 1955, and they had three children, Kathy, Larry and Janice. He built the family home south of Whitefish mostly by himself and friends, with any spare time the railroad would give him. He could fix most anything and enjoyed woodworking, photography, playing horseshoes and keeping fit by walking with Eileen.
They had accepted and believed what the Bible says concerning Jesus and His resurrection, were original members of First Baptist Church in Whitefish and have attended and served the Lord there ever since it started up in the early 60s.

After retirement, Arnold had more time to ski with his friends on the Big Mountain, hike and climb mountains in Glacier National Park with his son, Glacier Mountaineering Society and the infamous Over-the-Hill-Gang. He hiked, climbed and skied well into his 80s, but even as dad aged, he may have forgotten a few things, but he never forgot all the mountains and trails he had hiked.

Arnold was preceded in death by his parents Herbert and Anna Sandefur, brothers Herb, Richard and Glenn, daughter Kathy Ann.

Arnold is survived by his wife Eileen, son Larry, daughter Janice, grandchildren Brooke (Cantu) Block, Brad Cantu and Brian (Shekinah) Cantu. He also has 10 great-grandchildren.
A graveside service was held on Friday, Dec. 18.

We will have a celebration of dads Life, hopefully, in the spring or summer and we look forward to greeting each and every one of you who knew dad and would enjoy spending time with us.
---