Charles Stuart ("Chef Stu") Hale Allen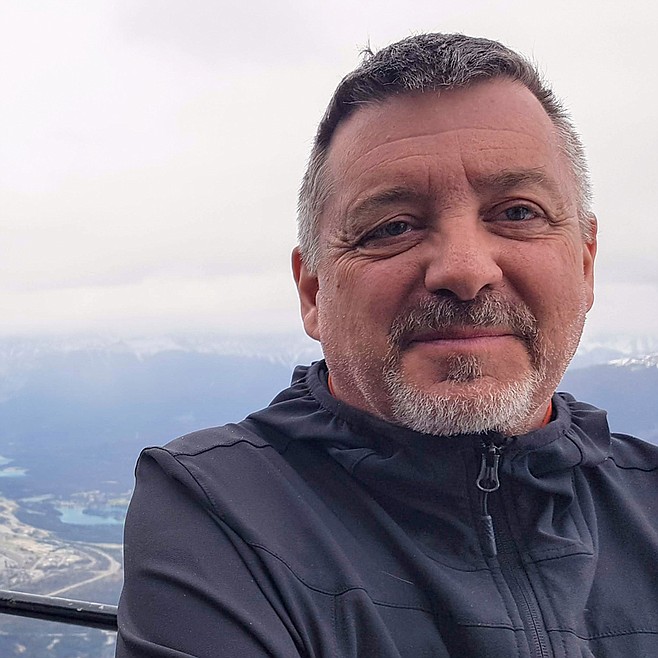 |
December 16, 2020 1:00 AM
"He had a heart bigger than most, and he shared it with everyone he met."
Charles Stuart Hale Allen – "Chef Stu" – was born in Memphis on Sept. 15, 1961, to Dr. Chester Glenn Allen, Sr. and Jeanette Sencerbox (Hord) Allen. He was the youngest of four children.
When he was a child, Stu's mother came upon him salting and tasting the family dogs' food, the first hint of the brilliant, instinctive chef he would become.
In grade school, Stu met Jason Lee Peeples and Hugh Stewart ("Stew") Nunn, friends who became his brothers, and with whom he remained in touch for the rest of his life.
Stu graduated from Grace-St. Luke's Episcopal School in Memphis. He held a master's degree in history from the University of Arizona ("Bear Down").
Shortly after university, Stu fully embraced his ever-present passion for cooking beautiful food, and began the dedicated and glorious pursuit of a career as a chef. He never looked back.
Stu's culinary career garnered him success and friendship in every corner of the continent: from Tucson, where he apprenticed under Chef Alma Vactor, to New Orleans, where he was chef de partie under Chef Emeril Lagasse; from New York, where he lived in the heart of Hell's Kitchen, to Juneau, where, between shifts, he walked the stunning beaches with his Bernese Mountain Dogs Laszlo and Vildy.
In Boulder in the 1990s, Stu reached pinnacles as general manager of the award-winning 15 Degrees, and as executive chef at the four-star Hotel Boulderado. Moving to Whitefish in 2001, Stu began work at Whitefish Mountain Resort, first as general manager and chef at the Summit House, and later as chef de cuisine at Hellroaring Saloon and Eatery on The Big Mountain. His goal was to ski every day if possible, and, as in all things, Stu gave it his best.
Stu's passion for fly-fishing brought him to the paradise of Complete Fly-Fisher on Montana's Big Hole River, where he was executive chef during the summers of 2009 to 2011.
Around this time, Stu took a drive across the border into Alberta, and met Julie Smith, with whom he had been corresponding online. The visit went well. Stu moved to Crowsnest Pass in October 2011, and soon started working as director of food and beverage/executive chef at Castle Mountain Resort, sharing wisdom and mentoring the young staff who surrounded him. "He made a massive difference for many of us kids with his humour, passion, professionalism, and wonderful attitude," a former Castle colleague recently wrote.
Stu and Julie were married in Crowsnest Pass on Oct. 13, 2012, with Julie's adult children, Stephanie Neufeld and Madeline Neufeld, as attendants. In December 2015, Stu and Julie welcomed Niko, a nine-week-old Bernese Mountain Dog, to the family. Niko became the honorary mascot and greeter at Castle Mountain, lapping-up the attention and giving love to all.
In 2019, Stu, Julie, and Niko moved to the municipality of Jasper, in Jasper National Park, and Stu began work as executive chef for Pursuit Banff Jasper Collection, at Maligne Canyon and Maligne Lake. He was excited to join this forward-thinking company, and to continue making magnificent food and mentoring younger chefs.
In early August, 2020, Stu was diagnosed with inoperable glioblastoma multiforme. "To face one's own mortality," Stu wrote, "is a very grim visage. To realize that there is still so much to do in life, so many differences to make, so many lives still to touch." Stu vowed to fight the tumour, which he likened to a renegade dumpling.
Stu underwent six weeks of focused radiation and concurrent chemotherapy at Cross Cancer Institute in Edmonton. He never stopped believing in the fight, but he became very tired.
On Nov. 30, 2020, in a cozy palliative care room at Jasper Healthcare Centre, Stu breathed his last, with Julie, Stephanie, and Madeline caressing him and whispering their love.
The dumpling did not win. Stu's soul will shine forever.
Stu never hesitated to say, "I love you" to friends, colleagues, and family. His passions included feeding those he loved, historical tomes, the New Orleans Saints, rivers, mountains, loud and live music, and Hornitos, neat. He followed his heart and lived life to the fullest, with an outrageous, irreverent sense of humour ("You can't have stupid without the Stu!") and a zest for life. We are all better people for having had our time on earth infused with his.
"I am the luckiest man alive right now, to be showered with Love and support from those around me," he wrote in mid-August. "The Love of my Life, our daughters, all of my friends collected in this beautiful and wondrous life that I have had the great fortune of living. I have had the great fortune of living in some of the world's most beautiful places and, as a Chef, had the rare opportunity to work with the most outstanding and cutting-edge pioneers in my field."
Stuart Allen will be forever cherished by his wife Julie Faye Smith-Allen; beloved stepchildren Stephanie Erin Neufeld and Madeline Shea Neufeld; soulmate Tailspin's Niko Heart in Pocket; mother-in-law Evelynne Harriet Smith; brother Lawrence H. (Gail) Allen; nephews Lawrence Chester (Jennifer) Allen and Daniel Palmer Allen; great-nephew Joseph Glenn Allen; sisters-in-law Nadene Elaine (Eric Gauthier) Smith and Marla Jean (Carmen Carnegie) Bryan; chosen brothers Jason Lee (Kerry) Peeples, Hugh Stewart (Andrea) Nunn; as well as by the many precious friends and colleagues he loved with all his heart. Stuart Allen was predeceased by his parents; his siblings Chester Glenn Allen, Jr. and Mary Celeste Allen; and by several Very Good Dogs.
Celebrations of Stu's life will be held, when safe to do so, in many of the places where his spirit lives on. Details will be provided on his Facebook page.
Donations in Stu's memory will be gratefully accepted at the Humane Society of Northwest Montana at https://tinyurl.com/y2b7lfgg, the North Valley Food Bank https://tinyurl.com/y3yajp2s or at the charity of your choice.
---