School music programs play on through pandemic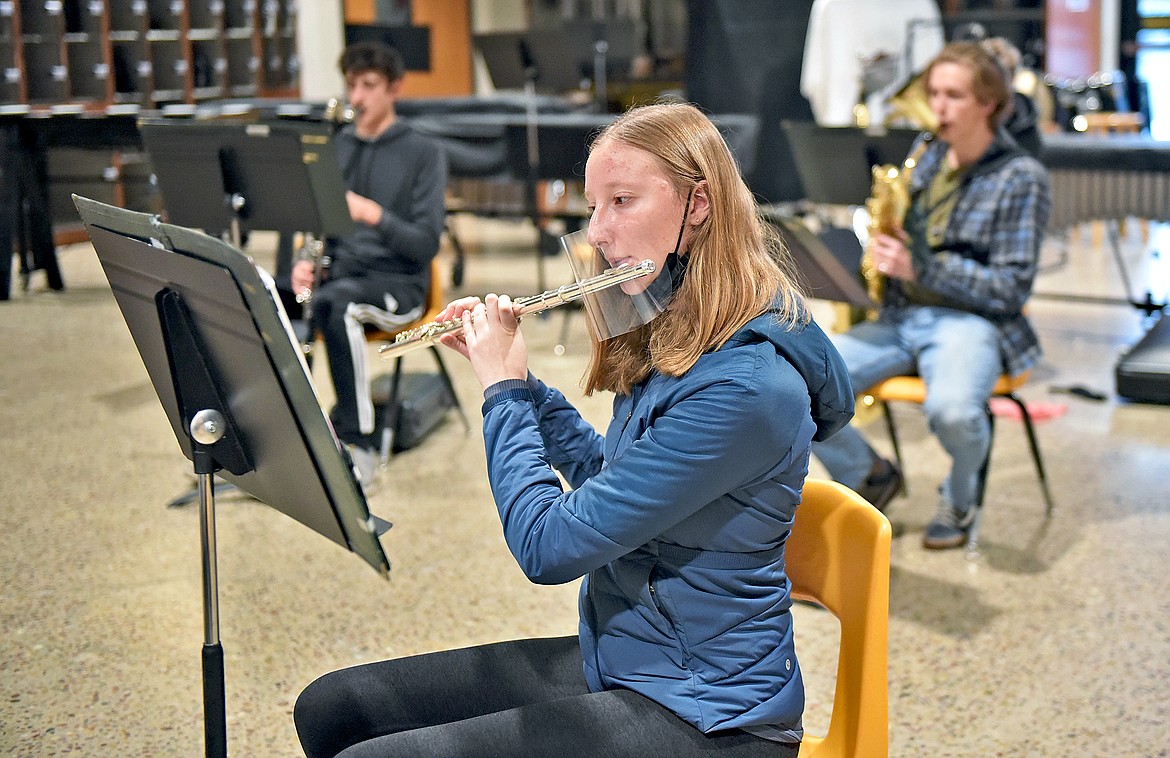 Whitefish High School varsity band flutist, Abigail Bowden, practices during a class Monday, Nov. 23. (Whitney England/Whitefish Pilot)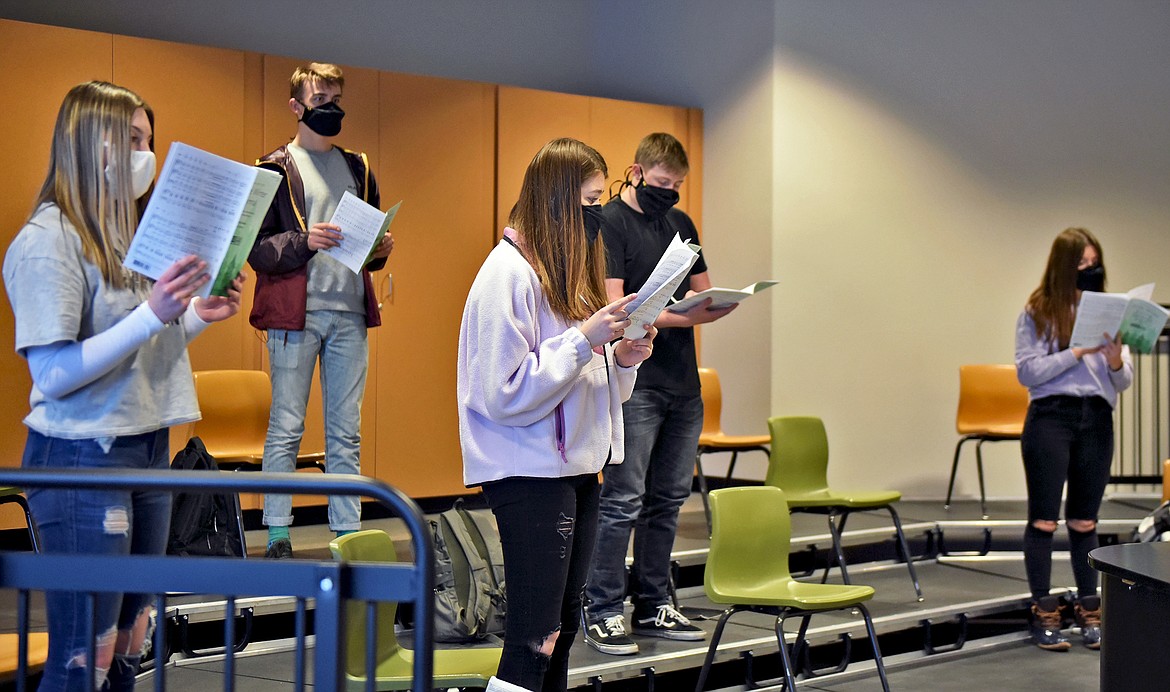 Choir students work on a musical number during a socially-distanced class at Whitefish High School Monday, Nov. 23. (Whitney England/Whitefish Pilot)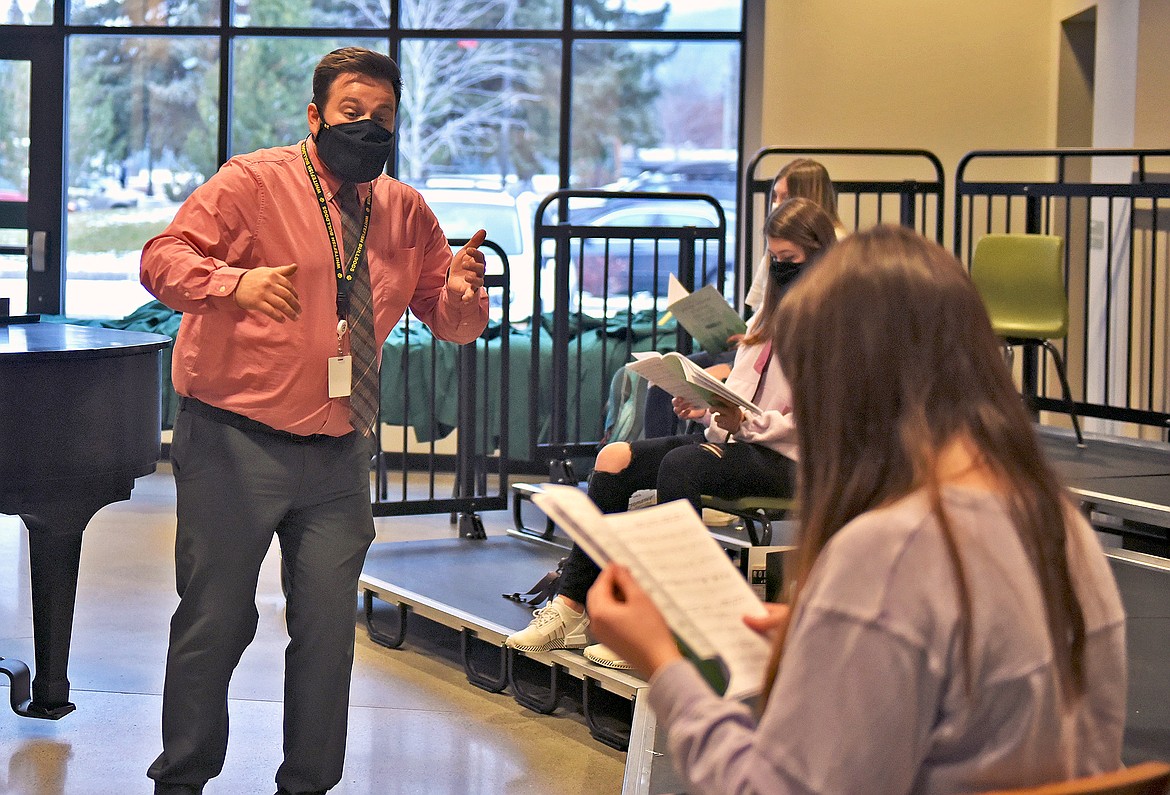 Whitefish High School Choir Director Sky Thoreson works with his students during class Monday, Nov. 23. (Whitney England/Whitefish Pilot)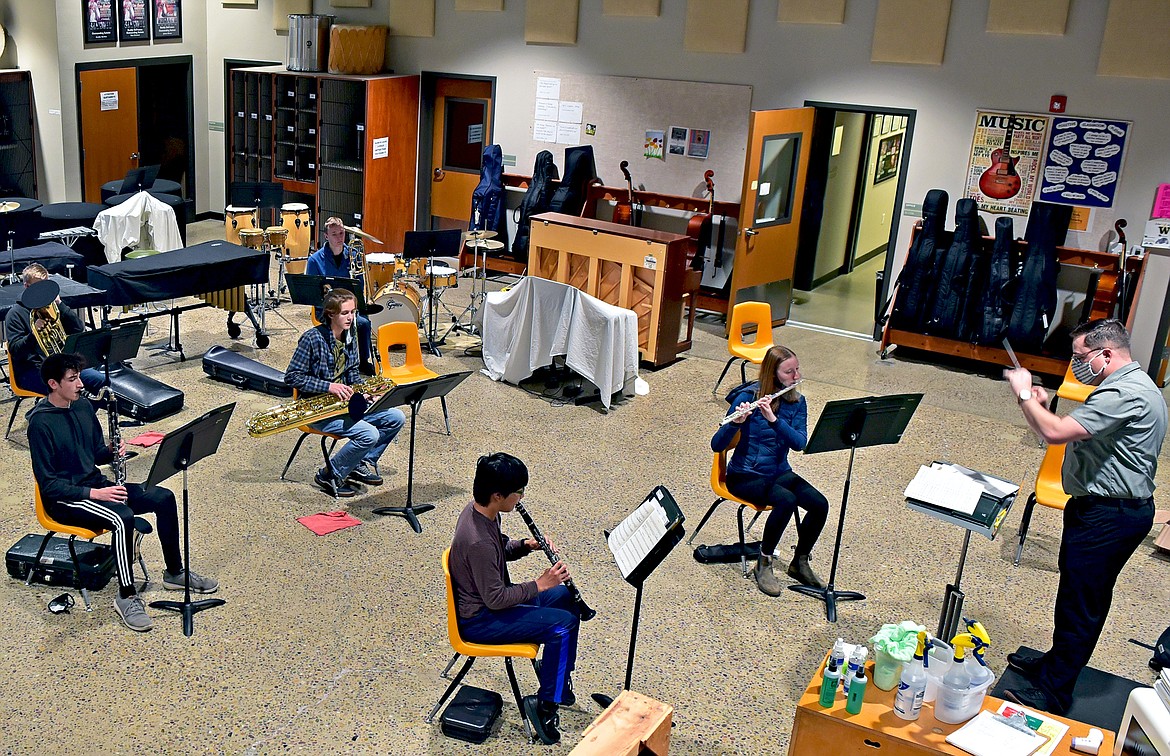 A Whitefish High School band class practices while social distancing Monday, Nov. 23. (Whitney England/Whitefish Pilot)
Previous
Next
by
WHITNEY ENGLAND
Reporter
|
December 9, 2020 1:00 AM
The music programs at Whitefish Schools have a bit of a different feel these days.
Amid the COVID-19 pandemic, education in all forms has required alternative approaches, but the adjustments have been even larger in hands-on fields such as music. Between small class sizes that are socially distanced, bell covers on instruments, masks on students and teachers, and new sanitizing protocols, the band, choir and orchestra programs have made key transitions to make music classes safe while still allowing for learning to happen.
Choir director Sky Thoreson said one of the biggest changes in choir is the small class sizes. Because of the hybrid learning model the Whitefish School District has been following up until recently, some choir classes have as few as six students. Thoreson said this makes it difficult for the students to feel comfortable singing as there often is strength in numbers.
"The biggest thing with choir students is being around other people gives them the confidence and inspiration to sing out because when you are in a small group of people you feel exposed and it's really nerve wracking to try to sing out; it makes you feel very vulnerable," he explained.
As far as extra protocols to ensure the safest classroom environment possible, Thoreson said his classes are following the normal COVID-19 precautions, but the most important piece to keep everyone safe during class are singing masks.
The Resonance Singer's Masks, made in Missoula, were purchased by the school district for all choir students and allow a vocalist to be heard while keeping those around them safe. Although Thoreson noted the masks are not overly comfortable, he is grateful the masks block aerosols while still allowing singers to breathe and their voices to resonate still.
"The masks are the biggest most important part because they trap those aerosols," Thoreson said. "I think we're taking extra precaution and that's a good thing."
For the band program, the safety measures are a little different since the students cannot play their instruments with a mask on. Instead they have bell covers that trap the air coming out of some instruments and a clear shield has been devised to cover the front of the flutes, says high school Band Director Matthew King.
The band students also have access to mouthpiece spray, rags used for instrument condensation that are washed between uses, they sanitize chairs and stands before and after each class and, of course, social distancing.
But for King and his students the hardest adjustment thus far has been, similarly to choir, the lack of students in each class period during the hybrid schedule.
King said because the classes are split alphabetically by last name, he has no control over how many flutes, or clarinets or the number of tuba players are in each class, for example.
"It makes it pedagogically just totally different," he said. "It really has changed, just fundamentally, what band is like."
According to the Whitefish orchestra director Tsai-Rung Li, his classes take a similar approach to band and choir with masks, sanitizing and mandatory seating charts. Although managing these protocols has been somewhat of a challenge, for Li the lack of full rehearsals and performances has been especially tough.
"We believe that creating a performance environment for students is important to increase their motivation for learning and so they can gain more confidence in learning music," he said.
The time for a fall concert has come and gone, but the orchestra program is getting creative in order to safely put on a winter performance. The middle school orchestra recorded a virtual concert a few weeks ago and the high school will be doing the same.
"We know that music is such an important part of life and can even lift their spirits," Li said. "We want to keep delivering positive musical messages to our orchestra families, friends and community during this unusual time."
The band and choir directors also echoed Li's thoughts on concerts, both acknowledging that performing is a vital part of growing as a musician.
Requirements limiting group sizes, has made the band move toward a virtual concert. King says it will run as if it were in person, with a call time and one take for the students to show what they've been working on.
"Music making in the school setting can feel so academic," King said. "So when you have that opportunity to finally turn the corner and present it, even if it's virtual, that's going to be huge for the students."
The choir program is planning a combined middle and high school virtual concert where they will perform different numbers in various places throughout the school, and combine it into a YouTube video presentation.
"This is for the students and for me — we need some kind of a product to put forward so that we can show that we've been doing something meaningful and valuable," Thoreson said.
Only recently the band, choir and orchestra programs have been able to meet on Wednesdays as a complete group for full, socially distanced rehearsals. But all the directors say their ensembles are ready to perform.
All three concerts are expected to be released to the public this month.
Despite this unusual time and circumstance Li concluded his thoughts with, "Even though we have been hit with Covid, it cannot stop our music."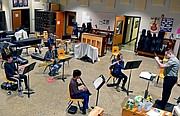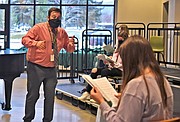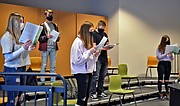 ---