City and nonprofits apply for grant for trail signs, underpass art project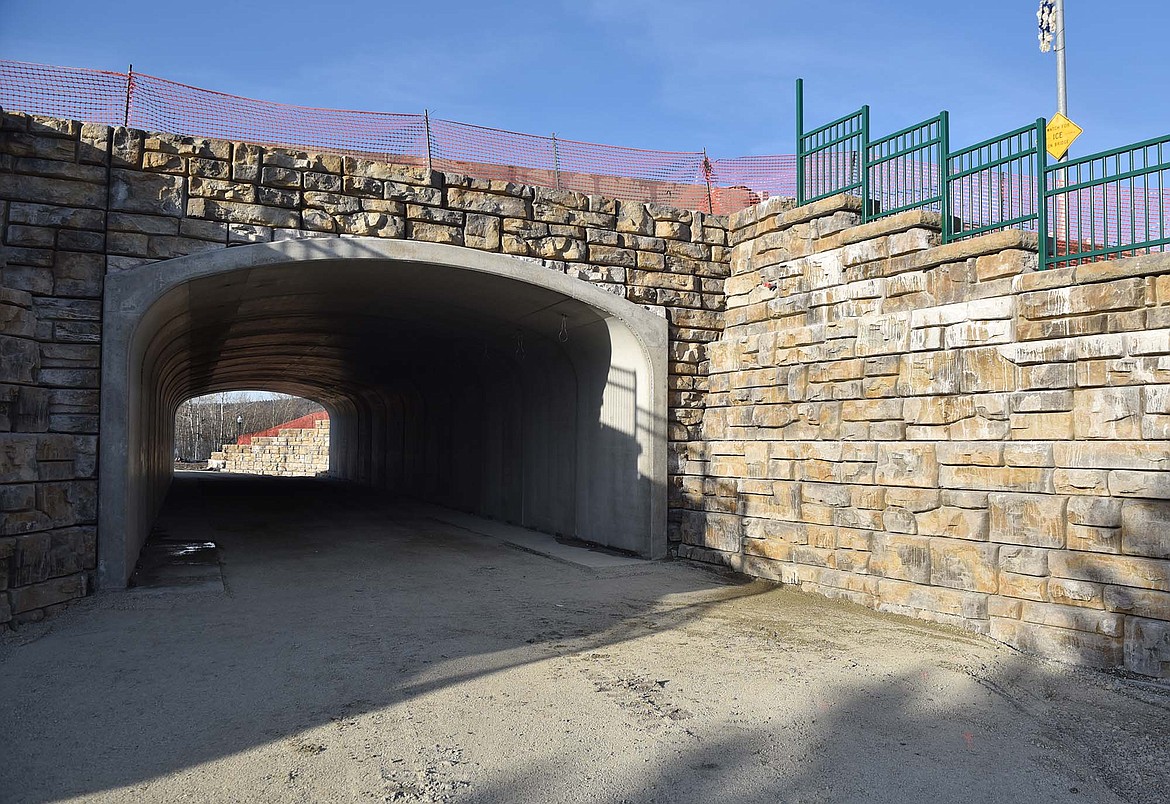 The pedestrian underpass under Baker Avenue is meant to connect downtown and the railway district. (Heidi Desch/Whitefish Pilot)
by
HEIDI DESCH
Daily Inter Lake
|
December 2, 2020 1:00 AM
The City of Whitefish, along with two nonprofits, is applying for a tourism grant that would help fund updates to existing downtown wayfinding signs regarding bike and pedestrian paths and an art installation for the Baker Avenue pedestrian underpass.
Whitefish Legacy Partners is heading up the portion of the project involving wayfinding signs with the goal of updating signs and integrating the city's paths in with the Whitefish Trail network on forestland surrounding town. Stumptown Art Studio has created an art installation planned for display inside the underpass.
City Council last week approved sponsoring the grant application to the Montana Office of Tourism and Business Development, which awards funds through the grant to projects that strengthen the state's economy through development and enhancement of the state's tourism and recreation industry.
The two projects are estimated to cost a total of about $55,000 and $36,500 is being requested in grant funds.
Major construction of Baker Avenue pedestrian underpass is being completed this fall.
The concrete underpass is expected to create a connection between downtown and the railway district spanning under Baker Avenue connecting the city's path off Railway Street to Depot Park.
Public Works Director Craig Workman said the city approached Stumptown Art Studio earlier this year to begin working on concepts for a public art display for the underpass.
The art studio came up with "Reflections of Whitefish" a multi-media art installation through the tunnel with the art meant to represent the geographical features of the Flathead Valley through sculpted, durable glass panels attached over a painted background on the walls of the tunnel.
Melanie Drown, with Stumptown Art Studio, said the art will be designed to hold up benign out in the weather and will be a positive addition to the underpass.
"We find that great public art discourages graffiti," she said.
At the same time, Legacy Partners approached the city about teaming up on wayfinding sign improvements.
"The signs will improve usage and integrate the city's bike and pedestrian path with the Whitefish Trail," said Alan Meyers-Davis, with Legacy Partners.
The two projects are being rolled together into a joint application with the goal of improving outdoor recreation experiences in Whitefish, Workman noted.
"The idea is that the projects will help locals and visitors locate the Whitefish Trail via updated vehicular signs, navigate local bike and pedestrian paths with new trail‐side directional signs, and enjoy inspiring community‐driven artwork along the way," he said.
The estimated cost of the underpass art project is $39,000 with $26,000 being requested in the grant. The remaining $13,000 would be split between the city and the studio.
The estimated cost of the wayfinding sign project is $16,000 and the grant request is for $10,500. The remaining cost would be covered by a $2,500 match from the Whitefish Convention and Visitors Bureau, and $3,000 from the city.
Recent Headlines
---