BNSF closes Glendive facility, but says no staffing changes planned for Whitefish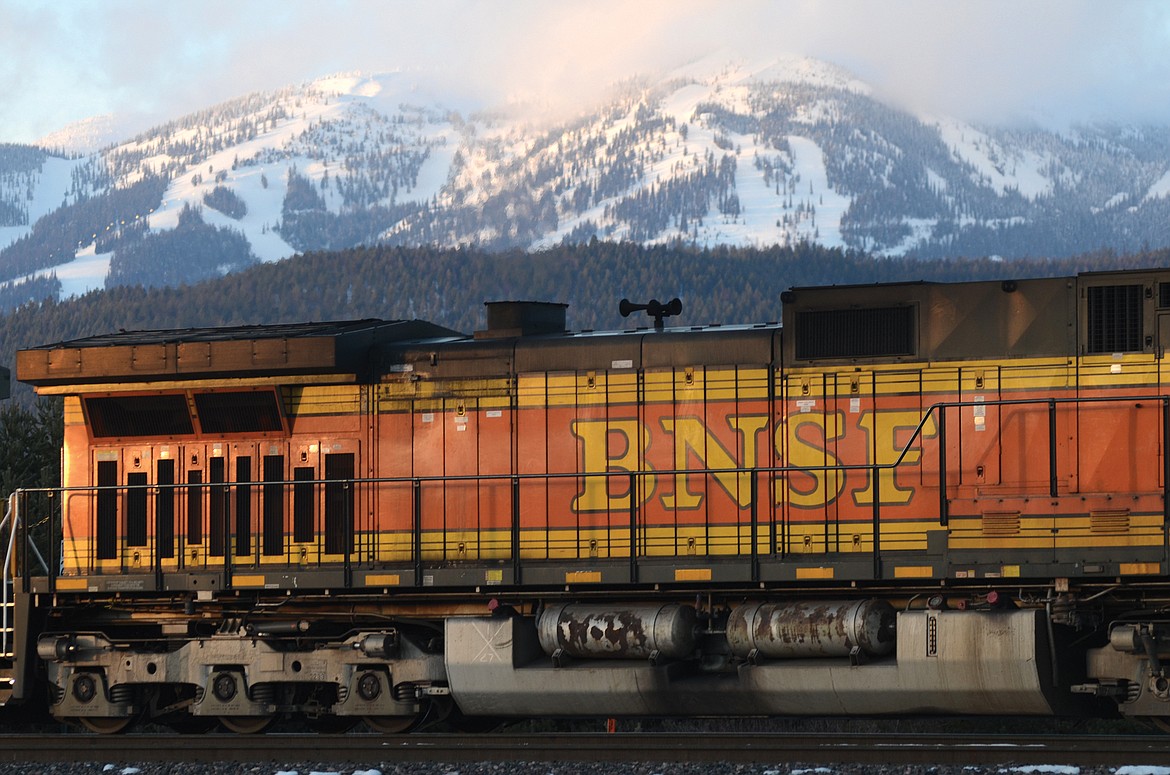 Big Mountain can be seen behind a BNSF train as it sits on the tracks in Whitefish. (Whitefish Pilot file photo)
|
August 17, 2020 8:58 AM
BNSF Railway Co. closed its maintenance facility in Glendive last month, cutting approximately 85 jobs. The closure is one of many changes coming down the line to Montana railroads due to the wide-ranging impacts of the COVID-19 pandemic.
"BNSF Railway has made the decision to close the maintenance facility in Glendive in response to our customers' changing business conditions and projected lower demand for rail cars to ship commodities," explained Courtney Wallace, senior director of external communications for BNSF, in an email.
"The economic news hasn't been great," Wallace said candidly. "Volumes are trending down."
She said BNSF carrier volumes were down 5% in the first financial quarter of 2020 compared to the same time period in 2019. Some volumes have started to pick up this summer, but not enough to maintain the railway's current workforce.
"Similar to the size of our train, yard and engine workforce, our mechanical teams must match the demand for traffic moved by our railroad," Wallace continued. "With volumes lower than anticipated due to several factors, including changes in the coal and energy sector, the number of rail cars and locomotives moving on our network and, thus, repairs needed, have decreased."
Approximately 70 jobs will remain in the Glendive area following the maintenance facility closure.
"We understand the significant impact this has on our employees and the communities of Glendive," Wallace wrote. "We are working diligently to connect them with available resources, while also offering the option to potentially transfer to a number of open positions at other locations in our network."
BNSF will provide relocation packages to Glendive employees who accept positions elsewhere, and some of these employees will be eligible to exercise their seniority for open positions as part of their collective bargaining agreement.
Meanwhile, the company continues to invest in its northern corridor, which reaches from the Pacific Northwest to Chicago, and according to Wallace, no staffing changes are expected for the rail company's Whitefish workforce at this time.
Over the last seven years, BNSF has invested approximately $7.8 billion in maintenance and development along the northern corridor, including $785 million in Montana in the past five years.
"Our railroad has never been in better shape," Wallace reported.
Part of the recent investment went to the ventilation system in the 7-mile Flathead Tunnel near Trego. Improving the ventilation in the lengthy tunnel will reportedly help trains move through the area more efficiently.
BNSF also recently completed double-tracking sections of the railroad in North Idaho, and crews are currently working on building a second bridge over Lake Pend Oreille near Sandpoint, Idaho. Across the railroad's expansive territory, BNSF is also working on rehabbing ties and rails.
"We're really focusing on overall maintenance," Wallace said.
She said BNSF has a "well-laid foundation" throughout the region, and the corporation is "very well-positioned" to outlast the current challenges.
That's good news for Montanans and their neighbors, according to Wallace. "It really benefits our customers in Montana, Chicago and all the points in between," she said.
Job security isn't the only concern for BNSF employees during the pandemic. Wallace emphasized the railway's top priority is "making sure our teams are protected."
That includes implementing health and safety measures such as wearing masks on the job, socially distancing workers and providing extra cleaning supplies. These changes are easier to make in some positions than others. Wallace pointed out precautions like social distancing are challenging when a train engineer and a conductor are working together in a tight train cabin.
Still, she said, "we're doing everything we can."
The BNSF crews have kept on running throughout the pandemic and resultant business closures. "Railroads are an essential service," Wallace pointed out. In fact, she said, "railroads have never been more critical."
---