Shirley Yeats, 91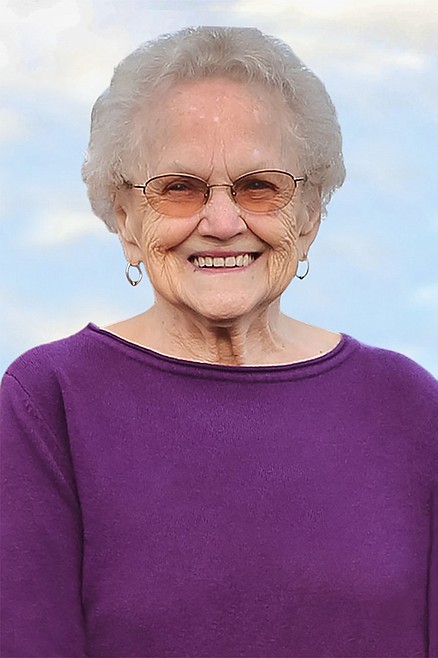 |
August 12, 2020 1:00 AM
Shirley Yeats, beloved mother, grandmother, great-grandmother, and friend to all who knew her, passed away peacefully with her son by her side, on July 21, 2020, at Kalispell Regional Medical Center.
Shirley was born in Whitefish, Montana, on Nov. 7, 1928, the youngest of 4 daughters to parents Reuben and Fern Larson. She joined Delores, Eleanor, and Pearl. She was known most of her life as "Shirlee" because there were three Shirley's in her second grade class and her teacher provided spelling variations to differentiate them. She graduated from Whitefish High School in 1946 and shortly after that married Myron Schwenke, also of Whitefish. They were blessed by the birth of their first son, Larry, on July 25, 1947, followed by Don on Dec. 4, 1948. They later divorced and she became, in those days, a not so common single mom. She made sure the boys didn't miss out on scouting, sports, and church activities. She instilled in them a strong work ethic and a sense of responsibility and respect for others. The house on Kalispell Avenue adjoined the school and playfields which allowed them to hone their athletic skills with the neighborhood gang. Her shrill whistles were legendary as she called them in for lunch and again for dinner.
She married Bill Yeats on March 25, 1959, and welcomed Len and Linda to the family. Bill was an avid outdoorsman and they had many adventures camping, hunting, fishing, and traveling. Often, the family returned in the VW Bus with moose, elk, deer, or other game bound for the butcher table in the basement. Shirlee, whose eyesight gradually failed her in later years, had an amazing talent of spotting the game for the hunters. During her years in Whitefish, she developed many, many lasting relationships. Among them was an endearing friendship with Joyce Bergstrom. Some of their antics and situations reminded people of Lucy and Ethel!
She worked as a nurses' aide and as a clerk at a pharmacy, Snappy Foods, Flathead County Treasurer's Office and the Montana Liquor Store in Whitefish. Shirlee was a survivor at heart, enduring many losses and health issues. She was greatly saddened by the tragic death of son, Don, in 1969.
She and Bill both retired in 1981 and loved to travel often with the Bergstrom's or one of Shirlee's sisters and their husbands. Among their favorite places were all of Montana, Hawaii, Canada, Branson, Florida, and the Oregon Coast. They also treasured many opportunities to follow and their children's, grandchildren's, and great-grandchildren's high school and college sports and activities.
Shirlee was a very caring person who always put others' needs ahead of her own. She provided care for her mother and father, mother-in-laws, sister Pearl, and her step-son, Len, during his courageous battle with cancer. She enjoyed a very special relationship with her daughter-in-law, Mary, who was a great friend and companion. They traveled together to Washington, D.C. and Europe to visit granddaughter, Jen and also to Santa Barbara for grandson Tyler and Brett's graduations.
Shirlee was often recognized for her contributions to the community. She was named the Co-Worker of the Year by the Women of the Moose for 1998-1999. She was honored and humbled in 2006 to be chosen First Lady of Whitefish based on her volunteer work and service. She also was named the Senior Queen of the Whitefish Winter Carnival Royalty in 2010. She volunteered many years for the Meals on Wheels program at the senior center and was very active in the Moose Lodge. She and Bill were presented the Mr. and Mrs. Moose Award in 1999. She also served many years on the VFW Auxiliary color guard and enjoyed participating in Red Hats and Friendship Club as well as countless card games with her friends. She had a passion for baking, and loved to provide cookies or other treats for all occasions.
Shirlee was preceded in death by her parents, her sisters Delores, Ellie and Pearl, her son Donny, husband Bill, step-son Len, and step-daughter Linda.
She is survived by her son, Larry Schwenke, his wife, Laurie, and their children, Ann (Doug) Jaworski and children, Julia, Justin, and Cole; Keri (Scott) Carter and her daughters, Bailey and Jaime Jaworski; Andrea (Jay) Sadler and sons Aaron and Ian, all of Coeur d'Alene; Daughter-in-Law, Mary Yeats of Whitefish and her children, Jen (Josh) Cinq-Mars of Great Falls; and Jeff Yeats (Michelle) Kyle, and Tate of Glendive; Granddaughter Anita (Tom) Patton and sons Tyler and Brett of Santa Barbara, as well as numerous nieces and nephews and their families.
At the age of 87, Shirlee made the decision to move to Coeur d'Alene where she was surrounded by Larry's loving family and friends. She also enjoyed an extended family with all of her neighbors at Orchard Ridge Independent Senior Living Community. It seems only fitting that she completed her long earthly journey while visiting in Whitefish. Once a Montanan, Always a Montanan! While we are all saddened by her passing, we are content in knowing that she was welcomed home to heaven by her son, and the many other loved ones who left before her.
The family wishes to extend their heartfelt thanks to the staff at North Valley Hospital, Heritage Place, Kalispell Regional Medical Center, and Hospice Services, for their expert and loving, compassionate care.
A Celebration of Shirlee's Life is planned for noon on Sept. 5, 2020, at the Whitefish Moose Lodge. Lunch will be provided.
In lieu of flowers, a donation to the charity of your choice or a Hospice organization is suggested.
Austin Funeral Home is entrusted with the final arrangements.
---