Lillian Ellen (Merkle) Judge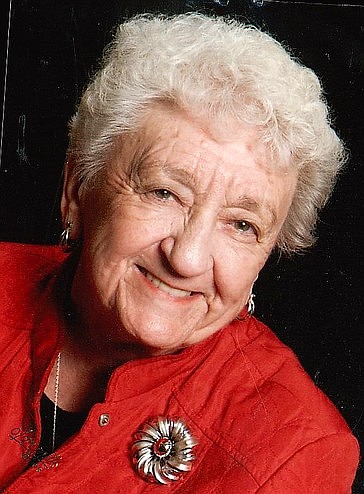 |
August 12, 2020 1:00 AM
Lillian Ellen (Merkle) Judge passed away on April 29, 2020 at The Montana Veteran's Home in Columbia Falls at the age of 91.
She was born to Thomas and Leona Merkle in Butte, Montana and graduated from Butte High School in 1946.
Kenneth and Lillian were married in Butte in 1951. They relocated to Whitefish and established their life there. Lillian had eight children: Linda, Karen, Ken, Lee, Kevin, Lucy, Karla, and Lisa. She was preceded in death by her husband, daughter Lee, and daughter-in-law Lori.
Lillian's love of dance began at age five and eventually led her to Chicago for professional training. Lillian's School of Dance opened in 1964. She inspired the Whitefish community to dance for 45 years, teaching tap, ballet, and tumbling to girls, boys, and adults. Her teaching and performing reached beyond the studio. She choreographed dances for Whitefish Junior Miss pageants, Whitefish Theater Company, and Whitefish Winter Carnival skits. Lillian loved to perform and participated in the North Valley Hospital Mash Bash fundraiser on numerous occasions. Her most cherished performance featured her dancing with her daughters at her final recital.
Lillian was an avid supporter of all children's extracurricular activities, including swim team, Little League and Babe Ruth baseball, and Arts in April at the Whitefish Schools. She was sure to be found in the bleachers at her children's and grandchildren activities.
Lillian was a member of the Calamity Singers, Loyal Order of the Moose, and The Red Hat Society. She volunteered at Shepherd's Hand Clinic, local elections, and Habitat for Humanity. For all her community involvement, she was named First Lady of Whitefish in 1978.
Lillian worked at Lacy's Photography Studio for 11 years and especially enjoyed helping with school portraits in all Whitefish schools.
As a devoted Catholic, Lillian was very involved in St. Charles Parish for many years. She served as Province Director for The National Council of Catholic Women traveling and speaking throughout the country.
Travel was another one of Lillian's passions, taking her to Europe and Argentina, an Alaskan cruise, and to a Yankees game in New York City, to name just a few.
Lillian lived a full life and shared her enthusiasm with many. She is survived by her children Linda, Karen (Cliff) Lengstorf, Ken, Kevin (Mary) Judge, Lucy McFadden, Karla, and Lisa (John) Illich. She is also survived by 13 grandchildren, 15 great-grandchildren, and cousins Helen and Judy.
The family wishes to thank The Montana Veteran's Home for the wonderful care they provided. Thank you also to Father Raftis and Deacon Doug Cordier at St. Richard's Parish for their support.
In lieu of flowers, Lillian's wish was that donations be made to Shepherd's Hand Clinic.
A memorial Mass will be held Friday, Aug. 14 at 11 a.m. at St. Richard's Catholic Church in Columbia Falls.
"May your heart be as light as your dancing feet."
Austin Funeral & Cremation Services in Whitefish is caring for the family.
---