Superintendent recommends remote learning continue for rest of school year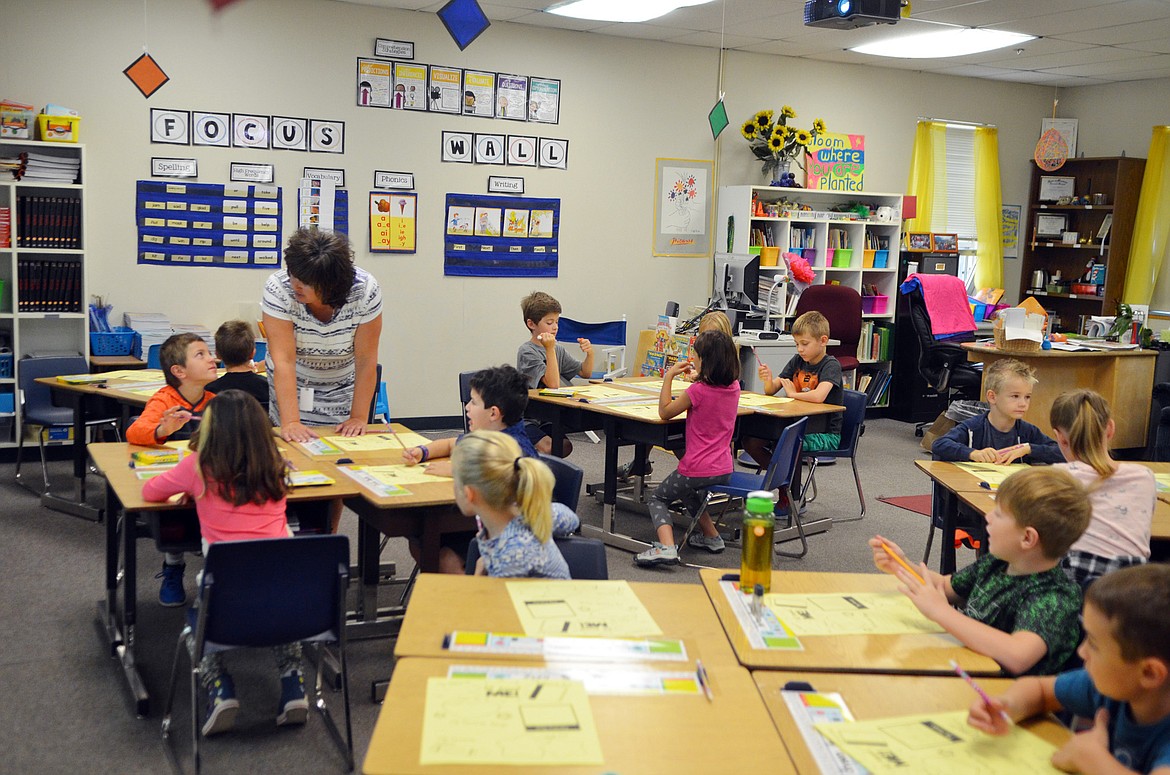 Mrs. Bloom talks with her students at Muldown Elementary School. (Heidi Desch/Whitefish Pilot file)
by
HEIDI DESCH
Whitefish Pilot
|
April 23, 2020 2:52 PM
Superintendent Heather Davis Schmidt says Whitefish Schools should continue with remote learning only for the remainder of the school year.
Davis Schmidt plans to make her recommendation to the Whitefish School Board on Monday, April 27 at 4 p.m. during a special meeting where the board is set to vote on the matter.
"I know the hardships remote learning has created for our families," Davis Schmidt said in an email to parents. "The health and safety of students, families, and staff is my highest priority."
Gov. Steve Bullock on Wednesday issued a plan for a gradual reopening of the state following a stay-at-home order related to the COVID-19 pandemic that will expire on Sunday. Regarding whether school buildings would reopen on May 7, the governor placed the decision in the hands of local school boards.
School districts that choose to return to in-class learning would need to meet stringent requirements to keep students and staff safe, such as wearing masks and maintaining physical distancing in classrooms and limiting groups to no more than 10.
Davis Schmidt said she is anticipating the health department will make recommendations for even stricter limitations in Flathead County.
"The requirements set by the governor and local health officials would make the logistics of any on-site instruction tremendously impractical — and I believe there would be a significant risk of transmission of disease," Davis Schmidt said.
The School District plans to continue to communicate with parents following the board's decision next week and as the district works through more details.
On Thursday, Montana Federation of Public Employees President Eric Feaver stated that the union is recommending "all school districts to stay closed in a brick and mortar way and continue to provide necessary programs alternatively."
"Schools are NOT designed for social distancing. No more reasons necessary to keep them closed for [the] duration of this spring term," he posted on the union's Facebook page. "Instead of planning how to safely open this spring for at most one more month of brick and mortar schooling, school districts should take the same amount of time and more planning for how to safely open schools next fall . . . and keep them open, God willing."
The governor on March 15 announced the closure of all public K-12 schools in an attempt to prevent the spread of COVID-19. The closure has been extended for two-week periods through all of April.
Following spring break in March, Whitefish students and teachers have gone to remote learning with grades three through 12 using online tools for lessons, and teachers preparing packets with lessons for younger grades. The School Board has been providing options to join its meetings virtually. For more information, visit https://www.wsd44.org/ and click on School Board.
---