Whitefish outdoor apparel company begins making health-care garments
by
HEIDI DESCH
Daily Inter Lake
|
April 22, 2020 1:00 AM
Andy Techmanski spent the last year developing an outdoor clothing company, but when the COVID-19 pandemic hit he knew his company could provide a solution to a shortage of medical personal protective equipment in the United States.
So amidst the launch of his Whitefish-based FORLOH, Techmanski turned his attention to using the same concepts and manufacturers he had already tapped for his company to begin manufacturing garments used in health care.
In partnering with Merrow Manufacturing, located in Massachusetts, the two companies have already created more than 2 million reusable medical gowns in the matter of several weeks. The gowns have been distributed around the country and locally to Kalispell Regional Healthcare.
"When the coronavirus began to impact businesses it was a clear decision," Techmanski said. "We began talking to our manufacturers and began switching gears."
The two companies are currently manufacturing ultralight reusable medical isolation gowns, advanced disposable open back medical gowns and disposable face masks made with non-woven fabric. Designers took apart medical isolation gowns and masks and then rebuilt them based upon the premise of putting technology first to create the best garment possible while only using manufacturers in the United States — the same concept FORLOH is built upon.
"We knew the biggest impact we could have was going to be improvement," Techmanski said. "We knew our fabric was robust and would hold up to 1,000 washes so it would be sustainable with a long life. Also because it was manufactured in the U.S. it was much faster to ship and deliver it to the hospitals that need it."
FORLOH comes from "for the love of hunting" because its foundation is in hunting and fishing gear, but with an eye on the greater outdoors apparel world.
Techmanski created the concept for the company out of frustrations he had with outdoor clothing, primarily for hunting, including feeling like the technology was lacking to provide the best products and the consistency — particularly in sizes — between garments in the same brand was also below par. Water proof and breathable garments were being advertised as the latest technology, but they didn't stand up to their claims, he noted.
"As a consumer like everyone else I felt like the technology wasn't the best and the fit wasn't the best," he said. "I couldn't find apparel that conformed to the needs and demands of the backcountry. I wanted to be more responsible around the path we were taking — we would use the latest technology and it would be made in the U.S."
Techmanski brought in industry experts and set out the plan to design high quality, technology-based outdoor gear and then found manufacturers in the United States that could make that happen.
The company expects to include men, women's and youth gear designed based on technology.
Techmanski says he was out hunting with his 5-year-old who pointed out that the gear he was wearing wasn't as quality nor did it match his father's. The moment was a realization for Techmanski that his company would not only provide better products, but do it for everyone who is out in the field.
"It's important for us to outfit the entire family," he said. "It's important to us to bring multiple generations to using our products, and have the same camo patterns and products for the whole family."
FORLOH hasn't stopped designing and manufacturing outdoor apparel in preparation for its planned mid-June launch online and its flagship storefront planned to open July 1 on Central Avenue near Wild Coffee Company, along with a customer service center. The apparel company also has a distribution center planned to open in Columbia Falls. Upwards of 50 employees are expected to be hired.
"Because we're a direct to consumer business, we don't have the constraints of working with big box stores in that we have to produce a wholesale order six months to a year out," Techmanski said. "We can bring new technology to consumers in a just a few weeks or months time."
FORLOH plans to continue manufacturing medical gowns into the future. The COVID-19 pandemic prompted the company's pivot, but Techmanski said it also showed a need for such companies that can produce from design to final garment to be based in the United States.
"We're fixing the immediate problem, but we're also looking at longterm sustainability," he said. "We were already starting a company, so we were able to flex up to support medical gowns for the health care system, but there needs to be manufacturing to supply this to the domestic market. In times of crisis, we can't rely on an international market for these types of things."
For more information, visit FORLOH.com.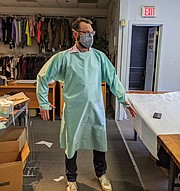 Recent Headlines
---