Teachers bring lessons online with remote learning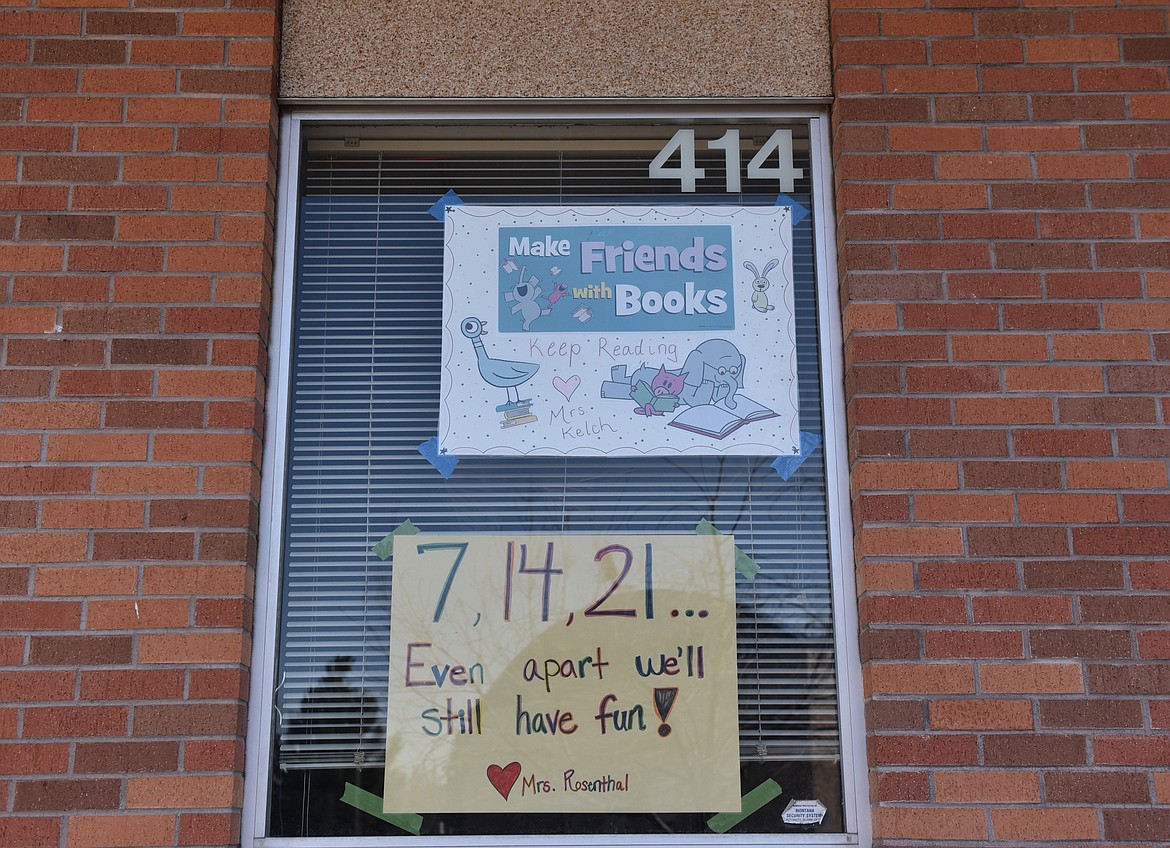 Muldown Elementary School teachers recently placed signs with encouraging messages for their students in the windows of the school. (Heidi Desch/Whitefish Pilot)
by
Daniel McKay
Whitefish Pilot
|
April 15, 2020 1:00 AM
As school continues in a remote learning system, Whitefish teachers are making the best of an unfortunate situation.
From their homes or empty classrooms, teachers at all levels are checking in with their students, engaging in conference calls with kids ranging from high school seniors to 8-year-olds.
The results so far are encouraging.
"It's been crazy, but good," said Sarah Akey, third-grade teacher at Muldown Elementary. "I will say the online portion for the younger kids hasn't been as much of a challenge as I thought it would be. For us as teachers, learning how to deliver everything online has taken a lot of time. It's definitely very different."
Schools across Montana closed on March 15 as part of Gov. Steve Bullock's attempts efforts to prevent the spread of coronavirus across the state and "flatten the curve," limiting the stress on local healthcare resources.
While the initial directive closed school through Whitefish's spring break, March 27, the directive has been extended to April 24.
Whitefish students grades three through 12, school have gone online, with teachers and students working together on Google Classroom and other apps to keep their curriculum schedule intact through all the closures. For those in the younger grades, teachers are preparing packets containing lessons and homework that parents can pick up and drop off once a week.
The process has been relatively smooth.
On the teacher side, there's been some learning. While many teachers were familiar with the Google Drive Suite and some of the other technologies being used now, not everyone was up to speed. Teachers spent the first week of closures planning and training for the remote learning set up, which began with a "soft start" on March 30.
Sean Duff, fifth-grade teacher at Whitefish Middle School, said he's been impressed with how efficiently things have moved since the governor's directive, especially in the technology realm.
"I've been floored with how smooth it all was," he said. "I know the Google system. I've been learning, it wasn't bad. You troubleshoot a little bit, and there's a cheat sheet that our district made for homes with links for parents, students and us."
Whitefish High School English teacher Chris Schwaderer agrees.
"I'm not old, but I'm not really new-school either," he said. "I'm kind of in that purgatory there. There was a bit of a learning curve. I certainly had to familiarize myself with Google Meet and Screencastify. Those are two tools that I had not used, but now that I've learned how to use them, I see they're really effective."
On the student end, the teachers say the learning curve hasn't been as steep, as the students are more used to interacting with different technologies on a daily basis.
The harder part for the students, Duff says, has been the schedule.
Right now school is roughly 8 a.m. to 3 p.m., as it was prior to closures, but the schedule isn't strict. He's not there to usher kids to their next class, just as his own schedule isn't in explicit blocks of time anymore.
For many students, they have a morning meeting and they're off to working independently on their lessons, Duff said.
"They're having to learn to be young adults when it comes to managing their time," he said. "It's been really neat to see them step up to the plate and do really well."
Along with the change in schedule, Akey noted the variety of household scenarios teachers are working with. She says she's calling and emailing her students, but it's not the same as having them in her classroom every day.
"It's just the diversity of families. Some have a computer all to themselves and don't have to share, some have three kids trying to work at the same time. Some have parents still working and they're trying to do this on their own, and it's hard trying to give them the same level of support that I'd be able to do in the classroom," Akey said.
All three teachers noted they've had discussions about the current pandemic with their students, with the depths of discussions varying with each age group.
Akey says she starts her day with a "Thumb-ometer" reading, asking the kids to show with a thumbs up, thumbs down or sideways thumb how they're doing.
"All the kids are thumbs up, though I don't know if they'd say differently because they want to please me," she said with a laugh. "The parents have been great if they have questions. I feel like the communication has been a plus to all of this. It's only the third week, so we'll see as this continues. So far everybody's been really positive."
For Duff, he said he's been getting the sense that his students understand the immensity of the situation.
"Everybody's feeling is kind of the same. One student was saying it's like everybody has something they remember, like John F. Kennedy's or Martin Luther King's assassination, depending on what your generation is. They relate it to what we talk about when we talk about 9/11, that everybody who was old enough remembers, and they'll remember too," Duff said. "The kids are like here it is already. We're only 10 or 11, and we have this thing we're going to remember that changed everything."
The social aspect — kids getting to banter and chat with each other between class periods – is a big victim of the remote setup.
"They miss their friends, they miss us and the daily banter, that part has been taken away," Duff said. "It's made everyone have to grow up and be super responsible. A lot of kids enjoy school not so much for the academics but that's where they learn to be friends with people, how to share, they learn all those little things as they grow up and that's how they become adults. That part of life has been taken away from everybody."
Akey said she's been planning to include time for her students to just share their day-to-day lives with each other, bringing their pets on to the video chat so they can show off to their classmates.
For Schwaderer's older students, he's seen disappointment for students and student athletes looking forward to their final months as Bulldogs.
"I get the sense from our conversations that they're disappointed. They looked forward to their senior year, all the activities in the springtime, and it's such an exciting time. Right after spring break you can just tell they've come so far and done so much and they're realizing they're almost there — it's festive and fun," he said. "They miss out on that, and I can tell they're down a little bit. They just had such high expectations for their senior year and it doesn't look like those things will come to pass."
On a positive note, each of the teachers expressed their amazement in how well the administration, teachers and the community have come together in a tough time.
Akey said as a teacher and a parent, she feels encouraged by what she's seeing on a daily basis.
"I feel my kids are being very well supported, I hope my students' parents feel the same," she said. "From teachers to parents to people who don't even have kids that are reaching out to help, it's really amazing. I just love this little community and I can't say enough good about what's come out of a stressful situation."
Schwaderer echoed the sentiment, noting the schools have an important role to play and they're being well-supported.
"The administration and the people who have been orchestrating our online education have been really good," he said. "They emphasized to us that they want us to keep it simple. We don't want to ramp up the stress, we don't want the kids to be stressed or the parents. There's a lot of people with a lot of anxiety, and I think school should be comforting and a place where they can find familiarity."
"In my opinion, that's the best we can do, try to manage the stress," he added.
---