Community rallies to support food bank
Volunteer Indigo Scott stands at the milk table at North Valley Food Bank Thursday afternoon while waiting to gather food for distribution. (Heidi Desch/Whitefish Pilot)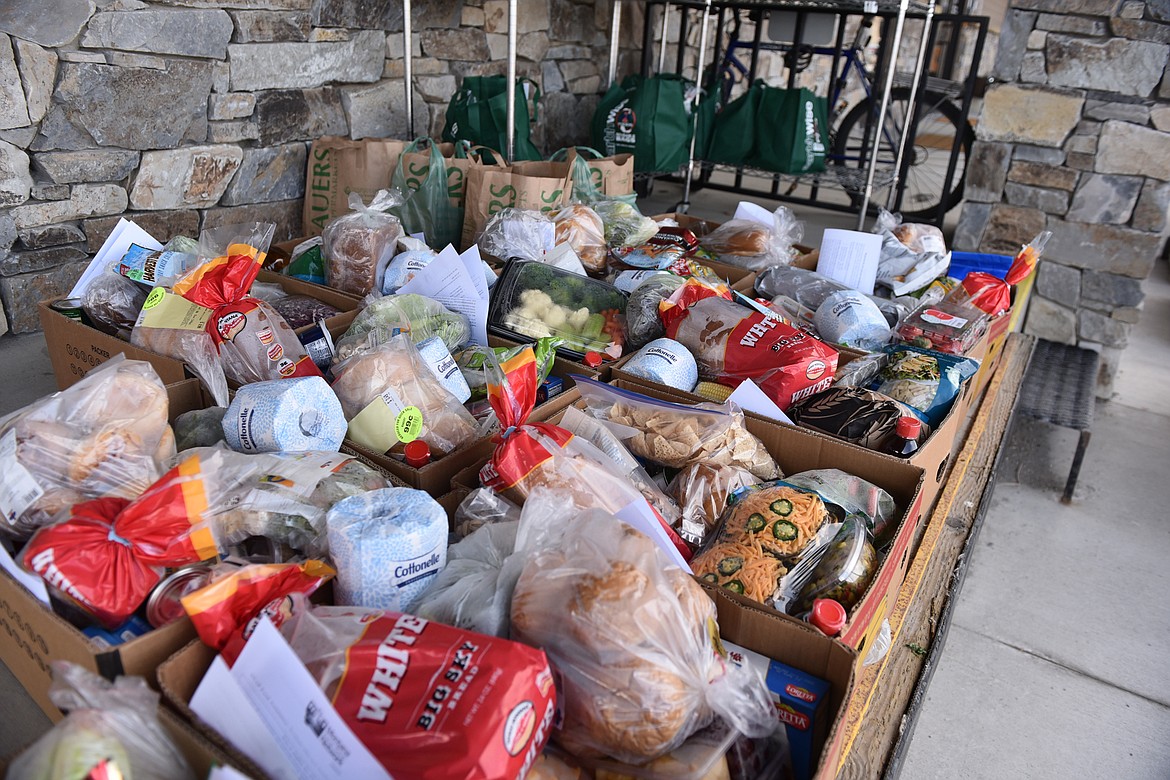 Boxes of food sit outside North Valley Food Bank waiting to be distributed. (Heidi Desch/Whitefish Pilot)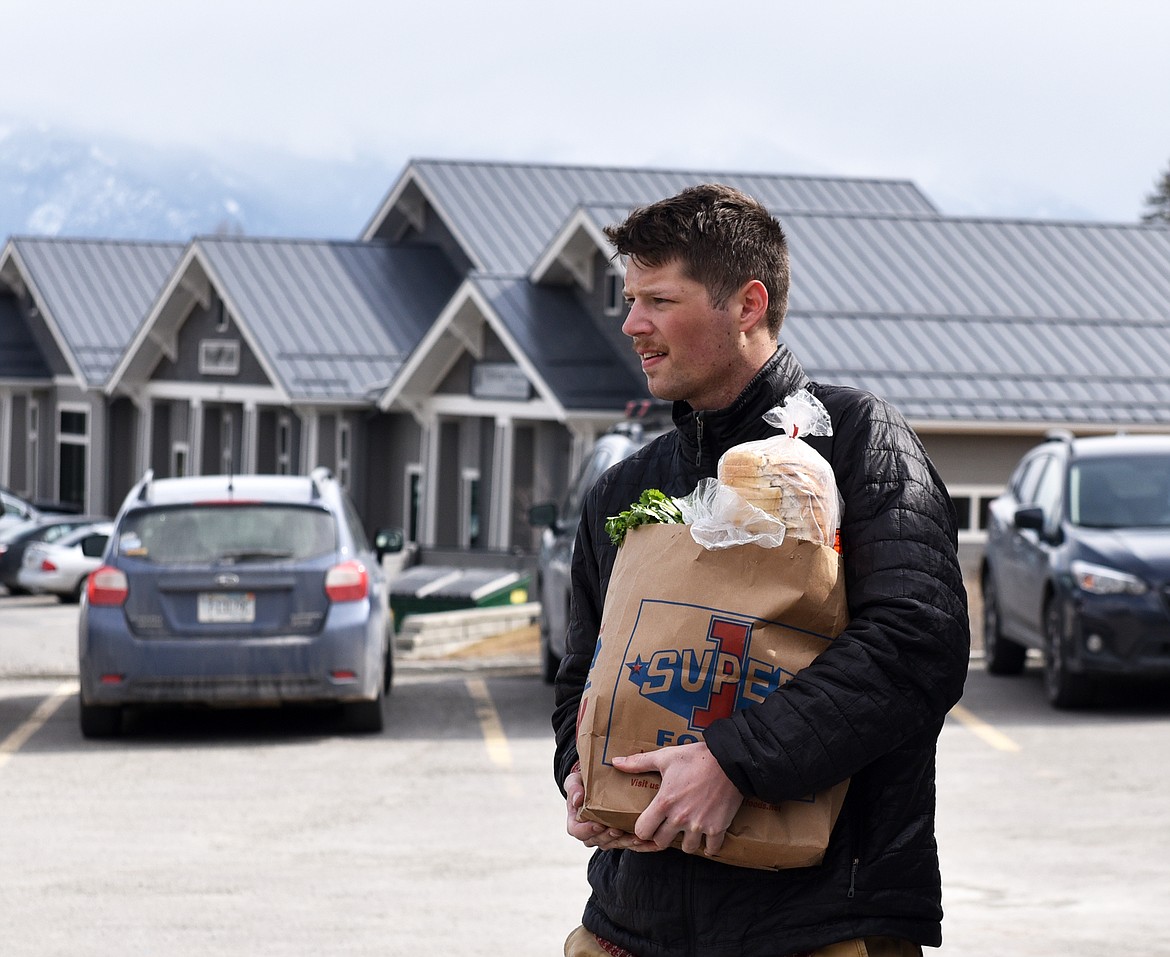 Volunteer Jaren Sousa caries a sack of food out to a car Thursday afternoon at North Valley Food Bank. (Heidi Desch/Whitefish Pilot)
Previous
Next
by
Heidi Desch
Whitefish Pilot
|
April 1, 2020 1:00 AM
When businesses began closing and subsequently laying off employees due to the coronavirus pandemic, North Valley Food Bank knew it would be seeing an increase in families needing assistance. But it was also faced with an additional hurdle as the food it normally receives from grocery stores all but completely ended as shoppers cleaned out store shelves.
It's been a demanding time at the food bank, says Jessy Lee, as the food bank board and staff worked to address the questions of "How can we make sure we get enough food to families during this crisis?" But Lee says the community has stepped up to provide the food bank with food donations, financial contributions and new volunteers resulting in the ability to serve 60% more families last week than in a normal week.
"I can't even fathom the level of community response we've had to keep going," Lee said tearing up. "It gives me confidence that we are strong enough together to endure this difficult time."
Typically, the food bank receives about half of the food it distributes from its grocery store rescue program. Stores donate food that is about to expire, the food bank goes through the donated food making sure it's still good and then gives it out to the families it serves. Most of the fresh food distributed comes from the program.
Lee said when that source of food stopped being available, the food bank knew its nonperishable food supply would run out in a matter of weeks and it also places a high priority on ensuring that families have access to fresh foods including fruits and vegetables.
"Typically we keep enough nonperishable food on our shelves to last three months, but with losing the food from the grocery stores we were looking at three weeks of food," she said. "It felt really concerning."
North Valley Food Bank began immediately coordinating with the Montana Food Bank Network and Flathead Food Bank to place an emergency order for a semi-truck load of food purchased wholesale that would be distributed through both food banks, but even that faced uncertainty in delivery time and puts financial strain on the food banks.
But the community has stepped in.
North Valley Food Bank has received more than 70 financial donations in about 10 days time — ranging from $10 to more than $10,000.
The Whitefish Community Foundation's COVID-19 Emergency Response Fund provided $20,000 to purchase the semi load of nonperishable food items due to increased demand for food.
The food bank during the Whitefish Community Great Fish Challenge last year raised $12,000 toward the purchase of a box truck. The food bank initially planned to purchase it by May of this year, but the increase in bulk food coming resulted in the need to make the purchase sooner.
Jim and Jo-Ann Armstrong, through the Kiita Foundation, made a donation of $15,000 for the truck. Michael Goguen provided a donation of the final $18,000 needed for the truck.
"The financial support coming in relieves a tremendous strain," Lee said. "This level of funding enables us to act immediately to ensure our food supply is and continues to be ample."
Beyond that, Lee says one of the most impressive responses from the community has arrived in the form of donated food. Some local restaurants who were faced with the difficult decision of closing donated food, but others simply provided food donations. A list of restaurants, hotels and retail stores have donated a combined 3,200 pounds of produce, dairy, bread and toilet paper. One donor provided 250 pounds of yak burger and the Backpack Assistance Program donated sliced bread and 60 weekend bags for children in need.
Andy Blanton of Cafe Kandahar and several other restaurant owners created a new restaurant ready-made meals program to distribute meals to those in need. By using financial donations, including from the Whitefish Community Foundation, the food bank is able to purchase pre-cooked meals to provide to its clients.
The restaurants prepare and deliver meals to the food bank to distribute, then the food bank pays the restaurants between $5 and $7 for each meal using the designated funds.
Lee says the food bank is thrilled to be part of the project.
"It's really great knowing that we can help the restaurants," Lee said. "We know that they're not making any money on this, but if we can help them keep their doors open and keep employees that's a good thing. If we can help play a role in supporting them at this time is neat."
The food bank also faced an additional challenge in the form of its volunteer force. Many of its volunteers are over the age of 60 putting them in the high risk category for contracting the virus, so the food bank asked those who are at risk to stay home.
The food bank board of directors stepped in allowing for the hiring of three temporary employees doubling the food bank staff. Those employees pick up purchased fresh goods, help oversee the food bank's now 12-hours a week distributions, and process thousands of pounds of donations from restaurants in the absence of the normal volunteer force.
In addition, the food bank received 40 new volunteer applications in a few weeks time.
The food bank is spacing out its volunteers to limit the number of people inside its building and has increased its cleaning of the building for everyone's safety. Those picking up food do so through a drive-though system where volunteers place food packages inside their vehicles to maintain social distancing for everyone involved.
"We wouldn't be able to get the work done without the volunteers," Lee said.
For more information about how to assist or volunteer, visit the food bank website at www.northvalleyfoodbank.org or call at 862-5863.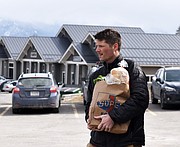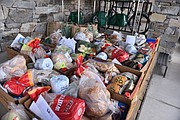 ---