A healthy 'Happy Birthday'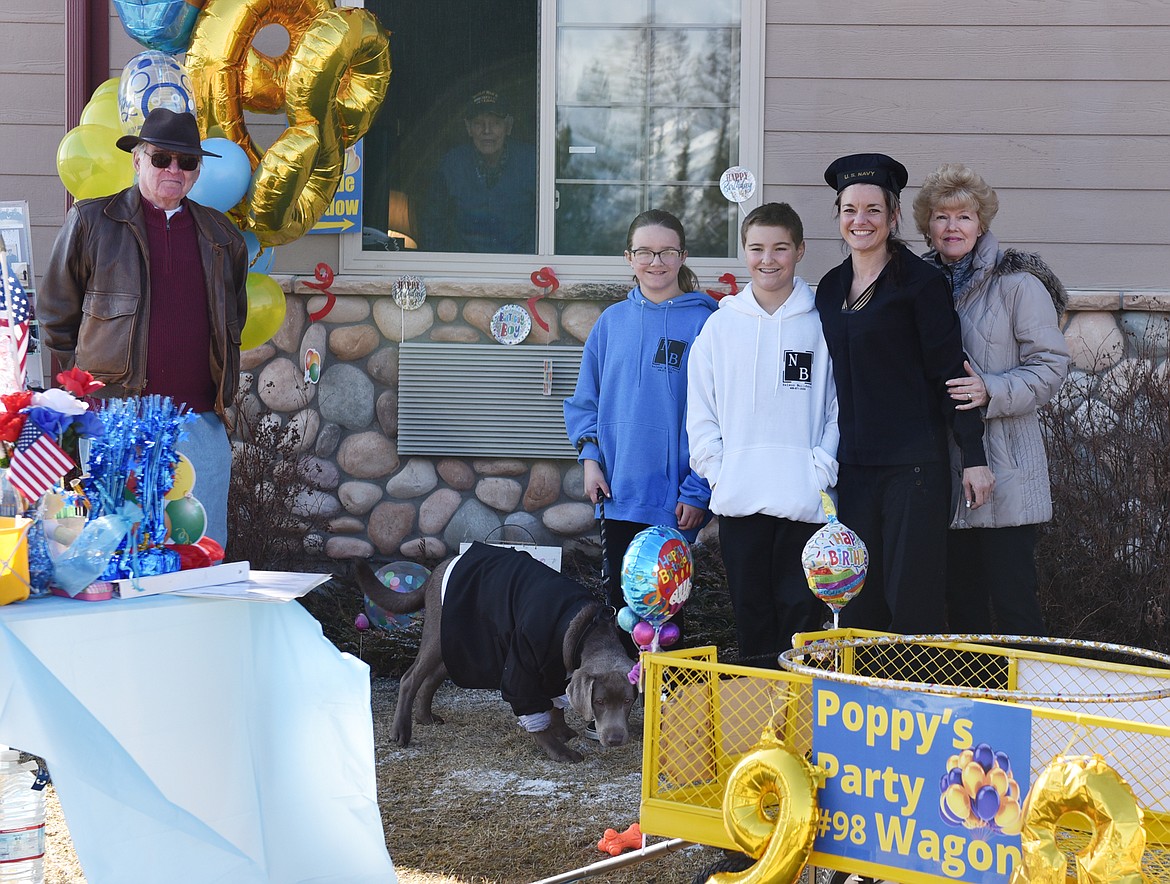 The family of Arnold Peterson gathered outside The Springs at Whitefish Thursday morning to celebrate his 98th birthday. Peterson stood in the window of the apartment he shares with his wife Lois to watch the celebration. His granddaughter, Christine Nelson, typically throws a birthday party for him, but because of visitor restrictions due to the coronavirus she put together the outdoor party to honor him. From left, are Jack Fuller, Autumn Lynn Nelson holding dog, Tank, John Christopher Nelson, Christine Nelson and Barbara Fuller. (Heidi Desch/Whitefish Pilot)
by
HEIDI DESCH
Whitefish Pilot
|
April 1, 2020 1:00 AM
The family of Arnold Peterson were forced to be creative last week when throwing him a birthday party.
Due to the coronavirus pandemic, The Springs at Whitefish where Peterson resides has closed to all visitors. But Peterson's granddaughter Christine Nelson couldn't let his 98th birthday on March 26 pass by without a celebration.
So Nelson, along with the help of her mother Barbara Fuller, son John Christopher and daughter Autumn Lynn, organized a birthday party outside his apartment window. They set up a table with decorations and balloons, including a cake and presents, and games for the children to play while Peterson, or "Poppy" as they call him, watched smiling from inside.
"He has always been extremely special to me so I wanted to do as many ideas as I could for him," Christine Nelson said, while wearing her grandfather's Navy uniform from World War II. "We wanted to bring things from his life that he would enjoy."
Prior to the party, Nelson on Facebook sent out a request asking for birthday wishes for her grandfather. She got 250 replies, which she put into a book for him. Peterson was an amateur radio operator, and taught great-granddaughter Autumn Lynn to use Morse code, so she used that to spell out happy birthday to him on a sign.
A collage of pictures displayed "98 years of Poppy" with photos of him, along with his wife, Lois. The couple also celebrated their 69th wedding anniversary last week.
Pulling a wagon labeled as "Poppy's Party Wagon," the family worked to decorate the view outside his window with American flags, paper sailboats, flowers and streamers. Even dog, Tank, came dressed in a tuxedo for the occasion.
"We wanted to put on a nice show for him outside his window," Nelson said.
---