Historic winter storm on its way
by
HEIDI DESCH
Whitefish Pilot
|
September 26, 2019 2:12 PM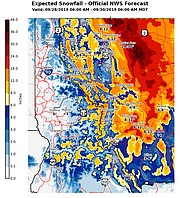 A historic winter storm is expected to hit Western Montana late Friday into the weekend bringing with it snow and cold.
Olney could see 4 to 6 inches of snow and 2 to 3 inches in Kalipsell for the weekend, predicts the National Weather Service in Missoula. A significant early-season winter storm is expected to enter the Northern Rockies Saturday evening and could have a host of dangerous impacts.
"This is definitely something that is abnormal this time of year," says Jenn Kitsmiller, with the National Weather Service.
She noted that Missoula has not received measurable snowfall in September in the last 30 years.
Whitefish is expected to see lows in the 20s over the weekend and into next week. Maximum temperatures are expected to be in the 40s.
Kitsmiller says the storm is expected to hit in three phases beginning Friday night with rain in the lower valleys into Saturday, along with strong winds gusting up to 50 mph in Northwest Montana.
On Saturday night into Sunday, valleys should see rain change to heavy, wet snow and heavy mountain snow should continue.
The third phase comes on Monday and Tuesday with cold temperatures expected with the potential to create icy road conditions.
"This is a very large change and something that people might not be prepared for," Kitsmiller said. Forecasters are predicting heavy snowfall and blowing snow in the mountains and over mountain passes, especially along the Continental Divide, along with the record cold temperatures.
Impacts include hazardous travel due to the snow and downed trees and power lines.
In anticipation of the snowstorm, Glacier National Park announced it's closing roads and campgrounds.
The Going-to-the-Sun Road from Jackson Glacier Overlook to Logan Pass has closed. The west side of the road was already closed from Avalanche Creek to Logan Pass for road work.
The Many Glacier campground closed Thursday and the Two Medicine campground is set to close Friday. While the St. Mary campground will stay open, camping is not advised.
---