Jeanne Appelgren and Bob Appelgren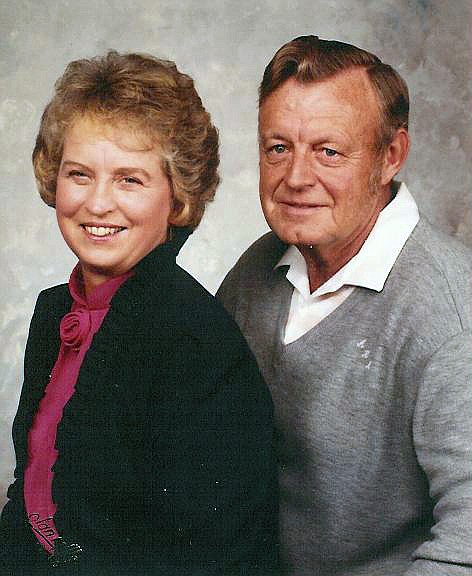 |
September 3, 2019 11:27 AM
Jeanne Appelgren passed away on June 25, 2019 and Bob Appelgren passed on Aug. 18, 2019.
Helen Jeanne Thomas (Jeanne) was born in Conrad, Montana on Feb. 1, 1930. At that time her father, Bob Thomas, was a farm and ranch hand. He had grown up as a cowboy and when he was 14 years old he had been a night wrangler for Chappel Brothers Corporation, a company that ran 100,000 horses in Northeast Montana. When the Depression hit, Bob Thomas temporarily gave up his cowboy life and moved his family to Fort Peck, Montana. There he worked on the construction of Fort Peck Dam as a heavy equipment operator. Jeanne lived with her family in a little shack in the town of Wheeler until the Dam was completed. (Montana PBS made a historical film of the Dam project and used a woman the same age as Jeanne to discuss living in Wheeler as a young girl).
In the early 1940s Jeanne's father and her uncle bought a farm and ranch 27 miles south of Wolf Point, Montana. The farm included about 7,000 acres of land (most purchased for 50 cents an acre) with an additional 5,000 acres of grassland leased from the federal government. She was a true farmer's daughter and helped with the livestock, branding, harvest, gardening, gathering eggs, etc. This was a very isolated place for a girl and her two sisters to grow up. One of her daily highlights was riding her horse a mile to the mailbox. Her grandfather was the rural mail carrier and often left candy for her. Jeanne attended a rural one-room school house through the eighth grade. Later she attended high school in Wolf Point.
Alfred Robert Appelgren (Bob) was born in Wolf Point, Montana on Nov. 3, 1928. His father, Al Appelgren, was a banker and rancher. Bob's mother, Gertrude, was a school teacher, who died of cancer when he was 11 years old. As a child, Bob spent most of his time on the ranch, 3,000 acres on the Missouri River. The main purpose of the ranch was to raise Al Appelgren's registered Hereford bulls. Bob had his own pony when he was six years old and checked on cows and calves and rode fence lines virtually every day. Later he was involved in disking, plowing, breaking sod, seeding, fencing, stacking and baling hay, and in his teens supervising the hired men. Bob worked very hard, learned a lot, and determined when he was 15 that there must be an easier way of making a living.
Bob and Jeanne met during the Wolf Point Wild Horse Stampede in 1944.
Bob finished high school at age 16. He enrolled in the University of Minnesota and attended two quarters before enlisting in the Army/Air Force at age 17. After serving 16 months, he was honorably discharged as a corporal. Bob and Jeanne renewed their relationship in 1948 when Jeanne enrolled in business school in the twin cities and Bob was attending law school. They were married on Sept. 3, 1949. Their first child, Alan Bryce, was born in 1951, and Bob opened a law practice that same year. Jeanne was the legal secretary. The legal practice was primarily involved in real estate work, with some probate and divorce. Bob also functioned as part time city attorney.
In 1953, Bob's father, Al, arranged a loan to purchase the First State Bank of Wolf Point. Al was initially hired by the bank as a "janitor/Swedish interpreter" in 1915 at the age of 16. (With very limited education, Al was steadily promoted and was even elected President of the Montana Banker's Association in 1944). So all was well with the Appelgren family in 1953. Bob had a successful law practice, and Al had realized the dream of buying the bank. Then in 1954, Al was diagnosed with prostate cancer and had surgery. Thereafter, he was unable to work at the bank and asked Bob to take over as bank president.
Bob entered the bank in September, 1954. At that time, the couple had a new infant son, Brent. Jeanne became a full time mother and homemaker. She was an amazing hostess and put together huge meals at the holidays. In this regard she was inspired by her mother. On the ranch, she assisted her mother in feeding all the hands during branding, harvesting, and many other occasions. Her mother took great pride in cooking and baking for these festivities, as did Jeanne. She continued in this role and was the spiritual leader of the family, being a devout Christian her entire life. Their daughter Jill was born in 1961.
Bob had incredibly good leadership skills and he relished his relationship with "his team" of bank employees. In the early 1960s, Bob purchased half of his father's bank stock in the renamed Western Bank. Bob and his stepmother, Laura, had a wonderful business and personal relationship that benefited them both for many years.
In December 1967, the family lost Bryce to suicide. He was only 16 years old.
In 1970, the family moved to Whitefish Montana. Bob talked with the staff at Western Bank daily for the next 27 years by phone and rode the train to Wolf Point for Board meetings each month. Bob was also an owner and the Chairman of First State Bank of Whitefish. Shortly after moving to Whitefish, he chartered the Flathead Bank of Bigfork, where he also served as Chairman.
Soon after moving to Whitefish, Jeanne became actively involved in several Bible Studies and led one at her home for neighbors and friends. People soon recognized her leadership skills and admired her for her Biblical knowledge. She became a spiritual mentor to so many people and remained so until her death. Jeanne was an incredible cook and through the years opened her home to so many who were fortunate to enjoy her culinary skills. She was known for her delicious butterscotch pies, her lovely smile, her warm hugs and her unwavering faith.
In 1973, Bob returned to the University of Montana and obtained an MBA. As a result of this education, he decided to purchase a computer for the Flathead Bank. He hired a local retired IBM engineer to develop the software and the bank became the smallest bank in the United States to have an in-house computer. Computers were also added at the Western Bank and the First State Bank of Whitefish in short order.
In the late 1970s, Bob traded his First State Bank of Whitefish stock for additional Flathead Bank Stock. In 1982, Laura asked Bob to buy her Western Bank stock. Bob arranged for Laura to get a very favorable price. He structured the purchase so that the primary Western bank officers could buy Laura's 26% interest over a 10-year period, using performance bonuses to make the payments. Later in the 1980's, Bob sold his interest in the Flathead Bank to officers and directors of the bank. Finally in 1997, he sold his Western Bank Stock back to the bank, resulting in the bank officers all increasing their ownership in the bank. Currently, bank employees and former bank employees own 70% of the Western Bank. So, Bob's banking career ended 43 years after his father asked him to protect the family's interest and 82 years after Al Appelgren went to work in the bank as a janitor. Bob profited financially from his efforts, but he profited far more from his pride in the performance of his loyal staff and seeing that they acquired ownership of the bank. The Western Bank was and is considered to be one of the finest banks in the state.
Bob and Jeanne had a lifelong love of horses. In Wolf Point they had as many as 70 horses. In the Flathead Valley, they always had three or four saddle horses. Bob enjoyed packing into the back country for hunting and fishing, primarily in the Bob Marshall Wilderness area.
In 1980, Bob and Jeanne became snow birds in Mesa, Arizona. In 1986, they sold their home on the Whitefish River and moved to Mesa full time. They lived in Chandler, Arizona for the last 20 years of their life.
When Bob turned 60, he dramatically changed his lifestyle. He gave up cigarettes and alcohol and started eating a much healthier diet. He was even zealous about walking every day. He also became very proficient with computers.
Bob was very fortunate that he married a wonderful, gracious woman, who was an incredible mother. At the time of Jeanne's death in June 2019, they had been married for 69 years and 295 days. Jeanne was always very spiritual and walked with her savior Jesus Christ through her entire life. Bob became devoted to Jesus later in his life. They both reveled in attending Family Bible Church in Chandler. The church was founded by Jill and her pastor husband, Tim Klontz, 15 years ago. Jill plays the keyboard and organizes the church music. Bob and Jeanne's memorial services can be viewed online at fbcaz.com.
R. J. Doornek, a former Western Bank President, texted the following upon learning of Bob's death: "Bob will forever hold a special place in my heart. Without his help and guidance my adult accomplishments would not have been possible. I will always admire his business ethics, devotion and commitment to his "lieutenants.' I have been a grateful and fortunate beneficiary of his personal philosophy of 'Giving to the goose that lays the golden egg.' He was generous. Certainly, he was strong willed, intelligent and commanded loyalty which only enhanced his leadership qualities. Bob is easily in the top-five most influential people in my life. RIP Bob."
Bob is survived by two children, Brent of Whitefish, and Mesa, Arizona; and Jill Klontz (Tim) of Chandler, Arizona; five grandchildren, Bryan Klontz (Anna) of Tucson, Arizona; Brently Klontz (Sari) of Tempe, Arizona; Barry Klontz (Steffani) of Chandler, Arizona; Kaydee Waddel (Keith) of Gilbert, Arizona; Kristie Tekunoff (Daniel) of Chandler, Arizona; two sisters, Beverly Hovey (Larry) of Poway, California; and Else Koczan of Pennington, New Jersey; and 10 great-grandchildren all living in Arizona.
Recent Headlines
---