Betty Lou Schultz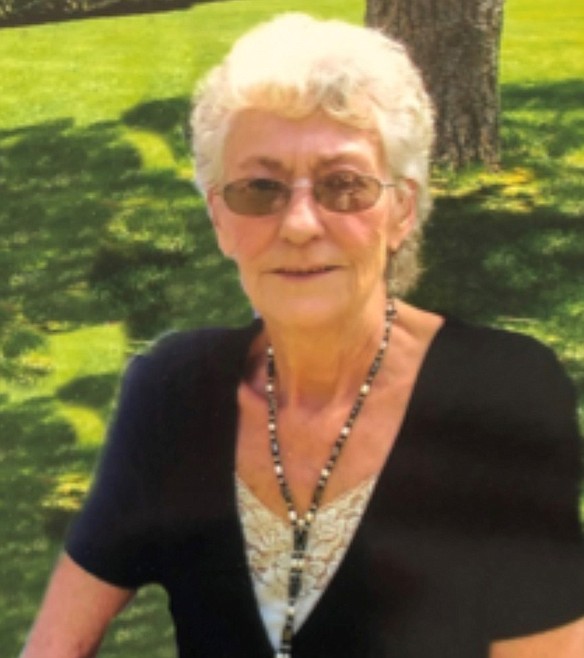 Betty Lou Patterson was born on Sept. 8, 1932; she was the daughter of Fred and Orvetta Knopfle. She was raised in Ruby Gulch, Montana, until the sixth grade when the family moved to the Flathead Valley. She had two brothers, Vern and Danny and one sister Peggy. Her father was a miner and her mother was a homemaker. Betty graduated from Whitefish High School on May 24 of 1950.
On March 31, 1951, Betty married Bob Patterson and they had five children, Lew, Lee, Lita, Len and Lona. They raised their family at the farm on Edgewood Drive. Robert Patterson passed away in 1976. They were married 26 years.
On July 17, 1982 Betty married Richard F. Schultz. Richard and Betty lived in Whitefish until their retirement in 1992. In retirement they became snow birds, traveling throughout the United States in their motorhome, and eventually settled in Big River, Arizona, where she resided until her death on June 18, 2019.
Betty was a very talented woman with many skills and tricks of the trade. She loved baking, cooking, fishing, gardening, knitting, crocheting, quilting, sewing, painting, and many other crafts. If it involved a needle and thread, paint and or glue, she could turn anything into a beautiful work of art. Betty was an avid bowler in her early life. She and Richard loved to dance. In her later years she enjoyed painting rocks and canvas, and when her arthritis got the better of her she turned to reading.
For many years she would make food and blankets and donate them to people in need. Betty was an active member of the Woman of the Moose, Elks, Eagles, American Legion and VFW, where she would help cook and prepare hundreds of potlucks and events for many people in our community, throughout the years. In her retirement Betty was very active in the Red Hats and Garden Clubs in Arizona.
One of the greatest joys in Betty's life was her five children, 15 grandchildren and seven great-grandchildren.
Betty Lou was a wonderfully warm hearted lady with a quick wit and great sense of humor. Her cooking and kindred spirit will be greatly missed.
Betty is survived by her husband of 37 years, Richard F. Schultz. Sons and daughters-in–law, Lee and Tracy Patterson, Lew and Lynn Patterson, Cindy Patterson; daughters, Lita Taylor and Lona Patterson, step-daughter and son-in-law, Rena and Cary Cleland; nine grandchildren; seven great-grandchildren; and sister Peggy Harmon.
Betty was preceded in death by her parents Fred and Orvetta Knopfle; brothers Vern and Danny Knopfle, first husband, Robert Patterson in 1976 and beloved son Len Patterson, in 2012. Betty is preceded in death by six of her grandchildren.
There will be a service and celebration of life gathering Saturday, June 29 at Christ Lutheran Church, at 5150 River Lakes Parkway, Whitefish at 11 a.m.
There will be a reception at the church following the service.
Graveside burial will be at Glacier Memorial Gardens at 2 p.m., at 2659 US Hwy 93 North, Kalispell.
---