Suspects in custody after burglary, shooting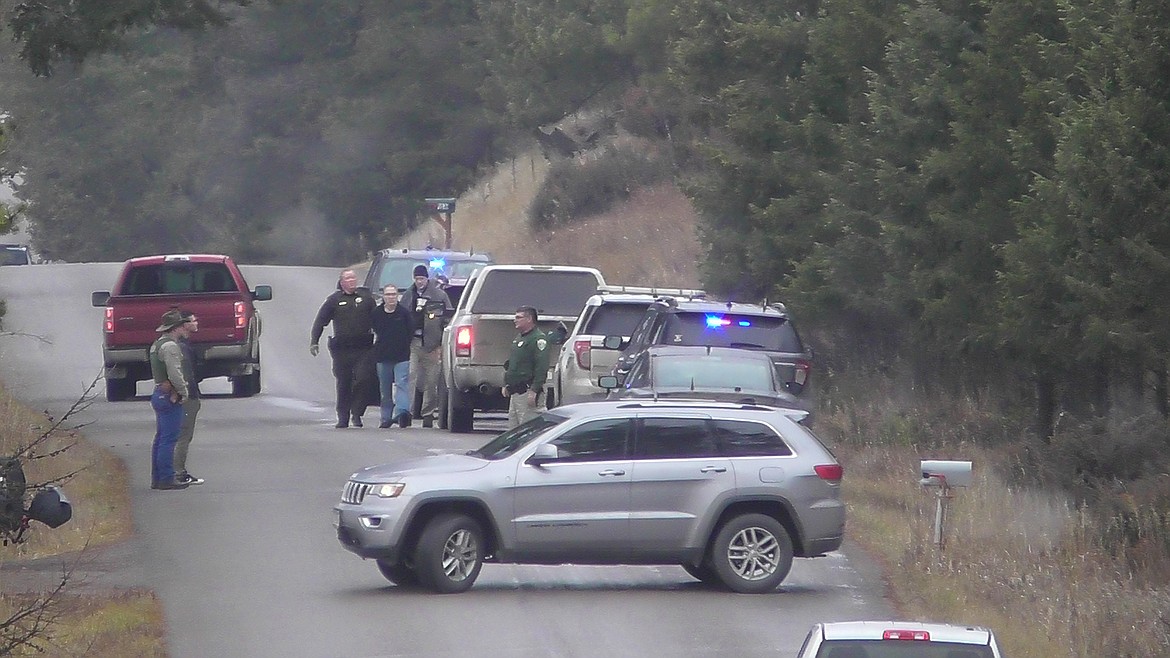 Members of the Flathead County Sheriff's Office take a suspect into custody after a shooting in the West Valley area early Thursday morning. Investigators are trying to determine what happened, but several people were involved. (Scott Shindledecker/Daily Inter Lake)
by
Scott Shindledecker Daily Inter Lake
|
November 29, 2018 12:31 PM
Several people are in custody after an early-morning burglary and shooting in Flathead County.
According to Undersheriff Brian Heino, the incident occurred at about 8 a.m. in a neighborhood south of Whitefish. It was reported that someone at the location had fired a gun before fleeing the scene.
When sheriff's deputies and an officer from Montana Fish, Wildlife & Parks arrived at the scene, they saw a vehicle fleeing and pursued it. The suspect led officers onto a service road off KM Ranch Road when it finally stopped and one occupant attempted to flee.
Several suspects were arrested on KM Ranch Road and Spring Prairie Road.
According to Heino, the people in custody are currently being detained and interviewed by Sheriff's Office detectives.
"We're still trying to piece together exactly what happened, and when we do, we'll be able to explain more," Heino said.
According to Brandy Hinzman of the Sheriff's Office, there were no injuries involving the people involved in the shooting or law officers. She said there were three vehicles involved.
In addition to law enforcement officers from the county and Fish, Wildlife and Parks, the Kalispell Police Department and Montana Highway Patrol also assisted in helping find the suspects that were arrested.
---